Seasonal Disease Outbreaks
16 reviews
Summary
Areas of Science
Difficulty
Time Required
Average (6-10 days)
Credits
Kenneth L. Hess, Science Buddies
Excel® is a registered trademark of Microsoft Corporation.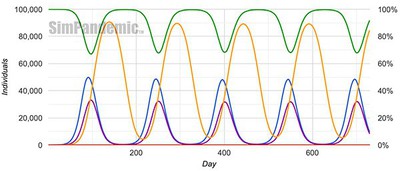 *Note:
For this science project you will need to develop your own experimental procedure. Use the information in the summary tab as a starting place. If you would like to discuss your ideas or need help troubleshooting, use the
Ask An Expert
forum. Our Experts won't do the work for you, but they will make suggestions and offer guidance if you come to them with specific questions.
If you want a Project Idea with full instructions, please pick one without an asterisk (*) at the end of the title.
Abstract
"Flu season" is something we deal with every winter. Cyclical or seasonal outbreaks of an infectious disease can occur for a variety of reasons, such as seasonal changes in host behavior (for example, more people staying indoors), the seasonal abundance of disease carriers (for example, mosquitos), and many others.
Another factor that can play a role in cyclical outbreaks occurs when the natural immunity to a disease has a short duration. This enables each individual in the population to repeatedly contract the disease.
Familiarize yourself with the Seasonal Disease Outbreaks Notebook in SimPandemic. Use SimPandemic to model how disease variables such as the Basic Reproduction Number (R₀), Duration of Natural Immunity, Duration of Infectiousness, Latent Period, and others can interact to create cyclical outbreaks.
Tips and hints:
During your exploration phase, slowly change one disease variable at a time to see and record its impact. Return to the settings for a common starting point (such as Graph 1 in the Notebook) before exploring a different disease variable (use Customize Settings - Reset to Defaults). Only after you examine changing one variable at a time should you start combining changes to multiple variables.
You can use Export to Excel® to dump the simulation output. In a spreadsheet program you can do more sophisticated analysis than you can by just looking at the SimPandemic graphs.
When you interpret your simulation output, remember that if the Latent Period is greater than zero, you will always have some infected individuals that don't display symptoms until their latent period ends. Therefore, the Symptoms curve will be lower than the Infected curve.
Some possible questions to explore:
Which are the most important disease variables? Which play no role?
For a given set of inputs, can you predict the period between outbreaks?
What parameters can cause a disease to settle into a "steady state" where it doesn't result in outbreaks, but it never goes away?
What happens if everyone contracts a disease before immunity disappears?

Ask an Expert
Do you have specific questions about your science project? Our team of volunteer scientists can help. Our Experts won't do the work for you, but they will make suggestions, offer guidance, and help you troubleshoot.
Careers
If you like this project, you might enjoy exploring these related careers:
Related Links
Cite This Page
General citation information is provided here. Be sure to check the formatting, including capitalization, for the method you are using and update your citation, as needed.
MLA Style
Hess, Kenneth L.. "Seasonal Disease Outbreaks." Science Buddies, 17 Apr. 2023, https://www.sciencebuddies.org/science-fair-projects/project-ideas/Coronavirus_p011/coronavirus-covid-19/seasonal-disease-outbreaks. Accessed 28 May 2023.
APA Style
Hess, K. (2023, April 17). Seasonal Disease Outbreaks. Retrieved from https://www.sciencebuddies.org/science-fair-projects/project-ideas/Coronavirus_p011/coronavirus-covid-19/seasonal-disease-outbreaks
Last edit date: 2023-04-17
Explore Our Science Videos
Basic Circuits Kit: Pencil Resistors
How to make an anemometer (wind speed meter)
Valentine's Day Candy Delivery Robot