Make a Glitter Surprise Package
344 reviews
Summary
Areas of Science
Difficulty
Time Required
Short (2-5 days)
Credits
Ben Finio, PhD, Science Buddies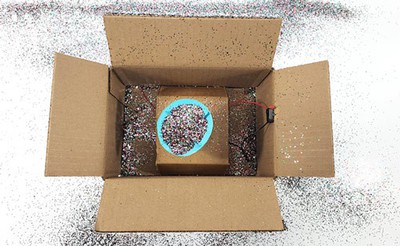 *Note:
For this science project you will need to develop your own experimental procedure. Use the information in the summary tab as a starting place. If you would like to discuss your ideas or need help troubleshooting, use the
Ask An Expert
forum. Our Experts won't do the work for you, but they will make suggestions and offer guidance if you come to them with specific questions.
If you want a Project Idea with full instructions, please pick one without an asterisk (*) at the end of the title.
Abstract
Have you ever seen a video of a glitter prank package? They usually show an unsuspecting person opening a package or a gift, only to be sprayed by a shower of glitter. Former NASA engineer Mark Rober got tired of thieves stealing packages off his porch, so he decided to build an elaborate decoy glitter package*, as he shows in
this video
. Mark's device involves a lot of custom software, electronics, and 3D printing, so might seem a little intimidating if you are new to engineering. This video shows you how to build a much simpler surprise glitter package, using a basic circuit with no programming required:
Can you turn this glitter prank package into an engineering project? For example, how can you ensure that the device isn't set off prematurely? Can you modify the design to spread glitter over a larger area? Can you make it easier to re-use? What about a human behavior science project—how do people react to opening the box? (remember that you need to follow all your science fair's rules about working with human subjects!).
*Note: Mark's original video refers to the device as a "glitter bomb." We do not recommend using the word "bomb" to refer to anything you build for a school project.

Ask an Expert
Do you have specific questions about your science project? Our team of volunteer scientists can help. Our Experts won't do the work for you, but they will make suggestions, offer guidance, and help you troubleshoot.
Careers
If you like this project, you might enjoy exploring these related careers:
Related Links
Cite This Page
General citation information is provided here. Be sure to check the formatting, including capitalization, for the method you are using and update your citation, as needed.
MLA Style
Finio, Ben. "Make a Glitter Surprise Package." Science Buddies, 29 Apr. 2023, https://www.sciencebuddies.org/science-fair-projects/project-ideas/Elec_p089/electricity-electronics/diy-glitter-surprise-package. Accessed 27 Sep. 2023.
APA Style
Finio, B. (2023, April 29). Make a Glitter Surprise Package. Retrieved from https://www.sciencebuddies.org/science-fair-projects/project-ideas/Elec_p089/electricity-electronics/diy-glitter-surprise-package
Last edit date: 2023-04-29
Explore Our Science Videos
Fun Physics with Your Cell Phone
Why Do Apples and Bananas Turn Brown? - STEM activity