The Power of Balance
158 reviews
Summary
Areas of Science
Difficulty
Time Required
Long (2-4 weeks)
Credits
*Note:
For this science project you will need to develop your own experimental procedure. Use the information in the summary tab as a starting place. If you would like to discuss your ideas or need help troubleshooting, use the
Ask An Expert
forum. Our Experts won't do the work for you, but they will make suggestions and offer guidance if you come to them with specific questions.
If you want a Project Idea with full instructions, please pick one without an asterisk (*) at the end of the title.
Abstract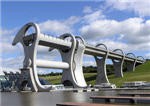 The Falkirk Wheel is a rotating boat lift connecting the Forth and Clyde Canal with the Union Canal near Falkirk in central Scotland. It consists of two diametrically opposed caissons which rotate to lift boats between the two canals through a height of 35 meters. The wheel is always perfectly balanced and, despite its enormous mass, rotates through 180° in less than four minutes, using just 1.5 kilowatt-hours (Wikipedia contributors, 2006). Do background research to find out how much energy would be required if a system of locks were used to raise the boats instead of the Falkirk Wheel. How much energy is saved? For a more advanced project, include a comparision of construction costs for a system of locks vs. the Falkirk Wheel.

Ask an Expert
Do you have specific questions about your science project? Our team of volunteer scientists can help. Our Experts won't do the work for you, but they will make suggestions, offer guidance, and help you troubleshoot.
Careers
If you like this project, you might enjoy exploring these related careers:
Related Links
Cite This Page
General citation information is provided here. Be sure to check the formatting, including capitalization, for the method you are using and update your citation, as needed.
MLA Style
Science Buddies Staff. "The Power of Balance." Science Buddies, 20 Nov. 2020, https://www.sciencebuddies.org/science-fair-projects/project-ideas/Energy_p006/energy-power/the-power-of-balance. Accessed 30 May 2023.
APA Style
Science Buddies Staff. (2020, November 20). The Power of Balance. Retrieved from https://www.sciencebuddies.org/science-fair-projects/project-ideas/Energy_p006/energy-power/the-power-of-balance
Last edit date: 2020-11-20
Explore Our Science Videos
Basic Circuits Kit: Conductors and Insulators
Junkbots Lesson Plan Introduction
Vibration & Sound: Make Sprinkles Dance