Burning Biofuels: Comparing Nonrenewable and Renewable Fuels
412 reviews
Abstract
Have you considered where the gasoline that your parents put in your car comes from and how long that source will last? The fuel that most vehicles use, gasoline, is a petroleum product. Petroleum is a fossil fuel and is a nonrenewable form of energy, meaning we use it faster than it is able to be reproduced. Burning fossil fuels also produces pollutants that might hurt our environment. Using a kind of fuel from a renewable source would help save Earth's natural resources and cut down on pollutants. In this science fair project, you will investigate whether a renewable fuel produces the same level of energy as an equivalent amount of nonrenewable fuel.
Summary
Areas of Science
Difficulty
Time Required
Average (6-10 days)
Prerequisites
None
Material Availability
Readily available
Cost
Average ($50 - $100)
Safety
You will be working with flammable materials. Wear safety goggles and other safety gear to prevent injury. Adult supervision is required. Perform this science fair project in a well-ventilated area, away from combustible and flammable objects.
Credits
Michelle Maranowski, PhD, Science Buddies
This science fair project is based on an experiment written by the National Renewable Energy Laboratory (NREL):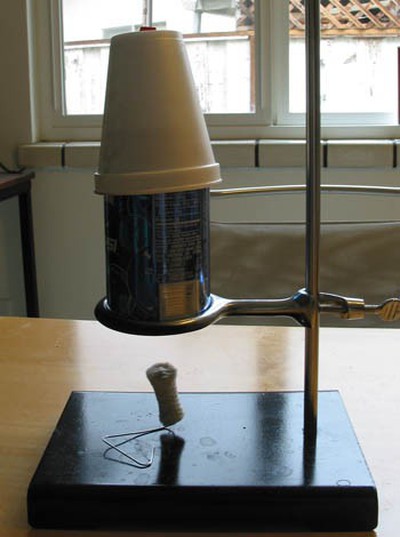 Objective
To determine if the energy in a biofuel is equivalent to the energy in the same amount of nonrenewable fuel.
Introduction
There's a lot of talk nowadays about renewable and nonrenewable energy sources. But what do those mean? Renewable energy is energy that is extracted from sources that are naturally replenished; such as the wind, water, and Sun. Nonrenewable energy comes from fossil fuels. Fossil fuels are made from the bodies of animals and plants that lived millions of years ago and were exposed to heat and pressure in the Earth's crust for millions of years. Coal is one example of a fossil fuel. It is a limited resource, and extracting energy from coal creates by-products that are believed to damage the environment and contribute to climate change.
Biofuel is a form of renewable energy. Biofuel (bios means life, in Greek) refers to living and recently dead biological material that can be used as solid, liquid, or gaseous fuel. Agrofuel (agro usually refers to agriculture or crops) is a type of biofuel and is also a form of renewable energy. Agrofuel is produced from specific crops. There are two ways to grow agrofuels. The first is to grow crops that are high in sugar, such as sugarcane or sugar beet, or that are high in starch, such as corn. Then use fermentation to produce ethanol. Engines can be modified to use ethanol fuel instead of gasoline. The second strategy is to grow crops that have high oil content, such as soybeans. When heated, the consistency of the oil changes into a form that can be used directly in diesel engines.
There are disadvantages, however, to using agrofuels. Agrofuels compete for land and resources with other crops that are grown solely for food. Clearing land for growing agrofuels threatens biodiversity and drains the local water supply. Instead of growing crops specifically for agrofuels, it might be a better option to convert waste vegetable oil into fuel. This is a complicated, but doable, process.
The first step in using agrofuels is to figure out if it's as good an energy source as nonrenewable fuel. In this energy science fair project, you will determine if equivalent amounts of a renewable agrofuel release the same amount of heat energy as a nonrenewable fuel. You will use fresh vegetable oil as the agrofuel and motor oil as the nonrenewable fuel to heat water. Will the peak temperature depend on the type of fuel used? Get to work and find out!
Terms and Concepts
Renewable energy
Nonrenewable energy
Fossil fuel
Pressure
Biofuel
Agrofuel
Fermentation
Absolute value
Questions
What are some sources of biofuel?
What are some sources of agrofuel?
What are the disadvantages to harvesting energy from agrofuels?
Bibliography
For help creating graphs, try this website:
National Center for Education Statistics. (n.d.). Create a Graph. Retrieved November 12, 2008.
Materials and Equipment
Paperclips, large (2). The paperclips must be metal and not coated with plastic.
Cotton cordage 1/2-inch (in.) diameter, 1-foot (ft.) length; available at fabric stores or craft stores
Ruler
Scissors
Soda can, 12-ounce (oz.), cleaned and metal tab removed
Liquid measuring cup, metric
StyrofoamTM cup
Scientific thermometer; available at science stores or online from Amazon.com
Ring stand; available at science stores or online from Amazon.com
Ring clamp; attaches to ring stand, ring should be approximately 3 inches in diameter. Available at science stores or online from Amazon.com
Medicine dropper or disposable pipet; pipets can be purchased online from Amazon.com
Motor oil, #20 or #30; available from your local auto supply store
Vegetable oil
Optional: Aluminum foil
Fireplace or grill lighter
Baking soda (1 box)
Stopwatch
Paper towels, moistened
Lab notebook
Graph paper
Disclaimer: Science Buddies participates in affiliate programs with Home Science Tools, Amazon.com, Carolina Biological, and Jameco Electronics. Proceeds from the affiliate programs help support Science Buddies, a 501(c)(3) public charity, and keep our resources free for everyone. Our top priority is student learning. If you have any comments (positive or negative) related to purchases you've made for science projects from recommendations on our site, please let us know. Write to us at scibuddy@sciencebuddies.org.
Experimental Procedure
Unfold a paperclip to make a holder. It should look like a letter "Z" with a tail on the end. See Figure 1.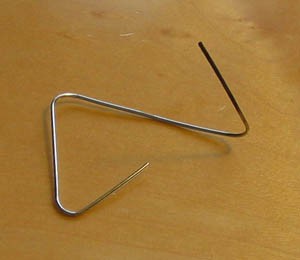 Figure 1.
Paperclip holder
Measure and cut a 1 1/2-in. piece of cotton cordage. Poke one end of the paperclip, lengthwise, through the cotton. See Figure 2.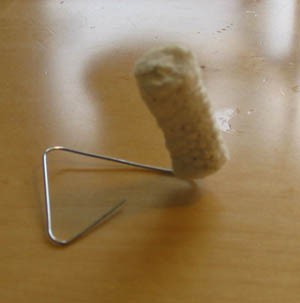 Figure 2.
Paperclip holder with the piece of cotton cordage on the end.
Measure 100 milliliters (mL) of water in the liquid measuring cup and pour it into the empty and clean soda can.
Place the open end of the Styrofoam cup over the top of the soda can. Poke a hole the same diameter as the thermometer in the top of the cup over the opening in the soda can. Insert the thermometer through the Styrofoam cup and into the soda can. The thermometer should sit in the water, but should not touch the sides of the can. Most lab thermometers come with a plastic fitting that slides over the body of the thermometer. Use this plastic fitting to keep the thermometer from sliding and touching the side of the can.
Now set up the ring stand. Set the ring stand in a well-ventilated area and on a non-flammable surface. There will be small flames and smoke produced during the following steps. Make sure that there are no flammable or combustible items nearby. Slide the smallest ring onto the stand's post; do not tighten it yet.
Suck some vegetable oil into the dropper. Squeeze 35 drops onto the cotton cording on the paperclip. Take your time and make sure that all of the oil soaks into the cotton.
Place the moistened cotton and paperclip on the base of the ring stand, directly under the ring. The cotton should be 2 in. from the plane of the ring and positioned so it is vertical to the ring stand base. Tighten the ring to the post. See Figure 3.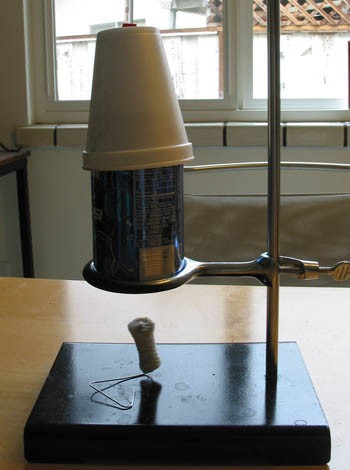 A thermometer reads the temperature of a can filled with water. A piece of cotton soaked in oil is lit underneath the can and the thermometer is used to measure the temperature changes of the water.
Figure 3.
This image depicts the experimental setup.
Place the soda can and thermometer contraption so it is resting on top of the ring. If the soda can falls through the ring, wrap some aluminum foil around the ring to reduce its diameter. Make sure that the can sits securely on the ring.
Take a thermometer reading of the initial temperature of the water. Note this reading in your lab notebook in a data table, like the one shown below.
Oil
Trial
Initial Water Temperature
Final Water Temperature
Percentage Change
Start Time
End Time
Time that the Cotton Stayed Lit
Observations
Now light the cotton using the fireplace lighter. Caution: Have an adult help you perform this step. Make sure to have an open box of baking soda nearby. Baking soda can extinguish grease fires safely if you completely cover the grease fire with the baking soda.

Make sure that you get a flame going. This may require that you light the cotton from a couple of different sides.
Observe how easy or difficult it was to light the cotton. Note this observation in your data table.

Start the stopwatch when the cotton lights. Caution: Keep away from the smoke, as it can have an unpleasant and irritating odor.
Stop the stopwatch when the flame goes out. Read the temperature on the thermometer. Watch it for a few minutes to make sure that it doesn't change. Once the temperature stops changing, record the value in your lab notebook.
Gently blow out the glowing, hot cotton. Don't blow too hard or the ash will blow all over and make a mess. Use some moistened paper towels to clean up the ash and the residual cotton from the paperclip. Carefully remove the thermometer from the can. Pour the water from the can into the sink. Rinse off the outside of the can. Be careful, because the soot on the outside of the stand can stain your hands and clothes. Clean everything with the paper towels. Open nearby windows to drive any remaining smoke out of the room. Using a fan will help.
Repeat step 2 and steps 6–13, using vegetable oil, two additional times. Refill the can each time with fresh, cool water. The water should be approximately the same starting temperature (give or take 2 degrees) each time. Record all data in the data table in your lab notebook.
Repeat step 2 and steps 6–13, using motor oil, three times. Refill the can each time with fresh, cool water. The water should be approximately the same starting temperature (give or take 2 degrees) each time. Caution: The motor oil smoke can be especially unpleasant and irritating, so make sure you stay away from the path of the smoke. Record all data in your lab notebook.
Analyze your data. Calculate the percent change between the initial water temperature and the final water temperature. Equation 1 shows how to calculate the percent change between the initial temperature and the final temperature.
Equation 1:
Percent change =
(final water temperature - initial water temperature)
initial water temperature
× 100
Graph your data on a scatter plot. If you would like to learn more about graphing, or would like to make your plots online, try this website: https://nces.ed.gov/nceskids/CreateAGraph/default.aspx. Label the x-axis Oil Type and the y-axis Final Temperature. Make a second scatter plot. Label the x-axis Oil Type and the y-axis Percentage Change in Temperature. On both of your plots, note your observations. Which oil was easier to light? Which flame lasted longer?

Ask an Expert
Do you have specific questions about your science project? Our team of volunteer scientists can help. Our Experts won't do the work for you, but they will make suggestions, offer guidance, and help you troubleshoot.
Variations
Repeat the science fair project with different types of oils. For example, try safflower oil or olive oil.
What are the characteristics of each type of oil? How do they compare? Does this account for any of your observations?
Careers
If you like this project, you might enjoy exploring these related careers:
Related Links
Cite This Page
General citation information is provided here. Be sure to check the formatting, including capitalization, for the method you are using and update your citation, as needed.
MLA Style
Science Buddies Staff. "Burning Biofuels: Comparing Nonrenewable and Renewable Fuels." Science Buddies, 20 Nov. 2020, https://www.sciencebuddies.org/science-fair-projects/project-ideas/Energy_p030/energy-power/burning-biofuels-comparing-nonrenewable-and-renewable-fuels. Accessed 23 Mar. 2023.
APA Style
Science Buddies Staff. (2020, November 20). Burning Biofuels: Comparing Nonrenewable and Renewable Fuels. Retrieved from https://www.sciencebuddies.org/science-fair-projects/project-ideas/Energy_p030/energy-power/burning-biofuels-comparing-nonrenewable-and-renewable-fuels
Last edit date: 2020-11-20
Explore Our Science Videos
Can you solve this air pressure puzzle?
Flying Helicopters on Mars - Paper Models
How to Make Paper Circuits