Acid Rain and Aquatic Life
513 reviews
Abstract
Chemicals from Earth's atmosphere are making their way down to the planet! Not in spaceships, but in rain. The acid rain can infiltrate ground water, lakes, and streams. How does acid rain affect aquatic ecosystems?
Summary
Areas of Science
Difficulty
Time Required
Average (6-10 days)
Prerequisites
None.
Material Availability
Items will need to be special ordered. See the Materials and Equipment section for more details.
Cost
Average ($50 - $100)
Safety
No hazards.
Credits
Sara Agee, PhD, Science Buddies
Objective
Test the effects of acidic water conditions on a simple aquatic environment containing animals and plants.
Introduction
Acid rain occurs when pollution in the atmosphere (sulfur dioxide and nitrogen oxide) is chemically changed and absorbed by water droplets in clouds. When there is precipitation, the droplets fall to earth as rain, snow, or sleet. The polluting chemicals in the water droplets form an acid by combining with the hydrogen and oxygen in the water. These acidic droplets can increase the acidity of the soil and affect the chemical balance of lakes and streams.
"Acid rain is a serious environmental problem that affects large parts of the US and Canada." (EPA, 2006) Acid rain accelerates weathering in carbonate rocks and accelerates building weathering. It also contributes to acidification of rivers, streams, and forest damage at high elevations (Wikipedia contributors, 2006).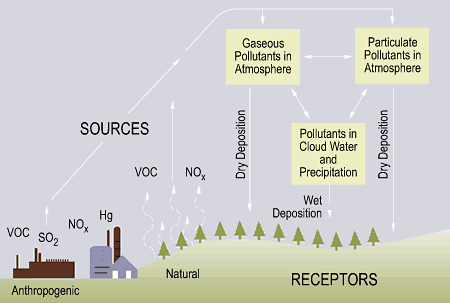 Man-made sources pollute the atmosphere with sulfur dioxide and nitrogen oxide which react to the hydrogen and oxygen present in rain. These rain drops become acidic and fall back down to the surface of Earth and get absorbed by the soil and affect the pH balance of other water sources.
What is an acid? An acidic solution will donate hydrogen ions and usually taste sour, like lemon juice. Acids are the opposite of bases, which accept hydrogen ions and usually feel slippery, like soapy water. How do you tell if something is an acid or a base? You use a chemical called an indicator, which changes in color when it goes from an acidic to basic solution. Indicators can be extracted from plant pigments, like red cabbage. If you want to learn how to make your own acid indicator, read the Science Buddies experiment Cabbage Chemistry.
In this experiment you will use an indicator that is concentrated on little strips of paper called "pH test strips". The color of the paper will indicate the pH of the solution you are measuring. The pH of a solution is a numerical measure of how basic or acidic it is. pH 7 is a neutral pH, and solutions become more acidic as the pH decreases, and more basic as the pH increases. Each one unit change in pH is a 10-fold change in the number of hydrogen ions in solution. Your pH test strips will come with a color chart that you can use to measure the pH of your solutions. This will give you a measurement of the acidity of your aquatic environments. To find out more about the pH scale, you can check out the Science Buddies resource Acids, Bases, & the pH Scale.
In this science project, you will test the effects of acid rain on a simple aquatic environment, consisting of small aquatic organisms, specifically some plants and snails. The effect of possibly toxic chemicals on organisms is called environmental toxicity. You will use household vinegar to create different solutions of various acidities. You will then observe the organisms in the experimental environment to determine the effects of acidic conditions on viability. To measure viability, you will count the number of living and non-living organisms in each experimental environment over time.
Terms and Concepts
Acid rain
Acids
Bases
pH
Aquatic environments
Aquatic organisms
Environmental toxicity
Viability
Questions
What causes acid rain?
What is pH? How can you measure it?
How do you think acidic conditions affect an aquatic ecosystem?
Do you think all of the organisms be affected similarly or differently?
Bibliography
The following website provides more information about acid rain:
This science project was adapted from the Duckweed Bio-Assay protocol from Cornell University:
This is a site just for kids that discusses acid rain:
This site provides a thorough definition of acid rain:
Materials and Equipment
These items can be purchased from Carolina Biological Supply Company, a Science Buddies Approved Supplier:
Watering pipettes. Alternatively, medicine droppers may be used, which are available at most drug stores.
pH test strips with small increments of change or sensitivity, specifically by units of 0.5 or 0.25, that cover the pH range between 5 and 6.5. Alternatively, a pH meter, which is available through suppliers such as Carolina Biological, can be used instead.
Small pond snails (at least 20). These may alternatively be available from aquarium supply stores or ponds.
Duckweed plants (40 healthy plants). These may alternatively be available from aquarium supply stores or plant nurseries.
You will also need to gather these items:
Distilled water, bottled (2 gal.)
Measuring cups, or a 1 L graduated cylinder or beaker
Large, reusable plastic containers with lids that can hold at least 1 L (4). These should all be the same shape and size.
Permanent marker
Small bottle of white vinegar
Clean spoon
Lab notebook
Disclaimer: Science Buddies participates in affiliate programs with Home Science Tools, Amazon.com, Carolina Biological, and Jameco Electronics. Proceeds from the affiliate programs help support Science Buddies, a 501(c)(3) public charity, and keep our resources free for everyone. Our top priority is student learning. If you have any comments (positive or negative) related to purchases you've made for science projects from recommendations on our site, please let us know. Write to us at scibuddy@sciencebuddies.org.
Experimental Procedure
Rinse each container thoroughly with water. Do not use soap because it can coat the plastic container and may be harmful to the organisms in your experiment. Label each container with a number, using the permanent marker.
Using the measuring cup, add 1 L (L) (which is the same as 1000 milliliters [mL] or about 4 cups) of water to each container. Use distilled bottled water. Tap water may contain chemicals, like chlorine, which could harm the aquatic life and ruin your experiment.
Using the pH strips, test the pH of the water in container #1. Record the pH in your lab notebook in a data table like Table 1. Do not add any vinegar to this container.


| | | | |
| --- | --- | --- | --- |
| Container | Water | Drops of Vinegar | pH |
| 1 | 1 L | 0 drops | |
| 2 | 1 L | | |
| 3 | 1 L | | |
| 4 | 1 L | | |



For containers 2–4, use the medicine dropper to add vinegar to the water, one container and one drop at a time. After adding each drop, mix the water with a clean spoon and measure the pH with the test strips. The goal is to create four different solutions with increasing amounts of acidity, each one going 0.5 pH lower than the one before it. For example, if the distilled water has a pH of 6.5, your containers would have pHs of 6.5, 6.0, 5.5, and 5.0.

Container #2 should have the fewest drops of acid and thus be the least acidic (0.5 pH lower than the distilled water).
Container #4 should have the most drops of acid and thus be the most acidic.
In your data table record the number of drops of acid and the final pH for each container.

Put at least 5 snails into each container, putting the same number of snails into each container. Make sure that they are right-side-up at the bottom of the container.
Put 10 duckweed into each container. Make sure that each duckweed has a stem (the part sticking down) and exactly 2 leaves (the part that floats).
In your lab notebook, create data tables like Table 2 and Table 3. Record the number of snails and the number of leaves (note that the total number for all plants in each container should be 20 for the first day).
Each day for 5 days, count the number of snails that are alive in each container and the number of leaves on the duckweed. Write down your results in your data tables.

This is called a viability assay because you are counting the number of things that are viable, or still alive.
Write down any other observations you make in your lab notebook.





Number of Snails Alive
Container
Day 1
Day 2
Day 3
Day 4
Day 5
1
2
3
4





Number of Leaves on Duckweed
Container
Day 1
Day 2
Day 3
Day 4
Day 5
1
20
2
20
3
20
4
20



Make two line graphs of your results, one for the snails living and one for the number of leaves on the duckweed over time. You can make a graph by hand or use a computer program like Create a Graph and print out your graph.

For the graph showing the snails living, put the time (in days) on the x-axis (the horizontal axis) and the number of snails alive on the y-axis (the vertical axis). Make a different line for each container, being sure to also list the pH of the container.
For each graph showing the number of leaves on the duckweed, put the time on the x-axis and the number of leaves on the y-axis. Make a different line for each container, being sure to include the container's pH.

Analyze your results and try to make conclusions based on them.

Did the aquatic organisms respond similarly or differently to the changes in pH of your environment?
What is the viable pH range for each organism?
Which organisms are the most sensitive or the most resilient (strong) when it came to changes in acidity?

Ask an Expert
Do you have specific questions about your science project? Our team of volunteer scientists can help. Our Experts won't do the work for you, but they will make suggestions, offer guidance, and help you troubleshoot.
Variations
Another way to test the effect of acid rain on plants is to germinate seeds in acidic conditions. Try using your solutions to wet a paper towel in a baggie, sprinkle in some seeds, and place in a sunny window to see how many will sprout.
You could try repeating this experiment but use other aquatic organisms, such as Daphnia magna, Elodea plants, live Tubifex worms, algae (like Spirulina), or even some small, inexpensive fish, like minnows, feeder fish, goldfish. Some of these may be available from aquarium supply stores or ponds, or you may purchase them through online suppliers such as Carolina Biological.
You can also try watering a series of plants with neutral and acidic water. How well will plants grow when watered with "acid rain" compared to neutral water?
Try these other Science Buddies experiments to test the effects of toxins on aquatic environments:
Careers
If you like this project, you might enjoy exploring these related careers:
Related Links
Cite This Page
General citation information is provided here. Be sure to check the formatting, including capitalization, for the method you are using and update your citation, as needed.
MLA Style
Science Buddies Staff. "Acid Rain and Aquatic Life." Science Buddies, 23 June 2020, https://www.sciencebuddies.org/science-fair-projects/project-ideas/EnvSci_p016/environmental-science/acid-rain-and-aquatic-life. Accessed 7 June 2023.
APA Style
Science Buddies Staff. (2020, June 23). Acid Rain and Aquatic Life. Retrieved from https://www.sciencebuddies.org/science-fair-projects/project-ideas/EnvSci_p016/environmental-science/acid-rain-and-aquatic-life
Last edit date: 2020-06-23
Explore Our Science Videos
Line-Tracking Robot: BlueBot Project #3
Science Buddies: Pilobolus Spore Sac Launch
Obstacle-Avoiding: BlueBot Project #4