Landscapes and Water Usage
101 reviews
Summary
Areas of Science
Difficulty
Time Required
Very Long (1+ months)
Credits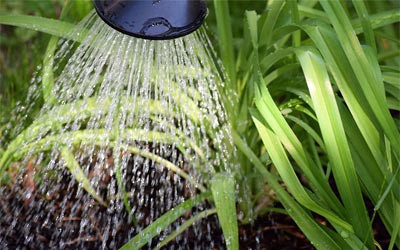 *Note:
For this science project you will need to develop your own experimental procedure. Use the information in the summary tab as a starting place. If you would like to discuss your ideas or need help troubleshooting, use the
Ask An Expert
forum. Our Experts won't do the work for you, but they will make suggestions and offer guidance if you come to them with specific questions.
If you want a Project Idea with full instructions, please pick one without an asterisk (*) at the end of the title.
Abstract
Some plants use a lot of water, and some are very drought-tolerant. Drought-tolerant grasses are good for water conservation because they require less water to grow and stay green. How much less water do they need? Which types of grass are drought-tolerant? You can buy different types or brands of grass seed at your nursery that claim to be drought-tolerant. Grow them in a container and then starve for water after they are established. Which brands die out first? You can conduct a similar experiment using sod, or lawns that are already established with different species of grass. Just make sure to get permission from the owner first! Then you can mark off your study area with stakes and starve the area for water. Which types of lawns are the most drought-tolerant? What about other landscape plants? Are native plants more drought-tolerant than exotic plants? You can actually calculate the amount of water that each type of plant needs, then compare the water needs of different plants. How much water can drought-tolerant plants save annually? Can you extrapolate this to estimate the amount of water that can be saved by an entire community? A city or regional park? Can you propose some good plants for landscapers to use that will save water? (National Arbor Day Foundation, 2006; NPS, 2006)

Ask an Expert
Do you have specific questions about your science project? Our team of volunteer scientists can help. Our Experts won't do the work for you, but they will make suggestions, offer guidance, and help you troubleshoot.
Careers
If you like this project, you might enjoy exploring these related careers:
Related Links
Cite This Page
General citation information is provided here. Be sure to check the formatting, including capitalization, for the method you are using and update your citation, as needed.
MLA Style
Science Buddies Staff. "Landscapes and Water Usage." Science Buddies, 18 July 2020, https://www.sciencebuddies.org/science-fair-projects/project-ideas/EnvSci_p022/environmental-science/landscapes-and-water-usage. Accessed 7 June 2023.
APA Style
Science Buddies Staff. (2020, July 18). Landscapes and Water Usage. Retrieved from https://www.sciencebuddies.org/science-fair-projects/project-ideas/EnvSci_p022/environmental-science/landscapes-and-water-usage
Last edit date: 2020-07-18
Explore Our Science Videos
How Antibiotic Resistant Bacteria Take Over – STEM activity
Build a Mobile Sculpture – STEM activity