Water Quality
2,242 reviews
Summary
Areas of Science
Difficulty
Time Required
Average (6-10 days)
Credits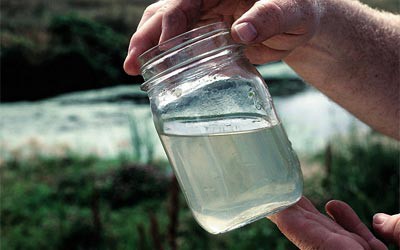 *Note:
For this science project you will need to develop your own experimental procedure. Use the information in the summary tab as a starting place. If you would like to discuss your ideas or need help troubleshooting, use the
Ask An Expert
forum. Our Experts won't do the work for you, but they will make suggestions and offer guidance if you come to them with specific questions.
If you want a Project Idea with full instructions, please pick one without an asterisk (*) at the end of the title.
Abstract
It is important to ensure that we all have good clean water to drink that is not contaminated by heavy metals or chemicals. One common pollutant in a water supply is lead in old pipes or paints that can leach into the water and cause lead poisoning. There are different kits available for testing the presence of lead and other contaminants in water. Test your water supply, and also the water in some local ponds, lakes or streams. The same contaminants that can harm you can also harm wildlife. Can you find any areas of concern? (Haman and Bottcher, 1986)
Bibliography
Haman, D.Z. and D.B. Bottcher, 1986. "Home Water Quality and Safety," Gainesville, FL: University of Florida, IFAS Extension. Retrieved March 1, 2006, from
http://edis.ifas.ufl.edu/AE009
.

Ask an Expert
Do you have specific questions about your science project? Our team of volunteer scientists can help. Our Experts won't do the work for you, but they will make suggestions, offer guidance, and help you troubleshoot.
Careers
If you like this project, you might enjoy exploring these related careers:
Related Links
Cite This Page
General citation information is provided here. Be sure to check the formatting, including capitalization, for the method you are using and update your citation, as needed.
MLA Style
Science Buddies Staff. "Water Quality." Science Buddies, 14 June 2018, https://www.sciencebuddies.org/science-fair-projects/project-ideas/EnvSci_p024/environmental-science/water-quality. Accessed 3 June 2023.
APA Style
Science Buddies Staff. (2018, June 14). Water Quality. Retrieved from https://www.sciencebuddies.org/science-fair-projects/project-ideas/EnvSci_p024/environmental-science/water-quality
Last edit date: 2018-06-14
Explore Our Science Videos
The Impossible Arrow Illusion
Is the Egg Raw or Cooked? STEM activity