Summary
Areas of Science
Difficulty
Time Required
Long (2-4 weeks)
Credits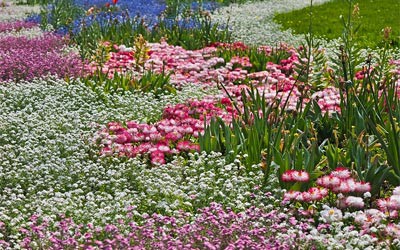 *Note:
For this science project you will need to develop your own experimental procedure. Use the information in the summary tab as a starting place. If you would like to discuss your ideas or need help troubleshooting, use the
Ask An Expert
forum. Our Experts won't do the work for you, but they will make suggestions and offer guidance if you come to them with specific questions.
If you want a Project Idea with full instructions, please pick one without an asterisk (*) at the end of the title.
Abstract
Do your parents like to garden? Then you might have a beautiful lawn surrounded by flowers, or a vegetable garden. Humans have been introducing plants to our landscapes for centuries, which has dramatically altered the natural habitat of many environments. Chances are, the landscape you live in is not a natural landscape. One movement is to restore these habitats by re-introducing native plants. Conduct a survey in your area looking for native and non-native plant species. You can take pictures of the plants in your neighborhood and then bring the pictures to a local nursery for identification. How many native and non-native plants are there? Can you identify any areas in need of restoration?

Ask an Expert
Do you have specific questions about your science project? Our team of volunteer scientists can help. Our Experts won't do the work for you, but they will make suggestions, offer guidance, and help you troubleshoot.
Careers
If you like this project, you might enjoy exploring these related careers:
Related Links
Cite This Page
General citation information is provided here. Be sure to check the formatting, including capitalization, for the method you are using and update your citation, as needed.
MLA Style
Science Buddies Staff. "Native Landscapes." Science Buddies, 20 Nov. 2020, https://www.sciencebuddies.org/science-fair-projects/project-ideas/EnvSci_p030/environmental-science/native-landscapes. Accessed 17 May 2022.
APA Style
Science Buddies Staff. (2020, November 20). Native Landscapes. Retrieved from https://www.sciencebuddies.org/science-fair-projects/project-ideas/EnvSci_p030/environmental-science/native-landscapes
Last edit date: 2020-11-20
Explore Our Science Videos
DIY Mini Drone Part 2: Altitude Control Circuit
Model Your Blood Flow – STEM activity