Summary
Areas of Science
Difficulty
Time Required
Average (6-10 days)
Credits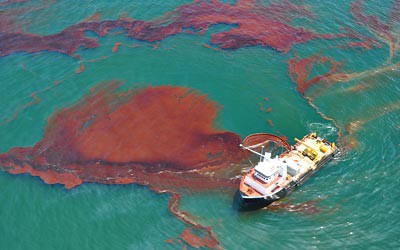 *Note:
For this science project you will need to develop your own experimental procedure. Use the information in the summary tab as a starting place. If you would like to discuss your ideas or need help troubleshooting, use the
Ask An Expert
forum. Our Experts won't do the work for you, but they will make suggestions and offer guidance if you come to them with specific questions.
If you want a Project Idea with full instructions, please pick one without an asterisk (*) at the end of the title.
Abstract
No one can deny the devastating consequences of an oil spill on the local wildlife. Oil affects all levels of the ecosystem, from plants to fish and birds. What happens to water plants if you add motor oil to their pot? What is the effect of motor oil on the health of a goldfish, or water insects? What happens to the barbs of a bird feather if they are dipped in oil? Can you test different types of environmentally-friendly detergents for cleaning the bird feathers? Can you test different methods of containing oil that has been spilled on water? What about oil spilled on land? How does it affect the soil, or plants that grow in the soil? Can you try to treat affected soil with conditioners or detergents to improve the growth of plants after an oil spill? Some detergents contain enzymes to break down oil and grease; research some of these enzymes. What organisms do they come from? How are they made? What type of proteins are they? Can you think of other potential enzymes to use, or a method of delivery to the spill site? (EPA, 2006)

Ask an Expert
Do you have specific questions about your science project? Our team of volunteer scientists can help. Our Experts won't do the work for you, but they will make suggestions, offer guidance, and help you troubleshoot.
Careers
If you like this project, you might enjoy exploring these related careers:
Related Links
Cite This Page
General citation information is provided here. Be sure to check the formatting, including capitalization, for the method you are using and update your citation, as needed.
MLA Style
Science Buddies Staff. "Oil Spills." Science Buddies, 20 Nov. 2020, https://www.sciencebuddies.org/science-fair-projects/project-ideas/EnvSci_p032/environmental-science/oil-spills. Accessed 22 May 2022.
APA Style
Science Buddies Staff. (2020, November 20). Oil Spills. Retrieved from https://www.sciencebuddies.org/science-fair-projects/project-ideas/EnvSci_p032/environmental-science/oil-spills
Last edit date: 2020-11-20
Explore Our Science Videos
Reaction Rates: When Surface Area Matters! Lesson Plan Introduction
Extract Iron from Cereal– Science Project