Recycling Greywater: Can Plants Tolerate It?
476 reviews
Abstract
One way to conserve water is to find safe ways to use it more than once. Here is a project to test whether greywater (water that has been used for washing or bathing) can be used for watering ornamental plants.
Summary
Areas of Science
Difficulty
Time Required
Very Long (1+ months)
Prerequisites
None
Material Availability
Readily available
Cost
Low ($20 - $50)
Safety
Adult supervision required
Credits
Andrew Olson, Ph.D., Science Buddies
Sources
This project is based on the following 2007 California State Science fair project, a winner of the Science Buddies Clever Scientist Award
Cloud, G., 2007. "Gray Water Effects on Plant Growth".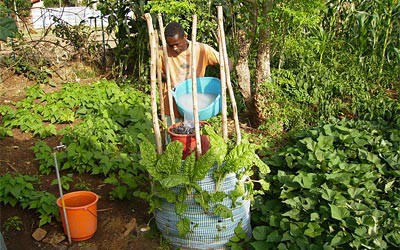 Objective
The goal of this project is to investigate the effects of greywater on plant growth and health.
Introduction
Fresh drinking water is something many of us take for granted. We're so used to turning on the tap every day that we don't really think about it. Think what it would be like if you had to walk a few hundred meters to get your water, and walk it back home in a big container. It's heavy! Remember that water weighs 1 kg/L (8 lb/gal). How many trips would you have to make to supply your needs for one day? Your family's needs? Having to carry your own water might change your whole outlook about how much water you use daily.
One way to conserve water is to find ways to use it twice. Many households use more water to keep their lawn and garden green than they use for cooking, cleaning and drinking. Could it be possible to take water that has been used once for washing (called greywater) and use it again to water outdoor plants? Or would the detergents and oils in the wash water harm the plants and soil?
It is important to note that used toilet water (called blackwater) is most definitely not suitable for re-use. To maintain public health, blackwater must pass through a water treatment plant or septic system before being released back into the environment.
Greg Cloud was interested in exploring ways to reduce water usage, and decided to try an experiment with greywater and plants for his science fair project. He designed a well-controlled experiment to test whether or not greywater would damage plants. Half of the plants in his study were watered with greywater, and the other half with normal tap water. He made daily observations and measurements to assess the health of the plants in both groups. Greg's project brought him all the way to the 2007 California State Science Fair, where he won a Science Buddies Clever Scientist award.
You can design your own experiment to find out if greywater is suitable for irrigating ornamental plants. Before you start, you should do some background research on greywater— for example, what it contains, and the proper methods for handling it. You should also investigate what is already known about using greywater for irrigation. Perhaps some plants will be more sensitive, and others less so. You could even expand Greg's experiment and try several different types of plants. Each plant type should have an experimental group that is watered with greywater, and a control group that is watered with tap water. The other growing conditions (amount of sunlight, type of soil, location, etc.) should be identical for both groups.
Try this experiment and see what you can learn about safely reusing water to conserve fresh water.
Terms and Concepts
To do this project, you should do research that enables you to understand the following terms and concepts:
Greywater
Detergents
Blackwater
Plants and plant growth
Questions
What are the sources of greywater in your home?
What does greywater from different sources contain?
Are detergents alkaline or acidic?
How might plants react to the different components in greywater?
Bibliography
These sites have background information on greywater. [Note that many of these references focus on greywater systems for residences. You won't be building an elaborate system for this project, but you will still find lots of useful information about greywater itself and how to use it safely.]:
Coder, K.D., 1999. Using Gray Water on the Landscape. University of Georgia, College of Agricultural and Environmental Sciences. Retrieved June 28, 2007.
DOH, 2014. Useful Links Related to Greywater Reuse, Recycling, and Water Conservation. Washington State Department of Health. Retrieved January 31, 2014.
NMSU, 1990. Safe Use of Household Greywater. New Mexico State University. Retrieved June 28, 2007.
Here is information on plant choices for greywater:
This project is based on the following 2007 California State Science fair project, a winner of the Science Buddies Clever Scientist Award:
Materials and Equipment
To do this experiment you will need the following materials and equipment:
At least ten plants (more is better):

The plants should all be the same species.
They should be growing under the same conditions (sunlight, soil, etc.).
It is best to use older, more mature plants, not seedlings for this project.

Greywater, here are some tips:

We suggest using water from your clothes washer.
Use a 50:50 mix of soapy wash water and rinse water.
Do not use water containing either bleach or fabric softener.

Waterproof gloves. These can be purchased at a local drug store or pharmacy, or through an online supplier like Carolina Biological Supply Company. If you are allergic to latex, use vinyl or polyethylene gloves.
Optional: camera
Disclaimer: Science Buddies participates in affiliate programs with Home Science Tools, Amazon.com, Carolina Biological, and Jameco Electronics. Proceeds from the affiliate programs help support Science Buddies, a 501(c)(3) public charity, and keep our resources free for everyone. Our top priority is student learning. If you have any comments (positive or negative) related to purchases you've made for science projects from recommendations on our site, please let us know. Write to us at scibuddy@sciencebuddies.org.
Experimental Procedure
Safety Notes:
Greywater is waste water from washing machines, sinks, and bathtubs, not toilets (blackwater).
Do not use laundry water from loads in which diapers were washed.
Do not use greywater on your vegetable garden.
Wear gloves when handling greywater, and always wash up afterwards.
In addition, here are some suggestions from New Mexico State University (NMSU, 2006):
Untreated greywater should not be kept for longer than one day, but adding two tablespoons of chlorine bleach per gallon of water will extend storage time somewhat. Try to use greywater the day it is collected or the high bacteria count will cause objectionable odors.
Observe these precautions when using untreated greywater:
Greywater containing sodium, bleach or borax can damage plants. For this reason, water from automatic dishwashers should not be used for irrigation.
Water used to wash cooking utensils in the sink may contain grease, fats and oils, and is not acceptable for greywater use.
If you plan to use water from your washing machine, avoid liquid fabric softeners and detergents with softeners. Use a dryer fabric softener sheet instead.
Do your background research so that you are knowledgeable about the terms, concepts, and questions in the Background tab.
Divide your plants into two groups.

One group will be the greywater group (watered only with greywater), and the other will be the drinking water group (watered only with drinking water).
Both groups of plants will be watered on the same schedule, using the same amount of water. The only difference should be the type of water used.
As noted above, it is best not to store the greywater, but to use it on the day it is collected.
Wear gloves when handling greywater, and always wash up afterwards.
Remember to label the plants!

If you have a camera, take photographs of the plants before starting the experiment, and at regular intervals during the experiment. Make sure that the group labels are clearly visible in the photographs, so that you will be able to tell the plants apart in the pictures.
Make daily observations of the plants, and record your findings in your lab notebook. Your observations should be detailed and specific. For example:

Observe the leaves, note their color and condition.
Is the plant droopy, or standing straight?
Is the plant growing?
The Science Buddies resource, Measuring Plant Growth explains various methods you can use for measuring the amount of plant growth and the health of the plants.

Ask an Expert
Do you have specific questions about your science project? Our team of volunteer scientists can help. Our Experts won't do the work for you, but they will make suggestions, offer guidance, and help you troubleshoot.
Global Connections
Variations
Do background research to find out which types of plants will do well and which plants not so well with greywater. For example, plants that like acidic soil would probably not do well with greywater irrigation, because greywater is alkaline. Design an experiment to test how well different plant types grow with greywater.
Careers
If you like this project, you might enjoy exploring these related careers:
Related Links
Cite This Page
General citation information is provided here. Be sure to check the formatting, including capitalization, for the method you are using and update your citation, as needed.
MLA Style
Science Buddies Staff. "Recycling Greywater: Can Plants Tolerate It?" Science Buddies, 20 Nov. 2020, https://www.sciencebuddies.org/science-fair-projects/project-ideas/EnvSci_p040/environmental-science/recycling-greywater-can-plants-tolerate-it. Accessed 30 Sep. 2023.
APA Style
Science Buddies Staff. (2020, November 20). Recycling Greywater: Can Plants Tolerate It? Retrieved from https://www.sciencebuddies.org/science-fair-projects/project-ideas/EnvSci_p040/environmental-science/recycling-greywater-can-plants-tolerate-it
Last edit date: 2020-11-20
Explore Our Science Videos
How to Make a Homopolar Motor - Science Experiment
What are the Chances? – A Probability STEM activity
Underwater Color Bursts – STEM Activity