Are There Bugs Under Your Feet?
728 reviews
Abstract
Look out! When you walk on the grass, you are squishing millions of micro-invertebrates! Just kidding, these animals are too small to squish. Learn how to catch them by making a Berlese funnel in this fun project that will teach you about soil.
Summary
Areas of Science
Difficulty
Time Required
Short (2-5 days)
Prerequisites
None
Material Availability
Readily available
Cost
Very Low (under $20)
Safety
No issues
Credits
Sara Agee, PhD, Science Buddies Alumni
Svenja Lohner, PhD, Science Buddies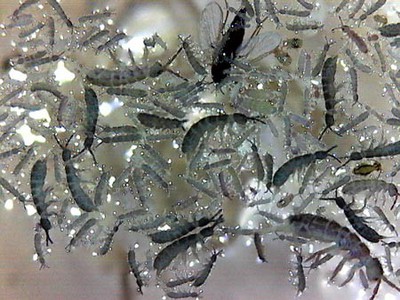 Objective
In this project, you will make a Berlese funnel to investigate micro-invertebrates in soil.
Introduction
Did you know that the soil beneath your feet is full of life? Healthy soil is teeming with life and full of micro-invertebrates, or tiny animals without skeletons. Some examples of soil-dwelling invertebrates are worms (called annelids and nematodes), and bugs (called arthropods). Here are some interesting facts about soil-dwelling arthropods from Andrew Moldenke at Oregon State University (Moldenke, A.R., 2000):
Many bugs, known as arthropods, make their home in the soil. They get their name from their jointed (arthros) legs (podos). Arthropods are invertebrates; that is, they have no backbone, and rely instead on an external covering called an exoskeleton.
Arthropods range in size, from microscopic to several inches in length. They include insects, such as springtails, beetles, and ants; crustaceans, such as sowbugs; arachnids, such as spiders and mites; myriapods, such as centipedes and millipedes; and scorpions.
Nearly every soil is home to many different arthropod species. Certain row-crop soils, like the soil that corn and soybeans are grown in, contain several dozen species of arthropods in a square mile. Several thousand different species might live in a square mile of forest soil.
Arthropods can be grouped as shredders, predators, herbivores, and fungal-feeders, based on their functions in soil. Most soil-dwelling arthropods eat fungi, worms, or other arthropods. Root-feeders and dead-plant shredders are less abundant. As they feed, arthropods aerate and mix the soil, regulate the population size of other soil organisms, and shred organic material.
Many soil-dwelling arthropods are very small, even microscopic, and can easily be missed unless you know how to catch them! Very small arthropods are called micro-arthropods. One way to catch soil-dwelling micro-arthropods is to construct a Berlese funnel, shown in Figure 1, below. A Berlese funnel can be made using a funnel, some screen material or hardware cloth, and a dark jar filled with a preservative liquid like ethyl alcohol or antifreeze. Soil or leaf litter is scooped into the funnel and the funnel is placed over the dark jar in a well-lit location. The light will start heating up the soil from the top and creates a gradient of heat, light and moisture. As the micro-arthropods burrow deep into the soil to reach more moist areas and to avoid the light and the heat, they fall into the jar filled with preservative. Then you can look at them all with a magnifying glass and marvel at the diversity of soil-dwelling micro-arthropods, like the ones shown in Figure 2, below!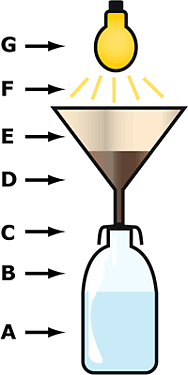 Figure 1.
A Berlese Funnel consists of: A) liquid for conservation (alcohol at 70°), B) bottle, C) filter, D) ground, litter, leaves, etc., E) funnel, F) heat, G) source of heat. (Wikipedia Contributors, 2007; Image Credit: Valerie Chansigaud)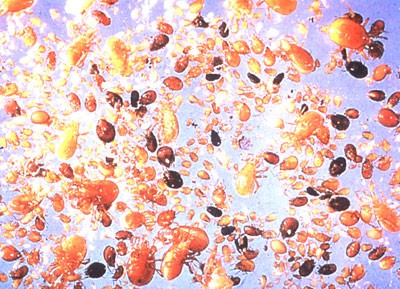 Figure 2.
"The 200 species of mites in this microscope view were extracted from one square foot of the top two inches of forest litter and soil. Mites are poorly studied, but enormously significant for nutrient release in the soil." (Moldenke, A.R., 2000; Image Credit: Val Behan-Pelletier, Agriculture and Agri-Food Canada)
In this experiment, you will construct your own Berlese funnel and use it to catch micro-arthropods from your garden soil. You will collect micro-arthropod samples from soils at different locations around your home and garden. Will the number of micro-arthropods in each sample correlate with the soil quality at each site?
Terms and Concepts
To do this type of experiment, you should know what the following terms mean. Have an adult help you search the Internet or take you to your local library to find out more!
Soil
Micro-invertebrate
Micro-arthropod
Berlese funnel
Organism
Questions
What types of organisms live in the soil?
What do micro-arthropods look like under a magnifying lens?
How does a Berlese funnel allow you to collect micro-invertebrates from the soil?
Bibliography
Read about Antonio Berlese, the inventor of the Berlese funnel on Wikipedia:
Wikipedia contributors. (2007). Antonio Berlese. Wikipedia, The Free Encyclopedia. Retrieved December 6, 2007.
This is an excellent resource about soil biology and the lives of arthropods that live in the soil:
Moldenke, A.R. (2000). The Soil Biology Primer: Soil Arthropods. Natural Resources Conservation Service (NRCS), United States Department of Agriculture (USDA). Retrieved December 6, 2007.
Here is another good soil resource that explains the importance of macrofauna, mesofauna, and microfauna to soil health:
Hallett, S.H. & Caird, S.P. (2017). Soil-Net: Development and Impact of Innovative, Open, Online Soil Science Educational Resources. Soil Science. Welcome to Soil-net.com. Retrieved August 5, 2020.
Materials and Equipment
Empty 1 L or 2 L plastic soda bottle (1)
Empty jar with a tight lid
1/4" mesh hardware cloth or aluminum window screen (15x15 cm piece)
Scissors
Masking tape or duct tape
Rubbing alcohol (ethyl), available at drug stores
Lamp with a 13 W compact fluorescent (CFL) bulb
Resealable plastic bag
Soil samples from around your home
Magnifying lens (10x) or loupe
Experimental Procedure
To make your Berlese funnel, cut the top of the soda bottle off at about one third height as shown in Figure 3. The top part will function as the funnel and will be inverted and inserted into the lower part of the bottle at a later step.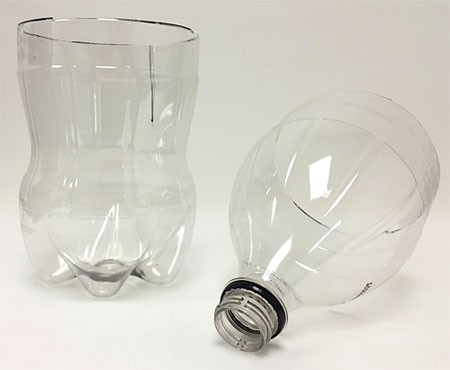 Figure 3.
Cut soda bottle for Berlese funnel.
Pour the rubbing alcohol into the jar to a depth of 1-2 cm.
Place the jar with alcohol into the bottom part of the bottle.
Invert the top part of the bottle and cut a piece of the hardware cloth to a size that is big enough to create a basket in the wide end of the funnel. To do this, you might need to fold up the corners of the hardware cloth to make it fit inside the funnel part of the bottle. Your funnel should now look similar to the one in Figure 4.

You can use tape to secure the edges of the cloth to the container.
If you are using window screen, make sure you are creating a pit/basket in the middle that is deep enough to hold all your soil and gives the animals enough room to burrow down. Cut numerous slits into the screen first so that larger animals can crawl through, down into the funnel.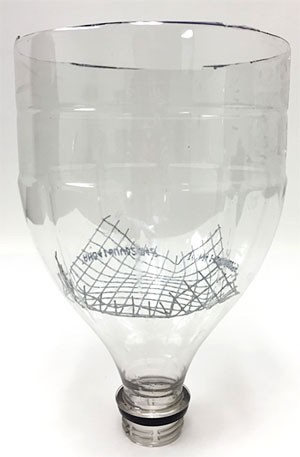 Figure 4.
Funnel with inserted hardware cloth.
Collect several handfuls of soil and leaf litter from different locations around your home. Good samples contain lots of organic material, are still slightly moist (but not wet), and can be found under evergreen bushes, on grass surfaces or under trees.

Scoop the top layer of the soil with your hands into a plastic bag. Make sure to include all the leaf litter on top of the soil as well.
If you have a cut or wound, you should wear latex or rubber gloves when collecting and working with the soil.
Do not forget to label where the sample was taken from and include a date.
You will use the Berlese funnel one sample at a time to collect micro-invertebrates. Or you could make several funnels, one per sample.

Put the soil sample, including leaf litter, on top of the wire mesh into your prepared funnel. As you do not want to get too much dirt into your jar with alcohol, hold the funnel over a trash can and shake it slightly until you do not see any dirt or debris fall through the mesh anymore.
Carefully set the funnel on top of the jar filled with alcohol. Make sure that it sits tightly in the bottom of the bottle and does not tip over. The tip of your funnel should be close to the opening of the jar with alcohol but should not touch the liquid.
Leave the funnel in a warm, quiet place where it will not be disturbed.
Set a lamp with a 13 W compact fluorescent (CFL) bulb over the funnel, but keep the light bulb at least 10 cm away from the funnel. You do not want the leaves or soil getting too hot and catching fire. Your setup should look similar to the one in Figure 5, below.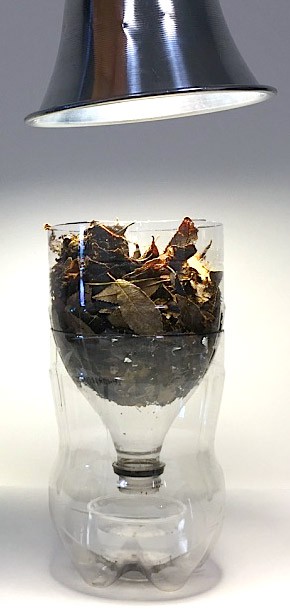 Figure 5.
Final setup of the Berlese funnel.
Let the Berlese funnel sit for at least 24 h before you look at your samples. It takes some time for the lamp to heat up the soil sample and for the organisms to move down the funnel.
Once your soil sample got dried by the heat of the lamp, carefully take the Berlese funnel apart and remove the top of the bottle. Take the jar with alcohol out of the bottom part of the bottle and have a look at your samples. You should be able to see most of the soil organisms with your naked eye but to take a closer look, use a magnifying lens (10x) or loupe. How many different micro-invertebrates or micro-arthropods can you see in each of your sample? Do they look very different? Note: If you do not see any micro-invertebrates after 5 days, discard your soil sample and start the procedure with another sample. Every soil is different and some samples work better than others.
Count the number of micro-arthropods and other fauna in each sample. Record your results in a data table:
| Sample Location | Number of Micro-fauna | Other Interesting Observations |
| --- | --- | --- |
| Vegetable Garden | | |
| Lawn | | |
| Pathway | | |
| Etc... | | |
Which samples had the most fauna? The least? What conclusion does this lead you to about the quality of soils around your home?

Ask an Expert
Do you have specific questions about your science project? Our team of volunteer scientists can help. Our Experts won't do the work for you, but they will make suggestions, offer guidance, and help you troubleshoot.
Variations
Collect samples from other areas (your school, a park, etc...) and compare. What do you notice?
Try and separate the organisms in each sample into similar looking fauna. How many different types of organisms do you think you have? Do any of them look familiar?
Advanced students can try to identify some of the insects and fauna in the samples. Do different samples contain the same types of fauna?
Careers
If you like this project, you might enjoy exploring these related careers:
Related Links
Cite This Page
General citation information is provided here. Be sure to check the formatting, including capitalization, for the method you are using and update your citation, as needed.
MLA Style
Agee, Sara, and Svenja Lohner. "Are There Bugs Under Your Feet?" Science Buddies, 20 Nov. 2020, https://www.sciencebuddies.org/science-fair-projects/project-ideas/EnvSci_p042/environmental-science/are-there-bugs-under-your-feet?from=Blog. Accessed 2 Dec. 2023.
APA Style
Agee, S., & Lohner, S. (2020, November 20). Are There Bugs Under Your Feet? Retrieved from https://www.sciencebuddies.org/science-fair-projects/project-ideas/EnvSci_p042/environmental-science/are-there-bugs-under-your-feet?from=Blog
Last edit date: 2020-11-20
Explore Our Science Videos
Colorful Melting Ice Ball Patterns - STEM Activity
How Antibiotic Resistant Bacteria Take Over – STEM activity
Popsicle Stick Chain Reaction -STEM activity