Detecting Exoplanets Using Transit Photometry—Advanced
12 reviews
Summary
Areas of Science
Difficulty
Time Required
Very Long (1+ months)
Prerequisites
In order to do this science project, you should either already have knowledge of basic statistical analysis (histograms and scatter plots) or have a willingness to familiarize yourself with them.
The more you know about using a telescope and astrophotography, the better.
Material Availability
This science project requires a computer with internet access and a variety of specialized software programs.
You will also need access to high-quality telescope with an aperture of approximately 8" or more (smaller aperture might work for a very limited number of targets) and a high-quality astronomical camera.
Cost
Very High (over $150)
Safety
No issues
Credits
Kenneth L. Hess, Science Buddies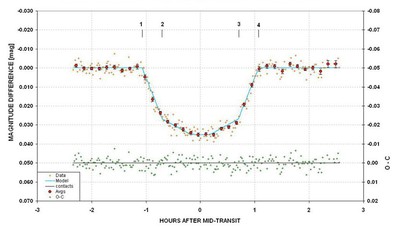 *Note:
For this science project you will need to develop your own experimental procedure. Use the information in the summary tab as a starting place. If you would like to discuss your ideas or need help troubleshooting, use the
Ask An Expert
forum. Our Experts won't do the work for you, but they will make suggestions and offer guidance if you come to them with specific questions.
If you want a Project Idea with full instructions, please pick one without an asterisk (*) at the end of the title.
Abstract
In astronomy, a transit (or astronomical transit) is a phenomenon when a celestial body passes directly between a larger body and the observer. As viewed from a particular vantage point, the transiting body appears to move across the face of the larger body, covering a small portion of it.
The word "transit" refers to cases where the nearer object appears smaller than the more distant object. Cases where the nearer object appears larger and completely hides the more distant object are known as occultations.
The transit method can be used to discover exoplanets. As a planet eclipses/transits its host star it will block a portion of the light from the star. If the planet transits in-between the star and the observer the change in light can be measured to construct a light curve. Light curves are measured with a charged-coupled device. The light curve of a star can disclose several physical characteristics of the planet and star, such as, density. [Source: Wikipedia, https://en.wikipedia.org/wiki/Transit_(astronomy)]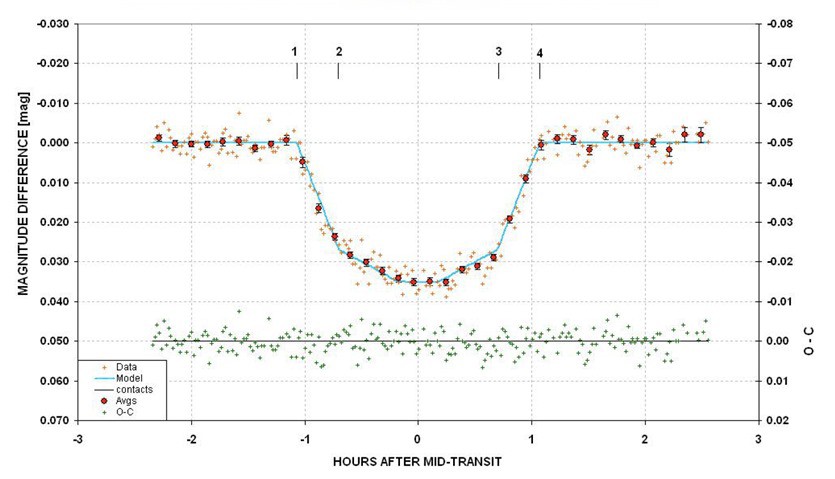 An example line graph shows the magnitude difference over mid-transit time in hours of an exoplanet. Data collected from a telescope shows a dip in light an hour before and after mid-transit of an exoplanet in-front of a star. The largest magnitude difference of the decrease in light is about 0.035 mag at the peak of the mid-transit path of the exoplanet.
Figure 1.
Light curve of exoplanet WASP-10 made November 14, 2008, with a 14" Meade LX-200 telescope and no filter, by Bruce L. Gary.
High-quality amateur astronomical equipment can be used to measure an exoplanet light curve. It is extremely unlikely that you could detect an unknown exoplanet by pointing your instruments at a random star; however, it is quite possible to confirm potential exoplanets discovered in surveys such as those produced by the Kepler Space Telescope or the Transiting Exoplanet Survey Satellite (TESS). You might even be able to have your results published. To get started creating your experimental procedure, consult the resources in the Bibliography section.
Bibliography
Search for a PDF of this book on the internet.
Gary, Bruce L. (2010). Exoplanet Observing for Amateurs, Second Edition (plus), 2010. CreateSpace Independent Publishing Platform.
Other Resources:

Ask an Expert
Do you have specific questions about your science project? Our team of volunteer scientists can help. Our Experts won't do the work for you, but they will make suggestions, offer guidance, and help you troubleshoot.
Global Connections
The United Nation's Sustainable Development Goals (UNSDGs)
are a blueprint to achieve a better and more sustainable future for all.
This project explores topics key to Industry, Innovation and Infrastructure: Build resilient infrastructure, promote sustainable industrialization and foster innovation.
Careers
If you like this project, you might enjoy exploring these related careers:
Related Links
Cite This Page
General citation information is provided here. Be sure to check the formatting, including capitalization, for the method you are using and update your citation, as needed.
MLA Style
Hess, Kenneth L.. "Detecting Exoplanets Using Transit Photometry—Advanced." Science Buddies, 17 Oct. 2022, https://www.sciencebuddies.org/science-fair-projects/project-ideas/Exoplanets_p003/exoplanets/transit-photometry. Accessed 30 Sep. 2023.
APA Style
Hess, K. (2022, October 17). Detecting Exoplanets Using Transit Photometry—Advanced. Retrieved from https://www.sciencebuddies.org/science-fair-projects/project-ideas/Exoplanets_p003/exoplanets/transit-photometry
Last edit date: 2022-10-17
Explore Our Science Videos
Line-Tracking Robot: BlueBot Project #3
Science Buddies: Pilobolus Spore Sac Launch
Obstacle-Avoiding: BlueBot Project #4