Steamy Standing Time: How Food Size Impacts Carryover Cooking
Summary
Areas of Science
Difficulty
Time Required
Average (6-10 days)
Prerequisites
None
Material Availability
Readily available
Cost
Low ($20 - $50)
Safety
Adult supervision is required when using the oven.
Credits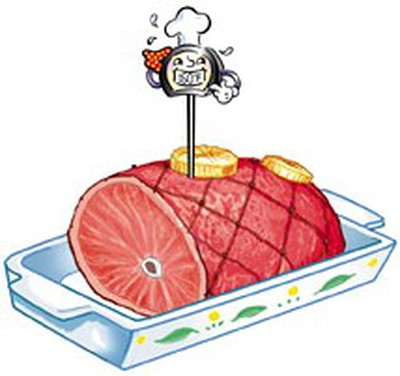 *Note:
For this science project you will need to develop your own experimental procedure. Use the information in the summary tab as a starting place. If you would like to discuss your ideas or need help troubleshooting, use the
Ask An Expert
forum. Our Experts won't do the work for you, but they will make suggestions and offer guidance if you come to them with specific questions.
If you want a Project Idea with full instructions, please pick one without an asterisk (*) at the end of the title.
Abstract
"What? My food needs some standing time? How can food stand? I don't see any legs on those baked potatoes!" Whether you're using a traditional oven or a microwave,
standing time
is an important concept in cooking or baking. When you remove a food from an oven or a microwave, the food retains heat and continues to cook for several minutes after it has been removed from the heat source. This process of the food continuing to cook, using the retained heat in the food itself, is called
carryover cooking.
It is the reason why many recipes call for standing time. The carryover cooking that occurs during standing time causes the internal temperature of the food to rise several degrees and allows for the temperature to become more equalized throughout the food. How much carryover cooking is possible depends upon the size of the food, its density, its
heat capacity
(ability to retain heat), and how hot its internal temperature is when you remove it from the oven. Foods that are high in water have a high heat capacity, and therefore, are excellent at carryover cooking. Thus, failure to allow for standing time results in food that is overdone.
In this cooking and food science project, you will explore how much the size of the food relates to its final internal temperature. You will roast different sizes of the same type of meat to the same internal temperature, remove them from the oven, and measure and record their internal temperature every few seconds over several minutes, using an electric probe or instant-read oven thermometer placed in the center of the roast, avoiding any bone. How much does the volume of the roast impact the amount of carryover cooking that can be achieved? What about the surface-area-to-volume ratio (or "compactness" of the roast)? Does that impact how much carryover cooking is possible, as well? As another variation, you could see how different types of foods with different densities, but the same volume are affected by carryover cooking.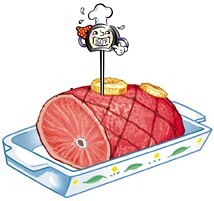 Figure 1. This cartoon shows a roast experiencing carryover cooking outside the oven with an instant read thermometer in its center. (USDA, 2006.)
Bibliography
This source offers a discussion of standing time in microwave ovens:
This source shows how to place a thermometer in meat, avoiding the bone:

Ask an Expert
Do you have specific questions about your science project? Our team of volunteer scientists can help. Our Experts won't do the work for you, but they will make suggestions, offer guidance, and help you troubleshoot.
Careers
If you like this project, you might enjoy exploring these related careers:
Related Links
Cite This Page
General citation information is provided here. Be sure to check the formatting, including capitalization, for the method you are using and update your citation, as needed.
MLA Style
Science Buddies Staff. "Steamy Standing Time: How Food Size Impacts Carryover Cooking." Science Buddies, 23 June 2020, https://www.sciencebuddies.org/science-fair-projects/project-ideas/FoodSci_p067/cooking-food-science/carryover-cooking. Accessed 3 Oct. 2022.
APA Style
Science Buddies Staff. (2020, June 23). Steamy Standing Time: How Food Size Impacts Carryover Cooking. Retrieved from https://www.sciencebuddies.org/science-fair-projects/project-ideas/FoodSci_p067/cooking-food-science/carryover-cooking
Last edit date: 2020-06-23
Explore Our Science Videos
Balloon Car: 2015 Fluor Engineering Challenge