Sweating the Score: Can Video Games Be a Form of Exercise?
| | |
| --- | --- |
| Areas of Science | Video & Computer Games |
| Difficulty | |
| Time Required | Average (6-10 days) |
| Prerequisites | None |
| Material Availability | Readily available |
| Cost | Average ($50 - $100) |
| Safety | Any volunteer who feels faint or has chest pains while playing the exergames should stop immediately and consult a doctor. |
Abstract
Have you ever played a video game that made you break a sweat? Or pant a little bit? The majority of video games are
sedentary,
meaning done in one position, but there is an increasing trend toward video games where the players are physically active. Do you think these video games can be considered exercise? This science fair project will help you find out!
Objective
In this science fair project you will determine if a physically active video game can increase your heart rate enough to be considered exercise.
Share your story with Science Buddies!

Yes,
I Did This Project!
Please log in (or create a free account) to let us know how things went.
Credits
Sandra Slutz, PhD, Science Buddies
Cite This Page
General citation information is provided here. Be sure to check the formatting, including capitalization, for the method you are using and update your citation, as needed.
MLA Style
Science Buddies Staff. "Sweating the Score: Can Video Games Be a Form of Exercise?" Science Buddies, 24 Mar. 2018, https://www.sciencebuddies.org/science-fair-projects/project-ideas/Games_p013/video-computer-games/can-video-games-be-a-form-of-exercise. Accessed 13 Nov. 2019.
APA Style
Science Buddies Staff. (2018, March 24). Sweating the Score: Can Video Games Be a Form of Exercise? Retrieved from https://www.sciencebuddies.org/science-fair-projects/project-ideas/Games_p013/video-computer-games/can-video-games-be-a-form-of-exercise
Last edit date: 2018-03-24
Introduction
Do you ever hear people complaining that they hate to exercise? Maybe it's even something you say! But we all know that exercise is good for us. Physical activity burns calories, strengthens muscles, improves our blood flow, and generally helps our bodies stay healthy. It can be hard to do something you don't enjoy though, even if you know it's good for you. That's why doctors often recommend trying to find a sport or other physical activity that you like, because if you enjoy it, you're more likely to continue and get the exercise you need.
Many people play and enjoy video games. In 2007, almost 30 million video game consoles were bought in the United States and Americans spent over $17 billion on video games (Boyer). What do you get when you combine people's love of video games with their need to exercise? The answer is: exercise video games, also known as exergames! Exergames are electronic games that require the player to be physically active in order to control the on-screen action. The genre includes a wide list of games, such as dancing games like Dance Dance Revolution and In the Groove, sports games like WiiTM Sport and Eye Toy: Kinetic Combat, and exercise games like Wii Fitness. But do these exergames actually qualify as exercise?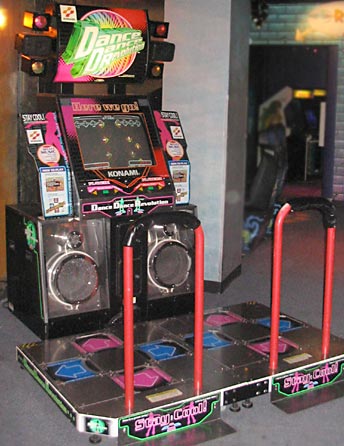 Figure 1. Dance Dance Revolution is one of the most popular exergames ever made. Pictured here is the original arcade version (Poiuyt Man, 2005).
One way to measure whether an activity results in exercise is to measure a person's heart rate, either during or immediately after the activity. Exercising requires the body to expend energy. In order to do this, the body uses oxygen. The more energy that is needed, the more oxygen the body uses. The heart is responsible for pumping the oxygenated blood throughout the body, so the higher the demand for oxygen, the faster the heart has to beat. This means that the number of heartbeats per minute, called heart rate, is directly correlated with exercise. The greater your heart rate, the more you must be exercising. Everyone has a normal heart rate, which is called your resting heart rate. It is the number of times your heart beats when you are sitting down or doing other sedentary activities. People also have maximum heart rates. What that actual number is depends on a number of factors, including age and genetics. But generally, a child's maximum heart rate is around 200 beats per minute (bpm). For people over the age of 20, maximum heart rate is approximated by subtracting their age from 220, as in Equation 1.
Equation 1:
maximum heart rate = 220 − person's age in years
So, a 30-year-old would have an approximate maximum heart rate of 190 bpm. Any physical activity that raises a person's heart rate from resting up to at least half (50% or more) of their maximum heart rate, qualifies as exercise.
In this science fair project, you'll measure people's heart rates before and immediately after playing an exergame. To measure the heart rate, you'll take each person's pulse. Every time the heart beats, it sends a wave of blood through the blood vessels. When you put your fingers over a major blood vessel you can feel the waves of blood, and by counting those pulses you can figure out a person's heart rate. The picture in Figure 2 shows two of the most common places for taking a person's pulse. Once you've gathered your volunteers' pulse information before and after gaming, you can use that data to calculate whether the volunteers' heart rates increase during game play, and if so, whether the increase is enough to qualify as exercise. Ready, set, go exergame!
Figure 2. The carotid artery in the neck, and the radial artery in the wrist, are the two most common places used for measuring someone's pulse. Notice how the people in these pictures use their index and pointer fingers to gently press the skin until they find the pulse.
Terms and Concepts
Calorie
Exergame
Heart rate
Resting heart rate
Maximum heart rate
Pulse
Blood vessel
Carotid artery
Radial artery
Target heart rate
Questions
Why is it important to get exercise?
How do you take someone's pulse?
Why can you substitute pulse rate for heart rate?
How does heart rate change with age, fitness, and exercise?
Bibliography
This website offers more information on pulses and heart rates:
For an overview of what exercise does for your body, have a look at this website:
These websites provide an overview of what exergames are:
For help creating graphs, try this website:
Materials and Equipment
Video or computer game where the player(s) are physically active (also known as "exergames"). Examples include:

Dance Dance Revolution
In the Groove
Wii Fit
Wii Sports (only the Wii Tennis and Wii Boxing games)
EyeToy: Kinetic
EyeToy: Kinetic Combat

Video game console or computer that will play one of the above games. Alternatively: If you do not have access to a computer or console and an exergame, try using the game machines at an arcade instead. Arcades often have a variety of dancing, boxing, cycling, and other physically active video games to choose from.
Volunteers (at least three, including yourself)
Stopwatch
Lab notebook
Graph paper
Experimental Procedure
Choose an Exergame
To do this science fair project you will first need to choose an exergame.
All of the examples listed in the Materials and Equipment section are exergames and would be good choices for this science fair project. However, other equally good games are being made all the time.
If you chose an exergame not listed in the Materials and Equipment section, make sure:

It has a user interface that requires a large portion of the player's body to be in motion during game play.
The physically active portion of the game play continues with few interruptions. The idea is for the player to be moving most of the time.
It is not a traditional video game, where you play by sitting down and pressing buttons to control on-screen action, because those are not exergames and should not be used in this experiment.
Practice Taking a Pulse and Calculating Heart Rate
Before starting your experiment, it is important that you have practiced taking both your own and other people's pulses, and have practiced using that data to calculate heart rate.
There are two spots commonly used to take a pulse: the carotid artery in the neck and the radial artery in the wrist. Figure 2 shows the location of both these arteries.

For descriptions on how to find these spots, check out the resources in the bibliography.
Practice finding and taking pulse measurements from both spots and decide which is easiest for you.

Press the fingertips of your index and middle fingers over either the radial or carotid artery. Gently wiggle your fingertips around until you feel a steady, rhythmic pulse. Don't push down too hard.

Important Note: Never use your thumb to take a pulse. Thumbs also have strong pulses and you may confuse the pulsing of your thumb with the beating of the pulse you're trying to measure.
Important Note: If you are measuring the pulse in the carotid artery, never measure it on both sides of the neck at the same time and do not massage that area of the neck (just press gently with two fingers instead). Both these actions can disrupt blood flow and result in fainting or loss of breath.

Once you've found the pulse, use your other hand to start the stopwatch.

Using the stopwatch to keep track of the time, count the number of beats you feel in 10 seconds.
Multiply the number of beats in 10 seconds by 6 to get the total number of beats in 1 minute (60 seconds). This calculation is illustrated in Equation 2, below.
Although pulses and heart rates are reported in beats per minute, you will only measure for 10 seconds and then multiply by 6 to calculate beats per minute. This is because the heart recovers quickly from exercise and to get the most accurate data about how quickly the heart was beating during exercise, it is important to measure as quickly as possible after exercise.

Equation 2:




heart rate = (# of pulse beats in 10 seconds) × 6
Experiment
Once you've chosen an exergame and are comfortable calculating a person's heart rate, you're ready to start your experiment. You'll do the same procedure with each volunteer.
Before collecting any data you'll want to make sure that your volunteers are familiar with the video game. If they are busy trying to figure out how the game controls work, they might not play as vigorously as an experienced player would, and it will skew your results.

If your volunteer isn't familiar with the game, have him or her practice for at least 15 minutes.

Once you know your volunteer is comfortable with the game, you are ready to determine his or her normal resting heart rate.

Have your volunteer sit quietly for 5 minutes. Use the stopwatch to determine when 5 minutes are up.
After the volunteer has been resting for 5 minutes, take the volunteer's pulse and calculate his or her heart rate, as described above in Equation 2.
Record the resting heart rate in your lab notebook in a data table like the one below.

Also record the volunteer's age and use that to help you calculate his or her approximate maximum heart rate.

If the volunteer is less than 20 years old, his or her maximum heart rate is 200 bpm and you do not need to calculate the maximum heart rate.
If the volunteer is 20 years old, or more, then his or her maximum heart rate can be calculated according to the formula outlined in Equation 1 in the Introduction.

Have the volunteer play the exergame for 10 minutes. Use the stopwatch to determine when 10 minutes are up.
As soon as the 10 minutes of game play are over, take the volunteer's pulse and calculate his or her heart rate, as shown in Equation 2. This will be the exergaming heart rate. Record the data in your lab notebook in a data table like the one below.
Note: To get an accurate reading of the heart rate during game play, you must take your volunteer's pulse immediately after he or she stops playing. The heart rate starts returning to normal as soon as physical activity stops, so every second of delay adds error.

| | | | | | | | |
| --- | --- | --- | --- | --- | --- | --- | --- |
| Volunteer | Trial # | Age | Maximum Heart Rate (bpm) | Resting Pulse (beats per 10 seconds) | Resting Heart Rate (bpm) | Exergaming Pulse (beats per 10 seconds) | Exergaming Heart Rate (bpm) |
| Volunteer #1 | 1 | | | | | | |
| | 2 | | | | | | |
| | 3 | | | | | | |

Repeat steps 1-5 three times for each volunteer. Make sure each volunteer has had plenty of time to rest in between trials. You can even do the trials on three separate days to make sure they're very well rested.

In the end, you should have collected at least nine pairs of resting and exergaming heart rates (three pairs from at least three different volunteers). It is fine to include yourself as one of the volunteers.
Analyze the Data
Calculate the average resting heart rate and exergaming heart rate for each volunteer. Graph the results as either a bar graph or a line graph.

You can make the graph by hand or use a website like Create a Graph to make the graph on the computer and print it.
What happens to each volunteer's heart rate during exergaming? Is it the same as their resting heart rate or does it increase?

If your data shows an increase in heart rate during exergaming, you'll want to determine if that increase is great enough to qualify as exercise.

For each trial, determine what percent of maximum heart rate the exergaming heart rate is. You can do this by dividing the gaming heart rate by the maximum heart rate and then multiplying by 100 to get a percentage. See Equation 3 for details.

Equation 3:




% maximum heart rate during exergaming =
exergaming heart rate
maximum heart rate
× 100

For each volunteer, average the percent of maximum heart rate during exergaming across their three trials. To do that, add the three trials together and then divide by 3 to get the average.
Graph the average percent of maximum heart rate during exergaming on a bar graph, with one bar representing each volunteer.
A physical activity is exercise when a person is using 50% or more of his or her maximum heart rate. Does your data indicate that exergaming is a form of exercise?
If you like this project, you might enjoy exploring these related careers:
Variations
Do some exergames alter heart rate more or less than others? Follow the same procedure as in the experiment above, but do several trials with at least three different exergames.
How do heart rates after 10 minutes of exergaming compare to heart rates after 10 minutes of other physical activities, like jogging in one place, jumping rope, dribbling a ball, or any other activity you can think of?
How many calories do you burn playing regular "sit-down" video games compared to an exergame? To find out you can use the calorie-counter option on a digital heart monitor while gaming. Heart monitors are available at most stores that carry exercise and sports equipment.
Share your story with Science Buddies!

Yes,
I Did This Project!
Please log in (or create a free account) to let us know how things went.
Ask an Expert
The Ask an Expert Forum is intended to be a place where students can go to find answers to science questions that they have been unable to find using other resources. If you have specific questions about your science fair project or science fair, our team of volunteer scientists can help. Our Experts won't do the work for you, but they will make suggestions, offer guidance, and help you troubleshoot.
Ask an Expert
Related Links
News Feed on This Topic
Note:
A computerized matching algorithm suggests the above articles. It's not as smart as you are, and it may occasionally give humorous, ridiculous, or even annoying results!
Learn more about the News Feed
Looking for more science fun?
Try one of our science activities for quick, anytime science explorations. The perfect thing to liven up a rainy day, school vacation, or moment of boredom.
Find an Activity
Explore Our Science Videos
| | | |
| --- | --- | --- |
| Make a Lemon Volcano - Fun Science Experiment | How to Make a Bristlebot | Make a Homemade Fly Trap |