Create and View Your Own 3D Models in Virtual Reality
308 reviews
Summary
Areas of Science
Difficulty
Time Required
Short (2-5 days)
Credits
Ben Finio, PhD, Science Buddies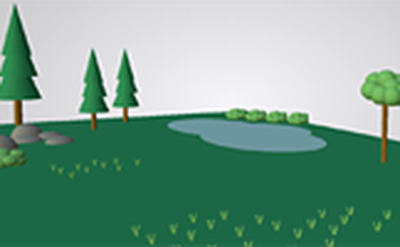 *Note:
For this science project you will need to develop your own experimental procedure. Use the information in the summary tab as a starting place. If you would like to discuss your ideas or need help troubleshooting, use the
Ask An Expert
forum. Our Experts won't do the work for you, but they will make suggestions and offer guidance if you come to them with specific questions.
If you want a Project Idea with full instructions, please pick one without an asterisk (*) at the end of the title.
Abstract
Virtual reality (VR)
headsets are becoming increasingly popular. Video game designers use a variety of programs to create the amazing 3D worlds that you see when you turn on your favorite video game, and many of those worlds are now also designed to be compatible with VR headsets. Can you use a
computer-aided design (CAD)
program or video game engine to design your own virtual world that can be viewed using a VR headset?
Table 1 lists several CAD programs and websites that you can use to make or view 3D models. Some of them do not have built-in VR capability, but you can export your 3D model for use with a separate VR viewer. You can also purchase a VR headset that lets you insert a smartphone to use as a screen. These headsets are typically much cheaper than gaming or computer VR headsets with built-in screens. VR technology is changing rapidly, so you will need to search online for headsets and programs that are compatible with your phone as a viewer. Note that the original CAD work can be done on a computer, and then you can view the model on your phone. You do not need to use a phone for all the design work.
| Program/Website | Description |
| --- | --- |
| Tinkercad | Free CAD program, great for beginners |
| SketchUp | Beginner-friendly CAD program, free version available |
| Fusion 360 | Intermediate CAD program, free for students |
| Inventor | Professional CAD program, free for students |
| Solidworks | Professional CAD program, discounted version available for students |
| Sketchfab.com | 3D model sharing website. Easy to upload models from any CAD program and view them in VR on a mobile device. Good option for students of all skill levels who want to view a CAD model in VR. |
| Unity | Video game design software. Free version available. For advanced students. |
| Google VR | Documentation for developing virtual reality apps for Android and iOS devices, including games designed in Unity. For advanced students. |
Table 1.
List of programs and websites you could use to design and view your own VR content.
Figure 1 shows a simple forest environment made using Tinkercad, and Figure 2 shows a house designed using SketchUp. Both are displayed using the Sketchfab viewer. On a desktop, you can use your mouse to control the camera and look around the models. On a mobile device, you can click the "View in VR" button. This will split the screen into two images, one for each eye, that show the scene from slightly different angles (just like your eyes work in the real world). When you place the mobile device in a VR headset, the result you see is a single, 3D image.
This project may be a good fit if your school has a "maker fair" or another type of exhibition where you can show off something you designed or made. If you want to enter it in a traditional science or engineering fair, you will need to figure out how to convert it to a project that follows either the scientific method or the engineering design process. Here are some ideas:
Your goal could be to create a realistic looking virtual scene. Measure how users react to changes to certain variables in your environment, like lighting or material texture. What makes a model the most "realistic"?
Can you make your game immersive? See if you can get users to physically react (for example, jumping back in surprise) to features in the environment, like standing on the edge of a cliff or above a pit.
Is VR really better than a regular flat computer monitor or TV? Compare how users react to environments displayed in 2D on a regular computer screen versus in 3D using a VR headset (see the Science Buddies project Do People Prefer Virtual Reality Headsets over 2D Pictures? for a similar project involving pictures).
How can a VR environment convey a sense of scale? Can you make a user feel like they are a tiny ant in the middle of a room, or a giant looking down on a city?
How does virtual reality compare to a physical prototype? Read this article about surgeons who used VR to prepare for a baby's heart surgery. Normally the surgeons would have used a 3D-printed model of the heart, but their 3D printer was broken, so they used VR instead. What are the advantages and disadvantages of each method?
Do people remember more details when they view a scene in VR instead of on a regular 2D screen?

Ask an Expert
Do you have specific questions about your science project? Our team of volunteer scientists can help. Our Experts won't do the work for you, but they will make suggestions, offer guidance, and help you troubleshoot.
Global Connections
The United Nations Sustainable Development Goals (UNSDGs)
are a blueprint to achieve a better and more sustainable future for all.
This project explores topics key to Industry, Innovation and Infrastructure: Build resilient infrastructure, promote sustainable industrialization and foster innovation.
Careers
If you like this project, you might enjoy exploring these related careers:
Related Links
Cite This Page
General citation information is provided here. Be sure to check the formatting, including capitalization, for the method you are using and update your citation, as needed.
MLA Style
Finio, Ben. "Create and View Your Own 3D Models in Virtual Reality." Science Buddies, 22 Feb. 2023, https://www.sciencebuddies.org/science-fair-projects/project-ideas/Games_p033/video-computer-games/create-and-view-your-own-3d-models-in-virtual-reality. Accessed 28 Nov. 2023.
APA Style
Finio, B. (2023, February 22). Create and View Your Own 3D Models in Virtual Reality. Retrieved from https://www.sciencebuddies.org/science-fair-projects/project-ideas/Games_p033/video-computer-games/create-and-view-your-own-3d-models-in-virtual-reality
Last edit date: 2023-02-22
Explore Our Science Videos
Cricket Wicket Knockdown: 2020 Engineering Challenge
Measure Static Electricity With An Electroscope!
Liquid Density Column – STEM Activity