Do People Prefer Virtual Reality Headsets over 2D Pictures?
6 reviews
Summary
Areas of Science
Difficulty
Time Required
Average (6-10 days)
Credits
Sabine De Brabandere, PhD, Science Buddies
Google Cardboard™ is a registered trademark of Google, Inc.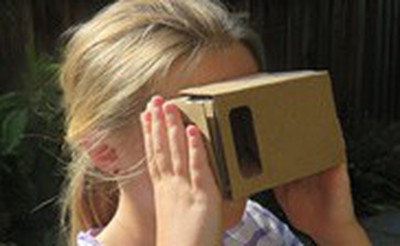 *Note:
For this science project you will need to develop your own experimental procedure. Use the information in the summary tab as a starting place. If you would like to discuss your ideas or need help troubleshooting, use the
Ask An Expert
forum. Our Experts won't do the work for you, but they will make suggestions and offer guidance if you come to them with specific questions.
If you want a Project Idea with full instructions, please pick one without an asterisk (*) at the end of the title.
Abstract
Are you convinced that virtual reality (VR) will soon become mainstream and improve our lives in unpredicted ways? Or maybe you believe it is a big hype doomed to fade and disappear. In this science project, you will use one aspect of VR—the headset—and investigate if it could convey reality better than traditional pictures or 360° images. You will go out and measure how people perceive pictures and images you took. Will people embrace the VR headset and what it can do or prefer a 360° image or classic pictures?
Let us quickly explore what VR is. Virtual reality creates the illusion that people are in one place doing one thing, while knowing they are somewhere else interacting with virtual reality equipment. These illusions are possible because experiences are created in the brain with the information received from our senses. Virtual reality equipment controls what we see, hear, feel, or even smell to create immersive experiences of virtual realities.
Recent developments, like the VR apps for smartphones and inexpensive VR headsets, make VR more available than ever. Will people adopt it into every aspect of their lives? Will VR soon penetrate our houses, schools, and stores?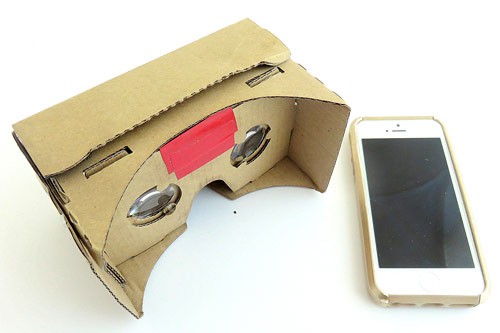 Figure 1.
Inexpensive VR headsets like the
Google Cardboard headset
available from amazon.com and VR smartphone apps make VR readily available.
An interesting spinoff uses VR equipment, like the VR headset, to show real places. Although the headset is designed to provide a realistic visual experience of virtual places (like a video game environment), it can also convey a realistic, immersive impression of places that really exist. This sparks interesting applications that could improve our lives. Would tourist offices be able to convey a more realistic idea of what a place feels like using a VR headset and images taken at existing places? A survey where you observe how volunteers interact with a VR headset and the images might answer this question, and this is exactly what you will do in this science project. You will take a set of images and pictures of public places, go out and present them to volunteers in several formats, and register how they interact with them.
VR headsets require special images to create an immersive view of a place. They use 360° images, which capture everything around you, above you, and below you (note that this is different from a 360 panorama or panoramic image, which captures a large horizontal arc, which sometimes goes all around you, but does not capture what is above or below you). It is also called a photo sphere, as the result is easily projected on the inside of a sphere. Figure 2 shows two different ways to view a photo sphere on a smartphone screen.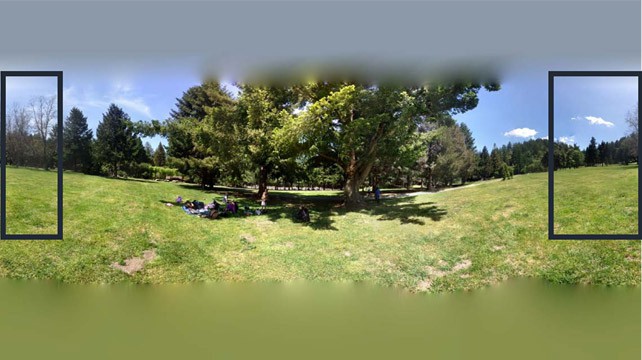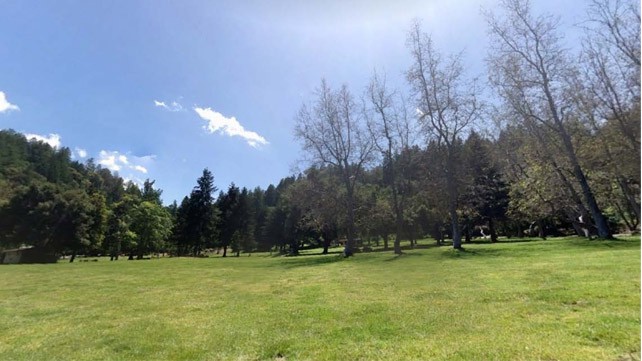 Figure 2.
(Top) An "unwrapped" photo sphere displayed as a single rectangular image on a phone's screen (think of this as trying to flatten an orange peel; the result is a distorted image). (Bottom) Apps like Google Maps™ allow you to "look around" inside the photo sphere, either by rotating the phone or by using your finger to swipe the screen. This particular image shows the area indicated by a dark frame in the "unwrapped" photo sphere.
VR apps add two important features to a photo sphere. They use the phone's built-in sensors to determine the orientation of the phone (which way it is pointing). When you place the phone in a VR headset, this allows you to look up, down, left, right, or turn around and see what you would see standing on the spot where the 360° image was taken. In addition, these apps display two images, one for each eye. These images are slightly different and mimic how your eyes, being separated by your nose, see a scene slightly differently. This technique, called stereoscopy, creates depth perception. Figure 3 shows how the photo sphere from Figure 2 is displayed by a VR app.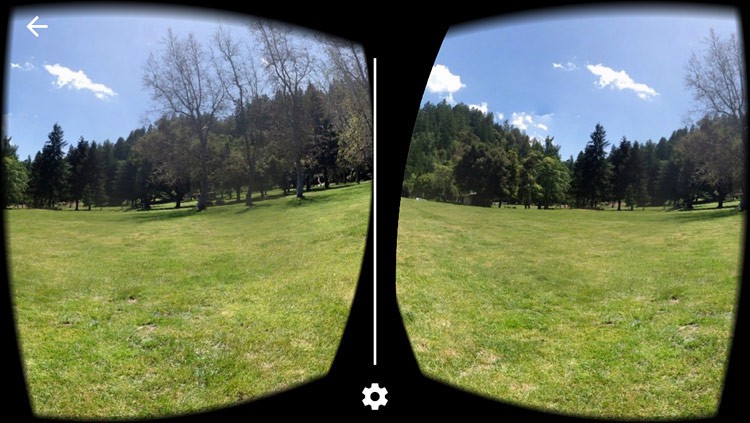 Figure 3.
The photo sphere from Figure 2 now displayed on a smartphone with a virtual reality app.
360° images can be taken with smartphone apps and can be viewed on your phone or with a VR app and headset. This makes them readily available to everyone with a smartphone, including you for this science project. Curious to find out if your volunteers will spend more time watching the pictures than the 360° images? Will they love or be averse to the headset? Go out and take some pictures, create the survey, and find out!
Start by learning how to create and view 360° images on your device and view them using the VR headset. An internet search on your specific device or headset and 360° images or photosphere can lead you to specific instructions. Do not hesitate to ask an adult or friend for help if you have trouble.
Next, choose at least two public spaces in which to take the pictures. Figure 4 shows an example. When choosing, consider the following:
Pick a tranquil space. Moving objects or people will make it difficult to take a high-quality photo sphere.
Opt for spaces that have something interesting to depict, or can bring about a feeling like excitement (such as a fair or unusual playground), curiosity (such as a museum exhibit), or serenity (such as an impressive landscape).
If possible, select places that are probably new to your volunteers.
Figure 4.
An example photo sphere taken at a museum.
For each location, create a set containing a photo sphere of the place and eight individual pictures taken from the same spot. Figure 5 shows an example of a set.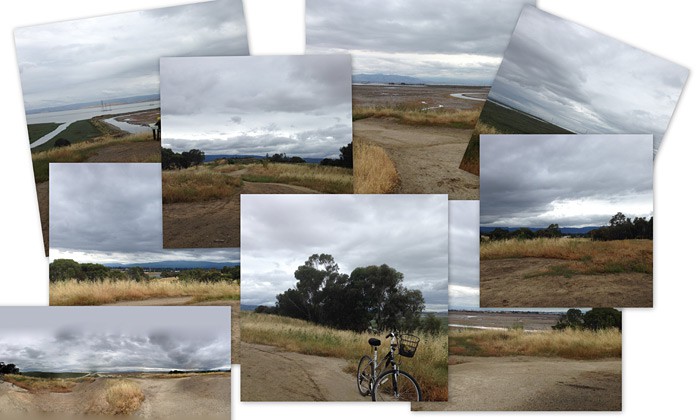 Figure 5.
A collection of 1 photo sphere and 8 regular pictures taken at a public park.
Remember to set up a clear plan for how you would like to collect data and what kind of data you would like to collect before you go out and see how people respond to your pictures. Some examples of data you might want to collect are the time spent with each specific format (eight individual 2D pictures, the photo sphere shown on the phone, and the photo sphere viewed with the virtual reality headset). A time measurement is a well-defined, indicative, and a quantitative variable. The expressed preference of the volunteers can provide a more subjective measure of the volunteers' preferences, and whether or not the volunteer is familiar with a VR headset or comfortable with viewing regular pictures on a smartphone allows you to look for trends influenced by familiarity with VR or technology. Check out the Science Buddies reference Designing a Survey if you need more help setting up your survey. To eliminate potential bias, the order in which you will show the photo sets and formats for each participant needs to be randomized.
Working with Human Test Subjects
There are special considerations when designing an experiment involving human subjects. Fairs affiliated with Regeneron International Science and Engineering Fair (ISEF) often require an Informed Consent Form (permission sheet) for every participant who is questioned. Consult the rules and regulations of the science fair that you are entering, prior to performing experiments or surveys. Please refer to the Science Buddies documents Projects Involving Human Subjects and Scientific Review Committee for additional important requirements. If you are working with minors, you must get advance permission from the children's parents or guardians (and teachers if you are performing the test while they are in school) to make sure that it is all right for the children to participate in the science fair project. Here are suggested guidelines for obtaining permission for working with minors:
Write a clear description of your science fair project, what you are studying, and what you hope to learn. Include how the child will be tested. Include a paragraph where you get a parent's or guardian's and/or teacher's signature.
Print out as many copies as you need for each child you will be surveying.
Pass out the permission sheet to the children or to the teachers of the children to give to the parents. You must have permission for all the children in order to be able to use them as test subjects.
After all this preparation, you are ready to go out and perform the survey! You might notice specific tendencies while performing the survey, or they might only be visible once you analyze the data you collect. After you collected all the data, see if you can find perceived or new tendencies in the data and look for scientific ways to communicate these tendencies clearly with your audience.

Ask an Expert
Do you have specific questions about your science project? Our team of volunteer scientists can help. Our Experts won't do the work for you, but they will make suggestions, offer guidance, and help you troubleshoot.
Careers
If you like this project, you might enjoy exploring these related careers:
Related Links
Cite This Page
General citation information is provided here. Be sure to check the formatting, including capitalization, for the method you are using and update your citation, as needed.
MLA Style
De Brabandere, Sabine. "Do People Prefer Virtual Reality Headsets over 2D Pictures?" Science Buddies, 26 May 2021, https://www.sciencebuddies.org/science-fair-projects/project-ideas/HumBeh_p063/human-behavior/virtual-reality-headsets?from=Blog. Accessed 1 Oct. 2023.
APA Style
De Brabandere, S. (2021, May 26). Do People Prefer Virtual Reality Headsets over 2D Pictures? Retrieved from https://www.sciencebuddies.org/science-fair-projects/project-ideas/HumBeh_p063/human-behavior/virtual-reality-headsets?from=Blog
Last edit date: 2021-05-26
Explore Our Science Videos
Build A Gumdrop Geodesic Dome!
Solve A Mirror Maze Reflection Challenge!
Introduction to Paper Chromatography | Theory and Practice