Zapping Yeast with X-rays
Summary
Areas of Science
Difficulty
Time Required
Long (2-4 weeks)
Prerequisites
Basic understanding of what radiation, DNA, and mutations are.
Material Availability
Cost
Very High (over $150)
Safety
Credits
Teisha Rowland, PhD, Science Buddies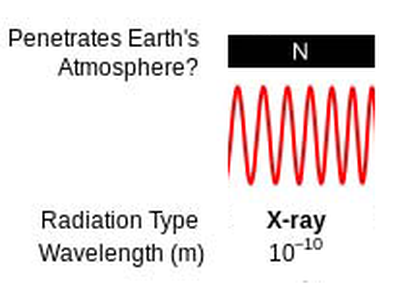 *Note:
For this science project you will need to develop your own experimental procedure. Use the information in the summary tab as a starting place. If you would like to discuss your ideas or need help troubleshooting, use the
Ask An Expert
forum. Our Experts won't do the work for you, but they will make suggestions and offer guidance if you come to them with specific questions.
If you want a Project Idea with full instructions, please pick one without an asterisk (*) at the end of the title.
Abstract
Have you ever wondered how X-rays affect living organisms? You have probably had X-rays taken at the dentist's or doctor's office. These X-rays are considered to be relatively safe, but every X-ray exposes a person to some radiation, specifically electromagnetic radiation. Radiation is energy that travels through space as either waves or high speed particles. Watch this video to learn more about electromagnetic radiation.
When the energy in X-rays encounters an object, it can break chemical bonds. If this energy encounters a living organism, it can cause cellular damage, such as by directly damaging molecules like DNA, which contains the genetic instructions for an organism. This can cause mutations in the DNA.
How radiation affects something largely depends on the radiation dose. Being exposed to a relatively low dose of radiation over time is less hazardous than being exposed to a high dose at one time. This is because organisms can repair DNA damage over time and, given enough time between exposures to radiation, can usually repair it well. However, it is difficult for organisms to repair a large amount of damage that happens all at once. Depending on the amount, duration, and type of radiation exposure, high radiation doses can lead to radiation sickness, an increased risk of developing cancer, and/or death. However, doctors can also use radiation in radiation therapies to treat cancer, which is where cancer cells are specifically targeted with high doses of radiation that should only kill the cancer cells but leave the surrounding normal cells unharmed.
What radiation dose is needed to affect the growth of microorganisms? You can build your own X-ray machine to investigate how localized X-rays affect the growth of a common microorganism, baker's yeast. Read the Science Buddies Project Idea How to Build an X-ray Machine and the accompanying Introduction to Radiation & Radiation Safety to learn how you can safely make a homemade X-ray machine. There are several other Science Buddies Project Ideas that discuss how to grow yeast and use them to conduct investigations, such as Yeast Reproduction in Sugar Substitutes. What is the lowest radiation dose needed for you to see any difference in yeast growth? What is the lowest dose needed to completely kill the yeast, resulting in no growth? How do these radiation doses compare to what is considered safe for humans? How does it compare to the radiation dose a person receives from a single X-ray, or in an entire year on average?
Bibliography
Here are a few websites that will help you start gathering information about radiation and X-rays:

Ask an Expert
Do you have specific questions about your science project? Our team of volunteer scientists can help. Our Experts won't do the work for you, but they will make suggestions, offer guidance, and help you troubleshoot.
Variations
Careers
If you like this project, you might enjoy exploring these related careers:
Related Links
Cite This Page
General citation information is provided here. Be sure to check the formatting, including capitalization, for the method you are using and update your citation, as needed.
MLA Style
Science Buddies Staff. "Zapping Yeast with X-rays." Science Buddies, 20 Nov. 2020, https://www.sciencebuddies.org/science-fair-projects/project-ideas/MicroBio_p030/microbiology/zapping-yeast-with-x-rays. Accessed 4 Oct. 2022.
APA Style
Science Buddies Staff. (2020, November 20). Zapping Yeast with X-rays. Retrieved from https://www.sciencebuddies.org/science-fair-projects/project-ideas/MicroBio_p030/microbiology/zapping-yeast-with-x-rays
Last edit date: 2020-11-20
Explore Our Science Videos
Line-Tracking Robot: BlueBot Project #3
Fun Physics with Your Cell Phone