Water Striders & Surface Tension
Summary
Areas of Science
Difficulty
Time Required
Very Short (≤ 1 day)
Credits
Ben Finio, PhD, Science Buddies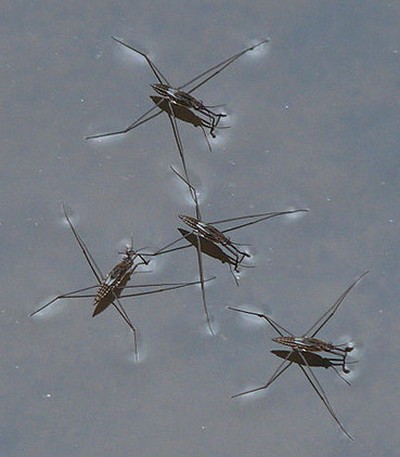 *Note:
For this science project you will need to develop your own experimental procedure. Use the information in the summary tab as a starting place. If you would like to discuss your ideas or need help troubleshooting, use the
Ask An Expert
forum. Our Experts won't do the work for you, but they will make suggestions and offer guidance if you come to them with specific questions.
If you want a Project Idea with full instructions, please pick one without an asterisk (*) at the end of the title.
Abstract
Water striders (also called water bugs, pond skippers, etc.) are insects that can hop around on the surface of water (Figure 1). Unlike boats or other floating objects that are partially submerged and held up by the resulting buoyant force, water striders are held up by
surface tension
.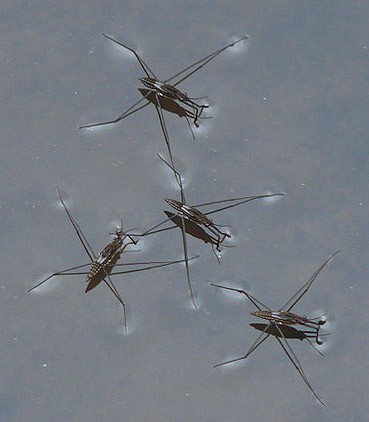 Figure 1.
Water striders (image credit Isaka Yoji).
You can build your own water striders using thin wire (Figure 2 and following video). Do some background research about surface tension, and experiment with how different variables affect the performance of your water strider. What happens if you change the diameter of the wire, the length of the legs, or the number of legs? For advanced students, can you do calculations that determine how much weight the water strider should be able to support based on the size of the legs? How do these calculations compare to your experimental results?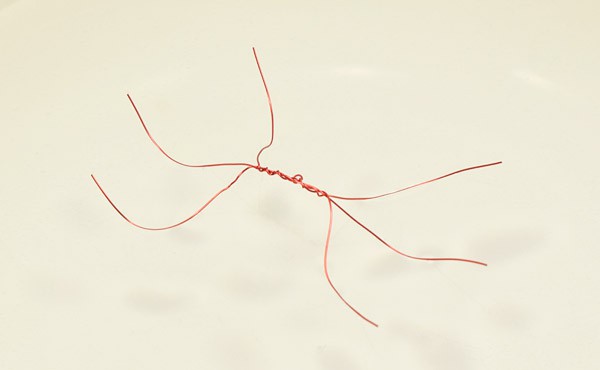 Figure 2.
Water strider built from copper wire.
Bibliography
The National Wildlife Federation (n.d.). Water Striders. Retrieved May 30, 2018.
Nave, R. (n.d.). Surface Tension. Hyperphysics. Retrieved May 30, 2018.

Ask an Expert
Do you have specific questions about your science project? Our team of volunteer scientists can help. Our Experts won't do the work for you, but they will make suggestions, offer guidance, and help you troubleshoot.
Careers
If you like this project, you might enjoy exploring these related careers:
Related Links
Cite This Page
General citation information is provided here. Be sure to check the formatting, including capitalization, for the method you are using and update your citation, as needed.
MLA Style
Finio, Ben. "Water Striders & Surface Tension." Science Buddies, 20 Nov. 2020, https://www.sciencebuddies.org/science-fair-projects/project-ideas/Phys_p107/physics/water-strider-surface-tension. Accessed 20 May 2022.
APA Style
Finio, B. (2020, November 20). Water Striders & Surface Tension. Retrieved from https://www.sciencebuddies.org/science-fair-projects/project-ideas/Phys_p107/physics/water-strider-surface-tension
Last edit date: 2020-11-20
Explore Our Science Videos
Slow Motion Craters - STEM Activity
Potato Battery Myths Debunked