How Does Your Eardrum Work?
137 reviews
Summary
Areas of Science
Difficulty
Time Required
Short (2-5 days)
Credits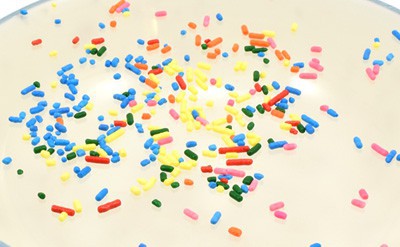 *Note:
For this science project you will need to develop your own experimental procedure. Use the information in the summary tab as a starting place. If you would like to discuss your ideas or need help troubleshooting, use the
Ask An Expert
forum. Our Experts won't do the work for you, but they will make suggestions and offer guidance if you come to them with specific questions.
If you want a Project Idea with full instructions, please pick one without an asterisk (*) at the end of the title.
Abstract
Eardrums are membranes inside your ears that vibrate when sound waves hit them. These vibrations are converted into electrical signals and sent to your brain, which allows you to hear sound. The
frequency response
of your eardrum, or the range of frequencies that will cause it to vibrate, determines your hearing range. Typical human hearing ranges from about 20 Hz up to 20,000 Hz, although the ability to hear high frequencies typically degrades as you get older. Some other animals can hear much higher frequencies—for example, dogs can hear up to about 45,000 Hz!
You can make a model of your eardrum using a bowl and plastic wrap, as shown in this video:
To turn this activity into a science project, try using a tone generator app or website instead of humming. This will allow you to play tones at a constant frequency to determine the frequency response of your eardrum model. Sweep through a range of frequencies to find out which ones cause the sprinkles to vibrate. Make sure you keep the phone or speakers at a constant volume and distance/orientation relative to the bowl for each frequency. Try changing different variables, like the size or material of the bowl, or the size of the sprinkles (or other granular materials, like salt or rice). How does this change the frequency response?

Ask an Expert
Do you have specific questions about your science project? Our team of volunteer scientists can help. Our Experts won't do the work for you, but they will make suggestions, offer guidance, and help you troubleshoot.
Careers
If you like this project, you might enjoy exploring these related careers:
Related Links
Cite This Page
General citation information is provided here. Be sure to check the formatting, including capitalization, for the method you are using and update your citation, as needed.
MLA Style
Science Buddies Staff. "How Does Your Eardrum Work?" Science Buddies, 20 Nov. 2020, https://www.sciencebuddies.org/science-fair-projects/project-ideas/Phys_p108/physics/eardrum-sound. Accessed 30 Nov. 2023.
APA Style
Science Buddies Staff. (2020, November 20). How Does Your Eardrum Work? Retrieved from https://www.sciencebuddies.org/science-fair-projects/project-ideas/Phys_p108/physics/eardrum-sound
Last edit date: 2020-11-20
Explore Our Science Videos
Light-Tracking Robot: BlueBot Project #2
Is the Egg Raw or Cooked? STEM activity