Suck It Up: Capillary Action of Water in Plants
1,453 reviews
Abstract
Have you ever heard someone say, "that plant is thirsty" or "give that plant a drink of water"? We know that plants, and even bouquets of cut flowers, need water to survive, but have you ever thought about how the water moves within the plant? In this science project, you will use colored water and carnations to figure out where the water goes.
Summary
Areas of Science
Difficulty
Time Required
Short (2-5 days)
Prerequisites
None
Material Availability
Readily available
Cost
Very Low (under $20)
Safety
Adult assistance required to cut flower stems.
If child is allergic to food dye, then adult assistance is required to add and mix the dye.
Credits
Sandra Slutz, PhD, Science Buddies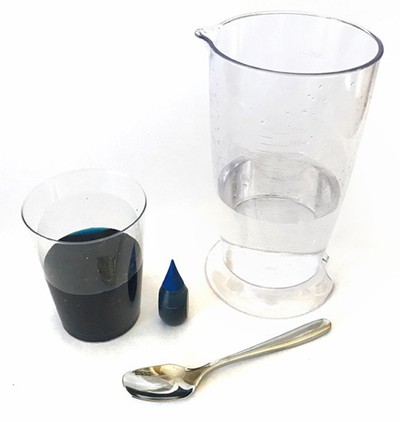 Objective
Use food dyes to follow the path of water through a carnation.
Introduction
All plants, even those living in deserts, need water to survive. Plants use water to keep their roots, stems, leaves, and flowers healthy and to prevent them from drying out and wilting. Watch this time-lapse video to see how a basil plant recovers from wilting after watering. Water in a plant is also used to carry dissolved nutrients throughout the plant.
Most of the time, plants get their water from the ground. This means that the plant has to transport the water from its roots up throughout the rest of the plant. How does it do this? Water moves through the plant by means of capillary action. Capillary action occurs when the forces binding a liquid together (cohesion and surface tension) and the forces attracting that bound liquid to another surface (adhesion) are greater than the force of gravity. The plant's stem sucks up water much like a straw does. A process called transpiration helps the capillary action to take place. Transpiration is when the water from the leaves and flower petals evaporates, or, in other words, the water leaves the plant and goes into the surrounding air. As the water evaporates, the plant pulls up more water.
A simple way of observing capillary action is to take a teaspoon of water and gently pour it in a pool on a plate, as shown in Figure 1 on the left. You will notice that the water stays together in the pool, rather than flattening out across the plate. This happens because of cohesion and surface tension. Cohesion is the attractive force that pulls similar substances together. In this case, the individual water droplets are being pulled together. The force of the pull is strongest at the edge of the pool. The water droplets at the edge have fewer neighboring water droplets, so they cling more tightly to those around them; this is known as surface tension. Now gently dip the corner of a paper towel in the pool of water. The water is attracted to the paper and "climbs" up the paper towel-this is capillary action, as shown in Figure 1 on the right.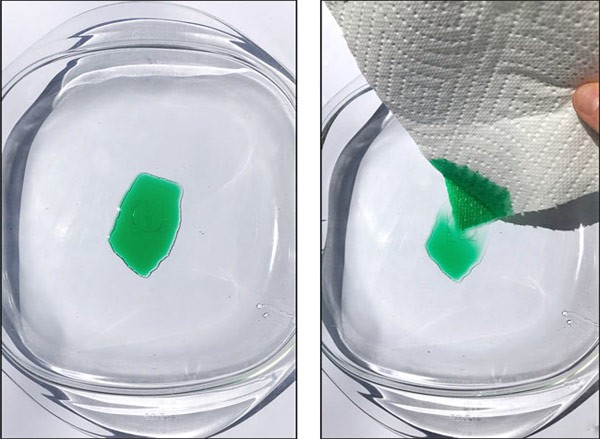 Figure 1.
The pool of red colored water on this countertop is held together
by surface tension and cohesion between the water droplets. Capillary action causes the water to "climb" up this paper towel.
In this plant biology science project, you will put a cut carnation (a type of flower) into a glass of colored water. What do you think you will see if the plant uses capillary action to move the water up to the flower?
Terms and Concepts
Wilt
Capillary action
Adhesion
Gravity
Transpiration
Evaporation
Cohesion
Surface tension
Carnation
Questions
Can you identify the different parts of a plant? Point out the roots, stems, leaves, and flowers of plants around you. Or draw a picture of a plant and label all these parts on the drawing.
What happens to a plant when you forget to water it? What does the plant look like when it is "thirsty"?
What is capillary action?
How is transpiration involved in capillary action?
Bibliography
Here are some great websites to help you learn more about plants, capillary action, and transpiration:
Schwartz, E., DeBuhr, L., and Addelson, B. (2006). Plant Parts: What Do Different Plant Parts Do? Biology of Plants. Missouri Botanical Garden. Retrieved February 14, 2008.
The U.S. Geological Survey (USGS). (2012, August 1). The Water Cycle: Transpiration. Georgia Water Science Center. Retrieved August 13, 2012.
The U.S. Geological Survey (USGS). (2012, August 1). Capillary Action. Georgia Water Science Center. Retrieved August 13, 2012.
Visit this website to see time-lapse plant videos showing the general growth of plants and other plant activities:
Hangarter, R. (n.d.). Water me! Plants-In-Motion. Retrieved March 9, 2012.
Materials and Equipment
Water (1/2 C.)
Measuring cup
Glass cup or vase
Blue or red food dye
Measuring teaspoon
Several white carnations (minimum of 3)
Knife
Optional: Camera
Lab notebook
Adult helper
Experimental Procedure
Measure out 1/2 cup of water.
Pour the water into a glass cup or vase.
Add 1 teaspoon of food dye to the water in the glass. Stir with the teaspoon until the dye has fully dissolved in the water (Figure 2).

Figure 2.



With the help of an adult, use a knife to cut the stems of several (at least three) white carnations at a 45° angle, as shown in Figure 3 below. Be sure not to use scissors, as they will crush the stems, reducing their ability to absorb the water.

Figure 3.



Place each the carnations in the colored water, as shown in Figure 4 below.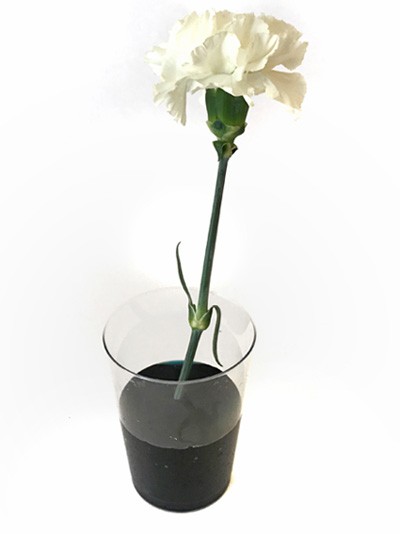 Figure 4.
This carnation is sitting in a glass of water that has been dyed blue.
Observe your project 2, 4, 24, 48, and 72 hours after you first put the carnations in the colored water.

In your lab notebook, make a copy of Table 1 below. Write down what you see in your data table.
Do not forget to record what the flowers look like at the beginning of the project!
Look at the petals on the flowers and the flowers' stems.

On the stems, especially look at the bumps where the leaves branch from the stems and the stems are lighter green (it may be easier to see the dye here).

You can also draw pictures or take photos of the flowers at each time interval.
| Hours Spent in Colored Water | Observations |
| --- | --- |
| 0 | |
| 2 | |
| 4 | |
| 24 | |
| 48 | |
| 72 | |
Table 1.
In your lab notebook, make a data table like this one. Write down your observations in your data table.
How did the flowers change how they looked over time? What do the flowers' change in appearance tell you about how water moves through the flowers? How do you think capillary action and transpiration is involved?

Ask an Expert
Do you have specific questions about your science project? Our team of volunteer scientists can help. Our Experts won't do the work for you, but they will make suggestions, offer guidance, and help you troubleshoot.
Variations
Do you see the same results with other flowers and plants? How about trying another white flower, like a daisy? Or try a plant that is mostly stem, like a stalk of celery.
What are the results if you use other colors of food dyes? Is the effect easier or harder to see?
What happens if you increase or decrease the concentration of food dye in the water? Try using one-quarter, one-half, twice, and four times as much food dye.
What happens if you use newer or older flowers? Buy some carnations and keep them in normal water for several days or a week, and then buy some fresh carnations. Do the fresh carnations dye better than the older ones?
Does the length of the stem affect how quickly and how well the flowers become dyed? Buy at least 6 carnations and use a ruler or measuring tape to measure the lengths of the stems. Make 3 carnations have stems that are half the length of the other carnations.
How would you make a multi-colored carnation? Hint: Two methods to try are:

Leaving the flower for a day in one color of water and then putting it in another color of water for a second day
Splitting the stem in two and putting each half of the stem in a different color of water
Careers
If you like this project, you might enjoy exploring these related careers:
Related Links
Cite This Page
General citation information is provided here. Be sure to check the formatting, including capitalization, for the method you are using and update your citation, as needed.
MLA Style
Science Buddies Staff. "Suck It Up: Capillary Action of Water in Plants." Science Buddies, 20 Nov. 2020, https://www.sciencebuddies.org/science-fair-projects/project-ideas/PlantBio_p033/plant-biology/dye-flowers-capillary-action-plants. Accessed 22 Mar. 2023.
APA Style
Science Buddies Staff. (2020, November 20). Suck It Up: Capillary Action of Water in Plants. Retrieved from https://www.sciencebuddies.org/science-fair-projects/project-ideas/PlantBio_p033/plant-biology/dye-flowers-capillary-action-plants
Last edit date: 2020-11-20
Explore Our Science Videos
How to Make an Archimedes Screw - STEM Activity