Monitor Your Plants with a Soil Moisture Sensor
172 reviews
Summary
Areas of Science
Difficulty
Time Required
Very Long (1+ months)
Material Availability
For your convenience, a kit is available for this project from our partner
Home Science Tools
.
Cost
Average ($50 - $100)
Credits
Ben Finio, PhD, Science Buddies
Recommended Project Supplies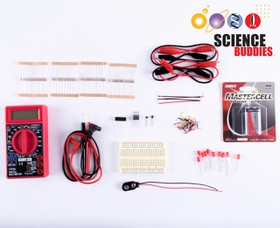 Get the right supplies — selected and tested to work with this project.

*Note:
For this science project you will need to develop your own experimental procedure. Use the information in the summary tab as a starting place. If you would like to discuss your ideas or need help troubleshooting, use the
Ask An Expert
forum. Our Experts won't do the work for you, but they will make suggestions and offer guidance if you come to them with specific questions.
If you want a Project Idea with full instructions, please pick one without an asterisk (*) at the end of the title.
Abstract
Do you or your family have a lawn, garden, or potted plants that you water regularly? Irrigation—or the artificial application of water to plants and landscaping—accounts for over two-thirds of the world's freshwater consumption (U.S. Geological Survey, 2016)! While that total includes farms, in the United States landscape irrigation still accounts for almost one-third of residential water use. As much as
half
of that water is wasted due to inefficient watering methods (WaterSense, 2016) like watering when the soil is already wet.
The project Green Technology: Build an Electronic Soil Moisture Sensor to Conserve Water shows you how to build a soil moisture sensing circuit. The circuit has two probes that you insert into soil (Figure 1) and a small LED that turns on when the soil is dry. If the LED is off, that means the soil is already wet. This allows you to use the circuit as an indicator for when you need to run a sprinkler system, water a garden, or water indoor potted plants.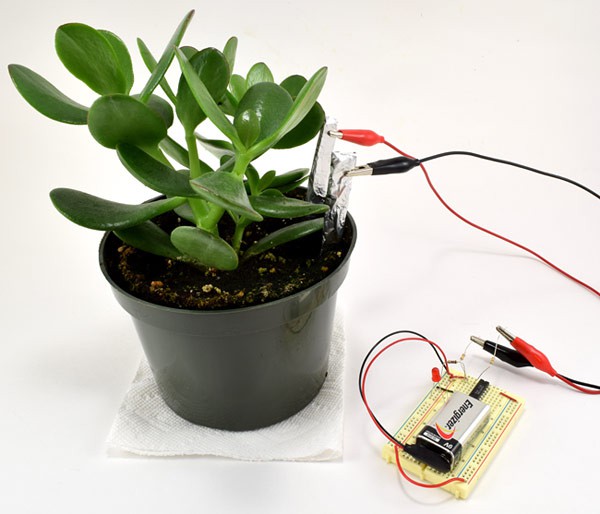 Figure 1.
Soil moisture sensor with probes inserted into the soil around a potted plant.
Can you build the circuit following the directions in the original project, and design an experiment to see how using it affects the growth of plants and overall water consumption? Since this is an abbreviated project idea, we will not give you an exact procedure to follow, but here is a general outline of what you could do.
Go to a garden center and decide what type of plant you want to use for your experiment. Talk to an employee to find out what conditions the plants require to grow: type of soil, amount of sunlight, and especially how much and how often they should be watered.
Build the soil moisture sensor and test it on several of that type of plant. The LED should turn off when you insert the probes into damp or wet soil. Depending on the type of plants and soil you use, you may need to adjust the default circuit so the LED comes on at an appropriate soil moisture level.

There are several ways to adjust the circuit. See the Variations section of the original project for some ideas.
Also keep in mind that you only have one circuit, but will be monitoring multiple plants. It is important that you are able to easily remove and re-insert the soil probes at a fixed distance and depth, which is part of the engineering challenge of the original project. You could also leave a set of probes in each pot and use alligator clips to disconnect and reconnect them from the circuit.

Separate your plants into at least two groups (make sure you have at least three plants in each group). Water one group with a specific amount of water according to a regular schedule (for example, every day or twice per week). Water one group with the same specific amount of water each time, but only according to the sensor (only when the LED turns on). You could also add other groups; for example, an over-watered group (always add enough water to keep the soil saturated) or an under-watered group (wait to apply water a few days after the LED comes on).
Water the groups of plants according to the schedules you defined. Keep track of the total water consumption for each plant, plant growth, and plant health. Does using the soil moisture sensor allow you to conserve water while maintaining or increasing plant health and growth?
See the Bibliography for some resources that may be helpful when doing this project, including how to measure plant growth and how to measure soil moisture content.
Materials and Equipment
Recommended Project Supplies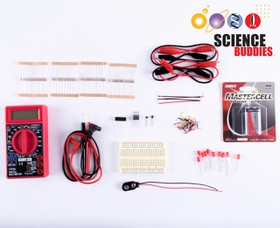 Get the right supplies — selected and tested to work with this project.

The soil moisture sensor can be built using parts from the Electronic Sensors Kit, available from our partner
Home Science Tools
.
Disclaimer: Science Buddies participates in affiliate programs with Home Science Tools, Amazon.com, Carolina Biological, and Jameco Electronics. Proceeds from the affiliate programs help support Science Buddies, a 501(c)(3) public charity, and keep our resources free for everyone. Our top priority is student learning. If you have any comments (positive or negative) related to purchases you've made for science projects from recommendations on our site, please let us know. Write to us at scibuddy@sciencebuddies.org.

Ask an Expert
Do you have specific questions about your science project? Our team of volunteer scientists can help. Our Experts won't do the work for you, but they will make suggestions, offer guidance, and help you troubleshoot.
Frequently Asked Questions (FAQ)
If you are having trouble with this project, please read the FAQ below. You may find the answer to your question.
Q:
For help with your circuit...
Careers
If you like this project, you might enjoy exploring these related careers:
Contact Us
If you have purchased a kit for this project from Science Buddies, we are pleased to answer any question not addressed by the FAQ above.
In your email, please follow these instructions:
What is your Science Buddies kit order number?
Please describe how you need help as thoroughly as possible:

Examples

Good Question I'm trying to do Experimental Procedure step #5, "Scrape the insulation from the wire. . ." How do I know when I've scraped enough?
Good Question I'm at Experimental Procedure step #7, "Move the magnet back and forth . . ." and the LED is not lighting up.
Bad Question I don't understand the instructions. Help!
Good Question I am purchasing my materials. Can I substitute a 1N34 diode for the 1N25 diode called for in the material list?
Bad Question Can I use a different part?
Contact Us
Related Links
Cite This Page
General citation information is provided here. Be sure to check the formatting, including capitalization, for the method you are using and update your citation, as needed.
MLA Style
Finio, Ben. "Monitor Your Plants with a Soil Moisture Sensor." Science Buddies, 24 Sep. 2020, https://www.sciencebuddies.org/science-fair-projects/project-ideas/PlantBio_p050/plant-biology/water-plants-sensor. Accessed 28 May 2023.
APA Style
Finio, B. (2020, September 24). Monitor Your Plants with a Soil Moisture Sensor. Retrieved from https://www.sciencebuddies.org/science-fair-projects/project-ideas/PlantBio_p050/plant-biology/water-plants-sensor
Last edit date: 2020-09-24
Explore Our Science Videos
Build a Water Sprinkler Toy
Iteration in the Engineering Design Process