Climb Every Mountain with Your Own LEGO® Cable Car
874 reviews
Summary
Areas of Science
Difficulty
Time Required
Short (2-5 days)
Prerequisites
You should be familiar with programming for LEGO Mindstorms to do this project.
Material Availability
This project requires a LEGO Mindstorms EV3 kit or a LEGO Mindstorms NXT kit.
Cost
Very High (over $150)
Safety
Make sure your cable car string is securely attached to a heavy object (like a table or large chair) at both ends. The Mindstorms bricks are heavy, and could fall and damage your LEGOs or other objects if the string is not securely attached.
Credits
Ben Finio, Ph.D., Science Buddies
Sources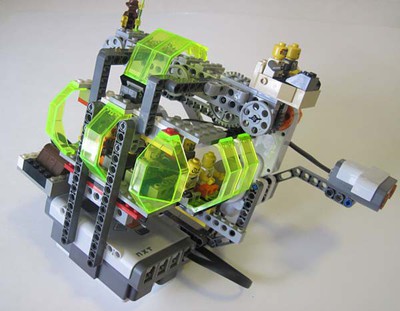 *Note:
For this science project you will need to develop your own experimental procedure. Use the information in the summary tab as a starting place. If you would like to discuss your ideas or need help troubleshooting, use the
Ask An Expert
forum. Our Experts won't do the work for you, but they will make suggestions and offer guidance if you come to them with specific questions.
If you want a Project Idea with full instructions, please pick one without an asterisk (*) at the end of the title.
Abstract
If you ever rode in a cable car, ski lift, or gondola, you know they make moving over obstacles like lakes, valleys, rivers, or even up steep mountains seem easy. Though it would be pretty difficult to build a full-size cable car in your home, if you have a Mindstorms® kit, you can build a working-model cable car of your own. The engineering challenge is to build a LEGO® cable car that can travel across a string you have suspended somewhere in your house (between two pieces of furniture, for instance). If you want to make the project even more challenging, you can try to design the cable car to travel up a
steep
string, just as a real one would go up the side of a mountain (for example, you could tie one end of a string to a window frame and the other to the leg of a chair). For an added robotics challenge, you can add sensors to your cable car — using the Mindstorms NXT or EV3 ultrasonic, light, or touch sensors to enable the cable car to detect when it reaches the end of your string, and then reverse direction.
Figure 1 shows a LEGO cable car built by the Science Buddies staff.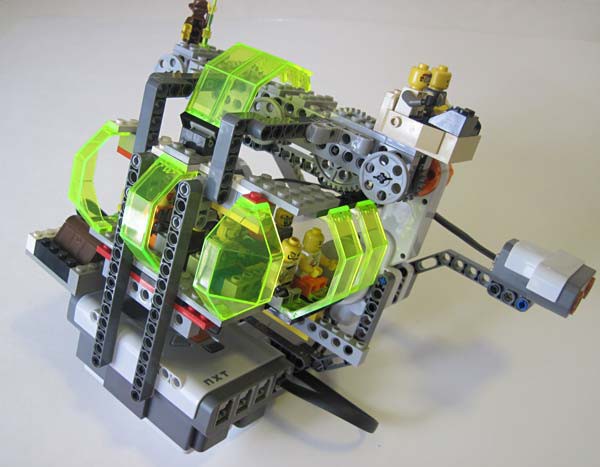 Figure 1.
The Science Buddies cable car — complete with a passenger seating area (middle), operators (top right), cargo area (bottom left) for luggage (the pirate brought his treasure chest), and a hitchhiking monkey (top).
Here is a video of the cable car in action:
Because this is an abbreviated project idea, we will not give away the details on how exactly we built or programmed this cable car — that is up to you! If you need help with programming, we have included some resources in the Bibliography that may be useful. Remember that you can tackle this problem in many ways, so do not feel as if you need to reproduce the cable car as pictured in Figure 1 and in the video. You could build something completely different that works just as well, or even better!

Ask an Expert
Do you have specific questions about your science project? Our team of volunteer scientists can help. Our Experts won't do the work for you, but they will make suggestions, offer guidance, and help you troubleshoot.
Global Connections
The United Nation's Sustainable Development Goals (UNSDGs)
are a blueprint to achieve a better and more sustainable future for all.
This project explores topics key to Industry, Innovation and Infrastructure: Build resilient infrastructure, promote sustainable industrialization and foster innovation.
Careers
If you like this project, you might enjoy exploring these related careers:
Related Links
Cite This Page
General citation information is provided here. Be sure to check the formatting, including capitalization, for the method you are using and update your citation, as needed.
MLA Style
Science Buddies Staff. "Climb Every Mountain with Your Own LEGO® Cable Car." Science Buddies, 8 Feb. 2023, https://www.sciencebuddies.org/science-fair-projects/project-ideas/Robotics_p008/robotics/build-lego-cable-car. Accessed 22 Sep. 2023.
APA Style
Science Buddies Staff. (2023, February 8). Climb Every Mountain with Your Own LEGO® Cable Car. Retrieved from https://www.sciencebuddies.org/science-fair-projects/project-ideas/Robotics_p008/robotics/build-lego-cable-car
Last edit date: 2023-02-08
Explore Our Science Videos
Obstacle-Avoiding: BlueBot Project #4
Follow the Flow: 2017 Engineering Challenge
How to make an anemometer (wind speed meter)