What Is Normal Body Temperature for Humans?
2 reviews
Summary
Active Time
10-20 minutes
Total Project Time
10-20 minutes
Key Concepts
Body temperature, fever, hypothermia, homeostasis
Credits
Sandra Slutz, PhD, Science Buddies
Created with help from Horizon Therapeutics volunteers.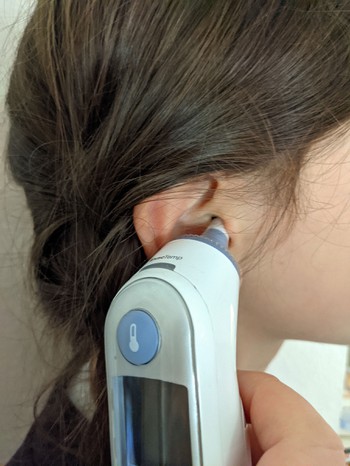 Introduction
What is a normal body temperature for humans? Have you heard people say it is 98.6°F or 37°C? You will find out for yourself if that is fact or fiction in this simple activity.
This activity is not recommended for use as a science fair project.
Good science fair projects have a stronger focus on controlling variables, taking accurate measurements, and analyzing data. To find a science fair project that is just right for you, browse our library of over 1,200
Science Fair Project Ideas
or use the
Topic Selection Wizard
to get a personalized project recommendation.
Materials
Thermometer for taking people's temperatures, a

non-contact model

is ideal so as not to transmit germs

Volunteers, 10 or more
Disclaimer: Science Buddies participates in affiliate programs with Home Science Tools, Amazon.com, Carolina Biological, and Jameco Electronics. Proceeds from the affiliate programs help support Science Buddies, a 501(c)(3) public charity, and keep our resources free for everyone. Our top priority is student learning. If you have any comments (positive or negative) related to purchases you've made for science projects from recommendations on our site, please let us know. Write to us at scibuddy@sciencebuddies.org.
Prep Work
Make sure you know how to use your thermometer. Ask someone who knows how to use it to show you or read the instruction manual that comes with the thermometer.
Instructions
Recruit as many healthy volunteers as you can who are willing to let you take their temperature. Ten or more people, including yourself, would be a good number. Try asking classmates, family members, and friends.

Ask each volunteer if they are feeling sick; if they are, do not use them as a volunteer. If they are feeling well, proceed to the next step.

| | |
| --- | --- |
| | Why should you choose only volunteers who are feeling well? |

Take the temperature of each healthy person. Record the data on a piece of paper. If you are using a thermometer that requires contact, for example if it has to be inserted in someone's ear or mouth, make sure to sterilize the thermometer carefully between volunteers so as not to spread germs.

Calculate the range and average for your data. The

range

is the highest temperature you recorded and the lowest temperature you recorded. The

average

is found by adding together all the temperatures you recorded, then dividing by the total number of people from whom you recorded temperatures.

| | |
| --- | --- |
| | Is there just one normal temperature or is there a range? Do you think it is accurate to say that 98.6°F or 37°C is the normal human body temperature? Why or why not? |
What Happened?
You probably recorded a range of temperatures from your volunteers. Normal human body temperature usually ranges from 97°F to 99°F (36.1°C to 37.2°C), but slightly higher or lower is possible and not usually a concern. So why do so many sources report 98.6°F (37°C) as normal human body temperature? The answer is it was 150 years ago and still may be in parts of the world with lots of malnutrition and infections.
In 1851, German doctor Carl Reinhold August Wunderlich took the temperatures of approximately 25,000 patients. From this data he calculated that the average human body temperature was 98.6°F (37°C). However, recent data of thousands of patients in Britain and the United States show that the average human body temperature is now closer to 97.5°F (36.4°C).
Researchers from Stanford University hypothesized in a 2020 research paper on human body temperature, that this one degree decrease in body temperature is due to the much better modern living conditions in first-world countries today. People living there tend to have better healthcare, are exposed to fewer parasites and diseases, have better hygiene, and live in more comfortable and clean living conditions than citizens 150 years ago.
Digging Deeper
Our bodies work to control our temperature (as well as many other systems like blood pressure and heartbeat rate) in an ideal range. This effort to keep our bodily conditions steady is called homeostasis. When our temperature is outside of the ideal range, it can be a sign that we are sick. This is why medical exams usually start with taking a patient's temperature.
A body temperature of 100.4°F (38°C) is considered to be a fever and can be a sign of infection. Hyperthermia, an abnormally high body temperature, can also occur when someone is suffering from heat stroke. The opposite of hyperthermia is hypothermia. Which is, as you probably guessed, an abnormally low body temperature. An individual is considered hypothermic if their body temperature falls below 95°F (35°C). Spending too long in a cold environment without the right protective gear is the number one cause of hypothermia.
Even in a healthy individual who has excellent homeostasis, it is normal to see temperature vary a bit day-to-day and even during a single day. Body temperature also changes with age.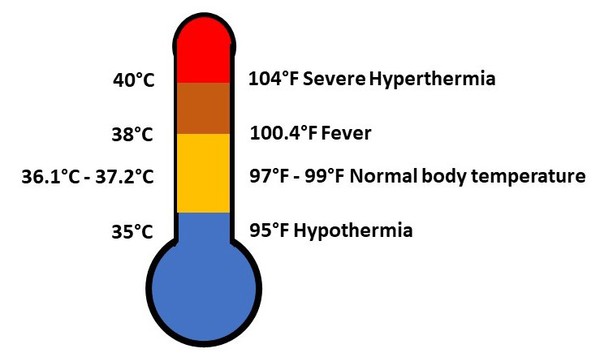 Ask an Expert
Curious about the science? Post your question for our scientists.
For Further Exploration
Take your temperature several times a day (morning, mid-day, and evening) for four to seven days. What do you notice? Is your body temperature constant or does it change? If it changes, is there a pattern throughout the day?
Compare the temperatures of children and elderly adults. Does one group tend to have a higher body temperature than the other?
Related Resources
Activities
Links
Careers
Explore Our Science Videos
Solubility Science – STEM Activity
Can you solve this air pressure puzzle?