19 Science Lessons About Human Body Systems
Use these free STEM lessons and activities to help students get hands-on modeling, testing, and exploring the science of the human body and its interconnected systems.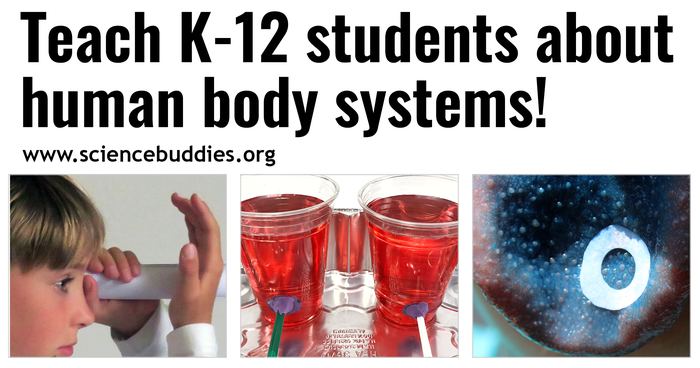 The free STEM lessons and activities below help educators teach students about human body systems, with a focus on the circulatory and cardiovascular systems that helps keep blood pumping through the body, the respiratory system that continuously makes oxygen available to the body and removes carbon dioxide, the nervous system that sends messages throughout the body, and the immune system that helps the body respond to pathogens. There are many other human body systems, too, including the digestive, reproductive, endocrine, skeletal, muscular, lymphatic, integumentary, and urinary systems!
In these NGSS-aligned STEM lessons and science experiments, students will learn fundamental information about the human body and will model bodily systems to better understand issues like coronary artery disease, autoimmune diseases, the ways in which vaccines work in the body, how we breathe, how the body creates energy, the role cellular respiration plays, and the importance of healthy eating and exercise. As part of these lessons, students will also investigate and observe the interconnectedness of bodily systems. Deficiency or a problem in one system will often have implications for other systems.
The resources below have been grouped as follows:
Note: for more information about the various "types" of resources available, see Understanding Science Buddies' Resources.
Lesson Plans and Activities to Teach About the Human Body and Its Systems
Circulatory and Cardiovascular Systems
Respiratory System
Nervous System and Senses
The nervous system sends messages throughout the body and helps systems communicate with one another. It also helps you react and respond to changes both inside the body and in the world around you. Your senses—including taste, touch, hearing, vision, and smell—are part of the nervous system and allow your body to respond to information from related sensory organs (e.g., tongue, skin, ears, eyes, and nose).
Immune System
Vocabulary
The following word bank contains words that may be covered when teaching about XX using the lessons and activities in this resource.
Anemia
Antibodies
Artery
Autoimmune disease
Blood
Carbon dioxide
Cardiovascular system
Carotid pulse
Cellular respiration
Circulatory system
Digestive system
Endocrine system
Exercise
Fever
Hearing
Heart
Heart rate
Heart valve
Hemoglobin
Homeostasis
Hyperthermia
Hypothermia
Immune system
Immunity
Integumentary system
Lung
Lymphatic system
Memory cells
Mucus
Muscular system
Nervous system
Olfactory system
Oxygen
Papillae
Pathogens
Pulse
Radial pulse
Red blood cells
Reproductive system
Respiratory system
Senses
Sensory organs
Skeletal system
Stethoscope
Supertaster
Smell
Target heart rate
Taste
Temperature
Touch
Urinary system
Vaccine
White blood cells
Thematic Collections
Collections like this help educators find themed activities in a specific subject area or discover activities and lessons that meet a curriculum need. We hope these collections make it convenient for teachers to browse related lessons and activities. For other collections, see the Teaching Science Units and Thematic Collections lists. We encourage you to browse the complete STEM Activities for Kids and Lesson Plans areas, too. Filters are available to help you narrow your search.
Understanding Science Buddies' STEM Resources
Lesson Plans contain materials to support educators leading hands-on STEM learning with students. Lesson Plans offer NGSS alignment, contain background materials to boost teacher confidence, even in areas that may be new to them, and include supplemental resources like worksheets, videos, discussion questions, and assessment materials.
Video Lessons include NGSS alignment and offer a plug-and-play option for teaching a STEM lesson. Each Video Lesson asks a science question, teaches students about the relevant science, and guides students in a hands-on experiment that will help them answer the question. Video Lessons are NGSS-aligned and bring core science concepts to life with storytelling, animation, and photos using a self-paced engage, explore, and reflect format.
Activities are simplified explorations that can be used in the classroom or in informal learning environments.
Projects are written to support students doing independent science projects or science fair projects. Projects can be adapted for classroom use.
Categories:
You Might Also Enjoy These Related Posts:
Explore Our Science Videos
Squishy Circuits Classroom Activity Part 1
Reaction Rates: When Surface Area Matters! Lesson Plan Introduction