Science Buddies Blog: September 2009 Archives



10 Days and Counting!

The countdown is on! LCROSS' projected lunar impact will occur on October 9, 2009 at 11:30 UT (7:30 a.m. EDT, 4:30 a.m. PDT), +/- 30 minutes.




If you've been tracking the LCROSS Mission, you know that the craft entered its third and final orbit of the Earth several weeks ago. Despite an unexpected fuel consumption problem in August that resulted in round-the-clock monitoring by the LCROSS Earth-based team, LCROSS has remained on track and stable. NASA recently formally announced that Cabeus A, the permanently shadowed polar crater, is the target site for impact in this search and discovery mission. The mission is now in its final days before the much-anticipated lunar impact on October 9.
According to NASA, "LCROSS will search for water ice by sending its spent upper-stage Centaur rocket to impact the permanently shadowed polar crater. The satellite will fly into the plume of dust left by the impact and measure the properties before also colliding with the lunar surface."
The plume generated by the impact is expected to be visible for only 2-5 minutes, but because it will be visible with mid-range telescopes, 10-to-12 inches and larger, NASA expects many backyard astronomers will be training scopes on the Moon on October 9. For those without the necessary equipment, there are LCROSS "Impact Parties" being organized around the country, and many observatories are holding special viewing sessions.
Viewing a scheduled and planned "crash" into the moon is (most likely) a once-in-a-lifetime opportunity. Today's K-12 students weren't around for the last appearance of Halley's Comet (visible only once every 75-76 years), but they're in range for LCROSS. To see if there is an event near you, check this list of LCROSS Public Events.
If you are planning to watch with your own equipment or have questions about what equipment is required, be sure and check out NASA's guide for "Amateur Observations," a compilation of information designed for the casual observer.
For those involved in organizing an Impact Party or for those planning to talk about LCROSS and the coming impact with students, NASA has put together an Impact Party Toolkit that contains background information as well as resources related to each stage of the mission.
Resources for educators, include the following:

If you are talking with K-1 students about LCROSS, craters, and the Moon, don't miss Science Buddies' "Craters and Meteorites" project idea which gives students an immediate and hands-on look at the concept of impact craters and the relationship between the size and mass of a meteor and the resulting crater.
For more information on LCROSS and suggested materials for fourth grade and beyond, check our initial entry on the LCROSS mission.
---
The LCROSS spacecraft was designed and built by
Northrop Grumman
, sponsor of Science Buddies'
Aerodynamics Interest Area
Categories:
---
| | |
| --- | --- |
| | "Earth" as photographed by Project Icarus' weather-balloon-toted camera at 93000 feet. (Photo used with permission. http://space.1337arts.com/) |
A recent CNN story highlights the spirit of ingenuity and determination that pushes the envelope of science and, in this case, the financial realities of space photography. Oliver Yeh, an MIT student, has a reputation among friends for being a "free thinker," but as Project Icarus proved, he's also got the science to put behind his big concept (and low budget) ideas.
With past scientific escapades like floating down-river on a raft of plastic bottles to his credit, Yeh reportedly didn't get a lot of support when he first sought out a partner to help with his newest project. But he didn't turn back. His idea was to launch a low-cost camera into near-space using bare-bones equipment: a weather balloon, a digital camera, a cell phone (for GPS tracking), hand warmers (to keep the phone battery from freezing), and a Styrofoam cooler (to protect the camera). Add in a small parachute for the drift back to Earth and a note taped to the outside of the cooler offering a reward for return of the assemblage if found, and Project Icarus was ready for near-space. After much planning, much calculating, and many "what if's," the team launched their balloon-toting camera on September 2, on a barebones budget that rang in at $148.
The story of the project reads like a good episode of a storm-chasers' program as the duo camped out the night before the launch and then waited... and waited... hoping for a signal that would let them know the camera had landed in one piece and not in a body of water. It's good reading. It's good science. And, as Project Icarus makes clear - space photography isn't solely in the purview of NASA.
The summary of the project in CNN's report makes the team's objectives and methods sound fairly straightforward. They planned to float a helium-filled weather balloon into the atmosphere. They predicted air pressure would cause the balloon to pop at approximately 17 miles up, and then the apparatus would parachute back to the ground. Throughout the flight, the cooler-encased and open-source programmed camera would snap photos every five seconds, recording the journey into "near-space." And, of course, the phone's GPS would let them track the launch and then find the gear once it touched down again.
Though it sounds like there were moments of doubt as the hours after the launch passed, things worked out as planned. The equipment was successfully located via GPS and retrieved, and the camera was full of striking photos. (The beauty of the near-space photos led them to set up the 1337arts website, which focuses on the intersection between art and science.)
In their own documentation of the project, the successful flight, and the surprisingly high-quality photographs from near-space, Yeh talks about the importance of a project like this as a touchstone for revitalizing interest in science among high school students. By demonstrating that it's possible to turn ordinary equipment into something out of this world, Yeh hopes to inspire a younger audience and their teachers.
Not surprisingly, reports of their successful flight spread quickly through Internet streams, and the team has been quick to warn that launching things into the atmosphere requires FAA approval.
While your students may not be launching to near-space anytime soon, Science Buddies has several relevant science fair project ideas which can let students begin to explore the kinds of concepts and parameters Yeh and his teammate thought through, strategized, and hypothesized in the months before the launch.
Science Buddies' difficulty level: 5-9 ) Science Buddies' difficulty level: 6) Science Buddies' difficulty level: 4-5)
Categories:
---
Last spring, Science Buddies announced in a teacher newsletter that applications were being accepted for Northrop Grumman Foundation's Weightless Flights of Discovery Program. Last week, the 30 teachers selected for the "zero-gravity" flight, a flight that normally runs around 5K per person, were announced. We were excited to see Erin Moore among the teachers listed. Erin, an eighth grade teacher at Lincoln Avenue School in Illinois, says she applied after hearing about the program from Science Buddies.
The flight, operated by Zero Gravity Corp., will take place later this week. Science Buddies asked Erin if she would be willing to share her experience with teachers around the country via the Science Buddies' blog. These flights are designed to provide teachers with cutting-edge science and an experience that can change their lives -- and the lives of their students. We expected to get a post-flight summary, but Erin has already found that news of the flight has had an impact on her teaching -- and taken hold of her students' imaginations.
Here's what Erin has to say as she navigates the "buzz" of excitement -- and misunderstanding -- that has surrounded her since the announcement of the upcoming flight.

So there was a media blitz this week. Last Friday, out of nowhere, reporters were asking to interview me... several. I entertained reporter after reporter. Thank goodness it was a half day. I drew diagrams on my board, taught about how weightlessness happens, demoed Newton's laws. In general, I was being a teacher.

By Monday, the papers were running the story. I was third page news. Then something strange happened. By Monday evening, my story was in the Tribune and the Sun Times. There was a blurb on ABC 7 and in two local papers. Mothers of the staff were calling their daughters asking if the reports were talking about my school, "is this one of yours?"

Tuesday, the principal made a nice speech over the intercom and asked the school to congratulate me. It was touching. By the afternoon, someone had taped the newspaper stories and clippings onto my door.

In a matter of days, I have entered this strange land of minor celebrity. I am not the science teacher any more. Now I am the astronaut.

4th graders are walking by me and breaking into huge smiles. Their eyes light up with wonder. "Mrs. Moore, congratulations. Will you tell us what it is like to go into outer space?"

This stirs a conflict inside of me between allowing the kids to think something that inspires them but is wrong, or to teach.

As a science teacher it is important to me that kids understand, really important. I teach about how computers work. I teach spectrometry. I am always explaining that science is not just about making this stuff up. I believe when we can show them, they can understand! Every year I promise my students they will leave my classroom understanding how the power makes the power and how it travels. I promise they will learn and understand every part of what happens when they turn on a light switch.

But now I am conflicted about the line between inspiration and truth.

I tried to explain to two of my former students that I am not going into space. Instead, I am going to be weightless. "Oh." The light in their eyes went out.

Too many times my students are disappointed by life. They feel let down and lied to. So do I smile and nod my head, passing along inspiration messages... knowing that I am not going into space but that I serve as a hope. Or do I try to sit down and draw parabolas to get students to understand. Do I take the magic away but return the power of knowledge to them?

For now, my solution is based on time. The flight is coming quickly. When possible I will explain. Until then, it's a thumbs up, a big smile, and my best effort to remind students that the world IS wonderful, and so is life.

A cooperative effort between Northrop Grumman, sponsor of Science Buddies' Aerodynamics Interest Area, and ZERO-G, the Weightless Flights of Discovery program began in 2006. Almost 250 teachers participated that first year, a number that almost doubled in 2007.



Categories:
---
Hi everyone my name is Brian Hayes. I am going to be a guest teacher blogger here at Science Buddies sharing my experiences as I attempt to start up and run a science fair at my school this fall.
Here is a little about me so you know who you're dealing with:
I teach at a charter school in the Rodgers Park neighborhood of Chicago.
It is a school of about 550 and serves kids in grades 6-12.
I teach AP Biology for mostly seniors and Earth and Space Science for freshmen.
The Earth and Space Science class took me awhile to get used to, but now I am really enjoying it.
This will be my third year at the school. Prior to that, I taught at Jefferson High School in Portland, OR.
This will be the first year our school will have its own science fair.
My school has been putting students into science fairs around the country for the last couple of years. For the most part, this has involved high-achieving students who have worked on a short-term project with a teacher and then entered one of the science fairs. One of my students made it through to the city fair last year. She did a great project looking at the effect of salinity on seed germination.
Our goal this year is to get many more students involved in doing projects during the first semester and then have our own science fair in December. The results of our school science fair will then determine which students go on to compete at other fairs.
This is the first year our school has had an official point-person in charge of extra science events and our own fair. I'm not sure exactly what the administration wants to see, and I don't know exactly what our science fair is going to look like. I am not sure if it will include all students or only certain groups. The school is moving into a new building, and I have been unable to meet with the principal about this since I was assigned the position. So, I'm feeling a little behind. Without some of these details in place and decided upon, my ability to plan for a December science fair and gain the support of other teachers in my school to help get more students involved is limited.
In the end, I think it will all work out. I am sure it will be nerve racking and a lot of work, but I think it will all be worth it. I was so relieved when I met the Vice President of Science Buddies at a program this summer. The resources I have found on the Science Buddies website will help me support both teachers and students at my school. I want to do this because when I did my student teaching in Portland, I worked with a teacher who made all of her students do a science fair project. The really good ones she would enter in the city's regional competitions.
While I was student teaching there, I worked with two girls who designed and ran their experiment and went on to decent success at the city science fair. What was so amazing was that the girl who helped pull it all together for this pair was the one who was flunking the class. She didn't study and could barely recall information that she should have brought with her from middle school, but she got really into the science fair project. She was there every day after school researching and asking questions about the project – finally excited to learn. If that happens for even one of the students at my school, I will feel like it has all been worth it.
Well I look forward to sharing my science fair journey with you. Stay tuned to find out how I go about getting buy-in from other teachers and then how I tackle getting the students involved. ( I can't wait to bring in the laptops and use the Topic Selection Wizard with the students!)
~ Brian

---
The 25th Annual California Coastal Cleanup Day is this Saturday, September 19, 2009. Part of the California Coastal Commission's Adopt-a-Beach initiative, California Coastal Cleanup Day encourages volunteers of all ages to head to the beach to help protect the marine environment. Last year, more than 70,000 people joined together on Coastal Cleanup Day to gather more than 1,600,000 pounds of trash and recyclable materials strewn along beaches and waterways throughout California.
Group efforts like California Coastal Cleanup Day or International Coastal Cleanup Day (organized by the Ocean Conservancy and also on September 19 this year) underscore the importance of social responsibility and foster awareness of the fragile nature of marine habitats. When families and classes join together to take a stand in protecting our natural resources, student experience firsthand the value of volunteerism -- and the realities of coastal trash. According to the California Coastal Commission, "over 800,000 Californians have removed more than 13 million pounds of debris" from the state's coast since the first cleanup day in 1985.
The following Science Buddies' science fair project ideas explore trash-related concepts, from biodegradability and composting to recycling and the use of trash as an energy source.
To learn more about the dangers of plastic ocean debris, watch "Synthetic Sea," a video produced by the Algalita Marine Research Foundation.

Categories:
---

Courtney was live as resident "Science Mom" on ABC's "View from the Bay" last week. Tune in as she talks about science literacy, the basics of earthquakes, tectonic plates, P-waves, and the importance of putting real-world science into concrete and hands-on form in front of (and with) your students and kids.
Her on-air demonstration of the "shake table" created as part of the Set Your Table for a Sweet and Sticky Earthquake Shake science fair project idea (Science Buddies' difficulty level: 4) shows how easy it can be to set up a project that can demonstrate a number of variables and scientific principles. Using household items like sugar cubes, marbles, peanut butter, a puzzle box lid, cornstarch, and Play-Doh, Courtney explains how the project can be used to highlight the fact that while what a house is made of is important, you also have to evaluate what a house is built upon.
There is plenty of room for students to formulate questions and hypotheses as they predict the outcome of an earthquake on various kinds of simulated soil. They can also expand the project to look at differences in architectural design and building materials.
If you try this project in your class, let us know how it goes!
(Courtney also appeared on "View from the Bay" in June. Did you miss it? Catch up here as she demonstrates acids and bases with "Cabbage Chemistry.")

---
Without a doubt, King Tut, the boy who became a Pharoah at age nine, is one of the most familiar icons of Ancient Egypt. From a young age, students are regaled with stories of mummies and Egyptian pyramids from Ten Little Mummies to Skippyjon Jones to The Magic Treehouse to Disney's animated series, "Tutenstein". The fascination with the "Boy King," however, reaches beyond bedtime stories to the world of popular culture. Tut-like characters and allusions to Tut have shown up in shows like "Batman" and "The Three Stooges" and became part of the soundtrack of the late 70s with the popular Steve Martin song, "King Tut."
Since the 1922 discovery of Tutankhamun's tomb, "King Tut" has become almost synonymous with "Ancient Egypt" in pop culture and iconography. In the late 70s, a small collection of artifacts from Tut's tomb were exhibited as part of "Treasures of Tutankhamun," which traveled to seven cities in the US. Today, an updated exhibit, "Tutankhamun and the Golden Age of the Pharaohs," has traveled to Los Angeles, Ft. Lauderdale, and Chicago. The exhibit, focused on the 18th Dynasty, boasts over 130 artifacts from Tutankhamun's tomb, including his royal diadem. Currently, the exhibit is live in San Francisco at the De Young Museum and in Indianapolis at the Children's Museum of Indianapolis. The exhibit will open at The Art Gallery of Ontario in November 2009.

The buzz surrounding the exhibit may bring Egyptian history into the classroom this year with renewed fervor. As your class ramps up on all things Egyptian, don't miss the opportunity to add science into the mix. These Science Buddies' science fair project ideas can help get you started:
Categories:
---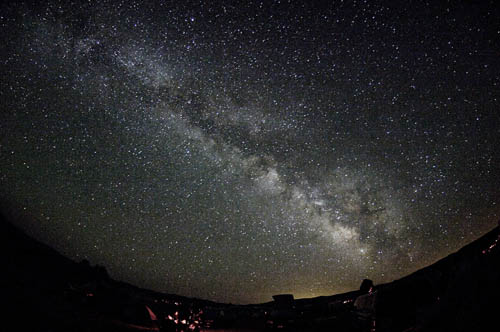 I recently spent a new moon weekend with 350 amateur astronomers camped in a field near Adin, California, one of the darkest spots in the continental United States. Light pollution from outdoor lighting spoils the view from urban areas, and most of us are lucky to see anything but the brightest stars from where we live. I was expecting something special from this location in rural, Northern California, and I was not disappointed.
As darkness fell, our home galaxy, the Milky Way, arched across the sky in a river of more than 100 billion stars extending 100,000 light years in diameter and culminating at the central bulge in the constellation Sagittarius. Silently gazing at the expanse of rifts, nebula, and endless points of light was almost a religious experience. One of the reasons that I enjoy astronomy is the intellectual stimulation of imagining the vast distances, incredible size, and countless number of the objects in our universe. Nonetheless, it's difficult to imagine a number like 100 billion stars. But here in this peaceful field illuminated by the Milky Way itself, I for the first time could imagine that there really were that many stars in our galaxy.
From such a dark location I was able to see stars more than two magnitudes or about ten times dimmer than from an urban setting, and consequently, there were about ten times as many stars visible to the naked eye. While the Milky Way was spectacular, my primary objective for the trip was to take images of neighboring galaxies. Ultimately, I selected a pair of galaxies that are approximately 12 million light years away, and I'll write about the process of taking the pictures and the galaxies themselves in a future blog entry.
Star parties are held in all areas of the country. Even in urban areas there are many objects such as the planets that are easily visible. And, this year is particularly appropriate for a star party because 2009 is the International Year of Astronomy, celebrating the 400th anniversary of Galileo's use of a telescope to study the skies
Science Buddies has a number of Science Fair Project Ideas that relate to this area of astronomy:
Categories:
---