The Golden State Star Party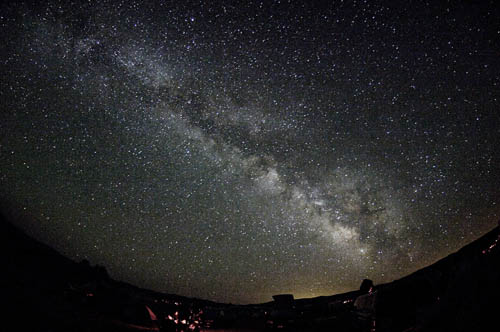 I recently spent a new moon weekend with 350 amateur astronomers camped in a field near Adin, California, one of the darkest spots in the continental United States. Light pollution from outdoor lighting spoils the view from urban areas, and most of us are lucky to see anything but the brightest stars from where we live. I was expecting something special from this location in rural, Northern California, and I was not disappointed.
As darkness fell, our home galaxy, the Milky Way, arched across the sky in a river of more than 100 billion stars extending 100,000 light years in diameter and culminating at the central bulge in the constellation Sagittarius. Silently gazing at the expanse of rifts, nebula, and endless points of light was almost a religious experience. One of the reasons that I enjoy astronomy is the intellectual stimulation of imagining the vast distances, incredible size, and countless number of the objects in our universe. Nonetheless, it's difficult to imagine a number like 100 billion stars. But here in this peaceful field illuminated by the Milky Way itself, I for the first time could imagine that there really were that many stars in our galaxy.
From such a dark location I was able to see stars more than two magnitudes or about ten times dimmer than from an urban setting, and consequently, there were about ten times as many stars visible to the naked eye. While the Milky Way was spectacular, my primary objective for the trip was to take images of neighboring galaxies. Ultimately, I selected a pair of galaxies that are approximately 12 million light years away, and I'll write about the process of taking the pictures and the galaxies themselves in a future blog entry.
Star parties are held in all areas of the country. Even in urban areas there are many objects such as the planets that are easily visible. And, this year is particularly appropriate for a star party because 2009 is the International Year of Astronomy, celebrating the 400th anniversary of Galileo's use of a telescope to study the skies
Science Buddies has a number of Science Fair Project Ideas that relate to this area of astronomy:
Categories:
You Might Also Enjoy These Related Posts:
Explore Our Science Videos
Making Everyday Objects Out of Mushroom roots!
Make a Lemon Volcano - Fun Science Experiment
Build a Submarine -STEM activity