A Student Puts a "T" on Turbidity
How's the water?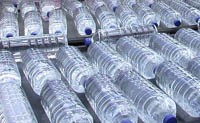 The answer depends on a number of variables, including where you are, especially if you are considering taking a drink. As Sarah Flaherty, a 9th grader at Westdale Secondary School in Hamilton, Ontario, discovered, purification strategies can be inexpensively enhanced by the strategic use of common materials. According to Sarah's science project, "Simplifying SODIS: Reduction of UV-impeding Turbidity through Macroscopic Filtration," an everyday T-shirt might offer a practical solution for eliminating excessive turbidity in water, a condition that can cause problems for solar water disinfection (SODIS).
In developing and rural areas, SODIS puts the power of the sun—and time—to work and offers an accessible and low-cost approach to improving the safety of local drinking water. The effectiveness of SODIS, however, decreases when the water is "cloudy"—or turbid.

Global Perspective
Taking inspiration from a family member who works for UNICEF, Sarah's project was an investigation seeking to improve SODIS-based water disinfection. Targeting the problem of turbidity, Sarah designed a filter that can be used to counteract the cloudiness of water. Her solution aimed to use readily available resources, like a T-shirt, and to create an enhancement that would increase effectiveness without significantly altering the cost of SODIS purification.
Sarah won a silver merit award at the 2011 Bay Area Science and Engineering Fair (BASEF), held this year in Hamilton, Ontario, and went on to participate in the 2011 Intel ISEF where she won Google's Secret Change Agent Special Award, an award that recognizes a project that has the potential to create positive impact in the student's neighborhood and/or on a global scale.

Making Connections
The quality of drinking water is directly related to the spread of disease. For example, outbreaks of cholera are often linked to contaminated water supply. According to the World Health Organization, 1.8 million people die each year from diarrhoeal diseases (including cholera), a statistic that the WHO estimates can be significantly reduced by water purification. Safer water and smart and affordable purification practices are key.
Students can investigate water purification in the following projects:
Categories:
You Might Also Enjoy These Related Posts:
Explore Our Science Videos
Make a Lemon Volcano - Fun Science Experiment
Draw with a Pantograph - STEM Activity