10 Projects to Get Started Building Circuits on a Breadboard!
Using a breadboard is an important "next step" in exploring circuits and electronics STEM projects. Try one of these ten Science Buddies projects to get to know your breadboard and start building circuits with confidence.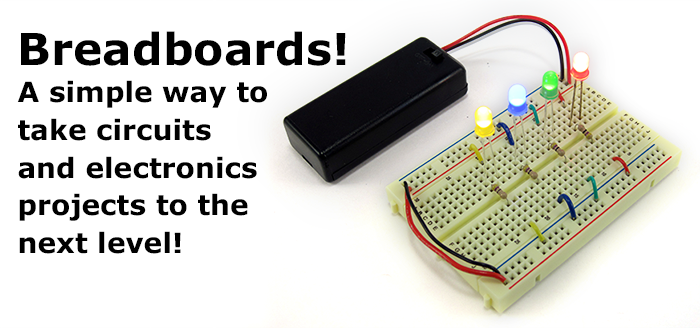 Breadboards! A simple way to take circuits and electronics projects to the next level!
Students who are just getting started exploring electronics often begin with basic circuits in which batteries are connected directly to motors or LEDs (like the Bristlebot robot) or connected with conductive materials (like paper circuits or electric playdough). These beginner projects are fun and easy and help students learn more about series and parallel circuits (and short circuits!), but curious students will quickly move on and be ready for circuits that involve a breadboard.
Learn About Breadboards
A breadboard is a plastic board with holes arranged in columns and rows. Today's boards are typically solderless, which means you can push the pins of components directly into holes and then pull them back out, as needed. With a single breadboard, you can build and rebuild circuits as often as you wish. This makes a breadboard a great way for students to explore electronics because they can move components around when designing, changing, or troubleshooting their circuits. (Placing something in the wrong hole accidentally is a common problem, so being able to easily remove and reposition an element while troubleshooting is a plus!)
The arrangement of columns and rows on a breadboard is key to how the board works in terms of connecting the circuit. Along the sides of the breadboard are the bus strips (or rails). The bus strips supply electrical power to the circuit when you connect them to a battery pack or other external power supply.
The How to Use a Breadboard video from Science Buddies provides an excellent overview of how a breadboard works. The video was designed for students and educators who are using a breadboard for the first time, but the video also addresses technical questions experienced users and hobbyists may also have:
A full companion How to Use a Breadboard for Electronics and Circuits resource is also available to help answer student questions about different types of breadboards, how they are labeled, how the columns and rows work, and more.
10 Breadboard Electronics Projects to Try!
With a few electronics parts and a small breadboard, students can explore a range of different electronics projects and learn more about how circuits work. These projects can be the basis of a school science project or just fun as a home exploration. For educators, breadboard projects work well with individual students or in small groups both in the classroom and in out-of-school settings.
The following ten projects are all good intermediate electronics projects that use a breadboard:
Share Your Science Buddies Story!
Have you used a science project, STEM activity, or Lesson Plan from Science Buddies in your class or program? We would love to hear your story! Email us at scibuddy@sciencebuddies.org and tell us how you use Science Buddies with students.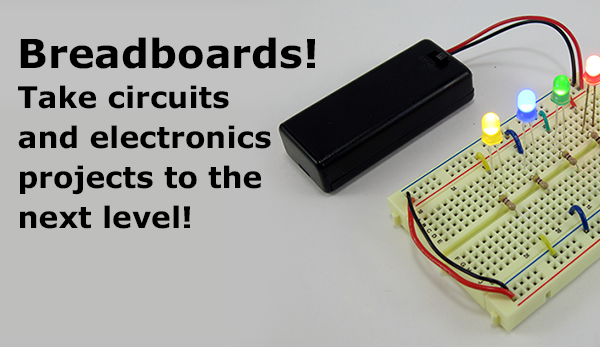 Breadboards! A simple way to take circuits and electronics projects to the next level!
Categories:
You Might Also Enjoy These Related Posts:
Explore Our Science Videos
How can air pressure prevent leaks?
Build A River Model – STEM Activity
DIY Mini Drone Part 5: Analog Joystick Control