Google's Science Journal app, now available for both iOS and Android, gives students and STEM teachers a powerful toolbox of science equipment—on devices they already use.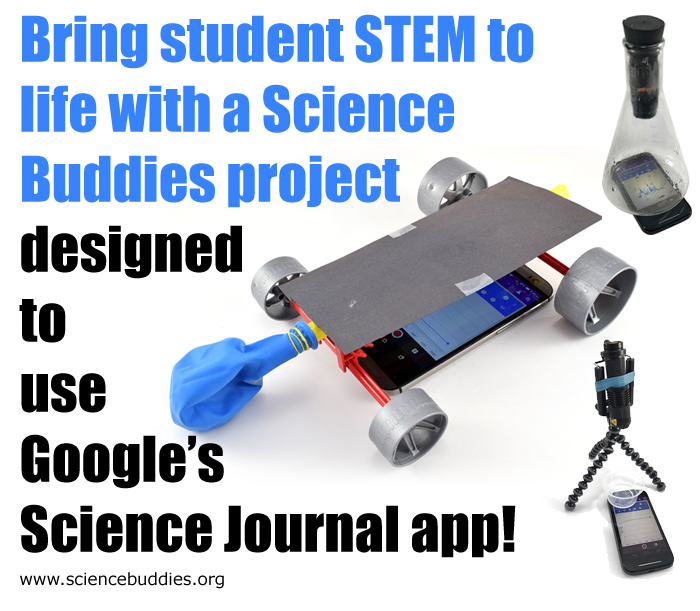 Science Buddies is excited to be one of a small number of science education organizations leading the way in developing hands-on student science activities that use Google's Science Journal app. Today's students and classrooms are embracing digital tools, and Science Buddies believes that Google's Science Journal app makes it possible for more students to do sensor-based experiments. The app combined with engaging activities and recipes for student exploration helps bring science and data to life for students.
Google recently announced the availability of the Science Journal app for iOS, in addition to Android (which launched last year). Support for both platforms opens the app up to a large number of students who have cell phones, tablets, or use Chromebooks in class. While lab equipment and specialty sensors may not be available in all classrooms, with the Science Journal app, students can perform a wide range of STEM experiments using the app and their sensor-enabled devices. Designed to help students explore their world, the free app from Google's Making & Science initiative makes environmental data something students can explore anytime, anywhere. Using the app, students can measure variables, including sound, movement, light. The app also serves as a digital lab notebook, enabling students to make notes, take screenshots, and add photos.
Science Buddies Projects and the Science Journal App
Last spring, Science Buddies integrated directions for using the Science Journal app into 10 student project ideas, giving students new options for measuring, tracking, and graphing data for their experiments. Science Buddies' staff scientists have now added options for using the Science Journal app to a total of 20 projects. There are also 5 new educator Lesson Plans to guide teachers in leading in-class activities that use the app.
When browsing Project Ideas at Science Buddies, projects that support the Science Journal app are identified with a "cell phone" icon (

). Students interested in doing additional science activities with the Science Journal app can quickly access the full list of compatible projects at Science Buddies by clicking the cell phone icon.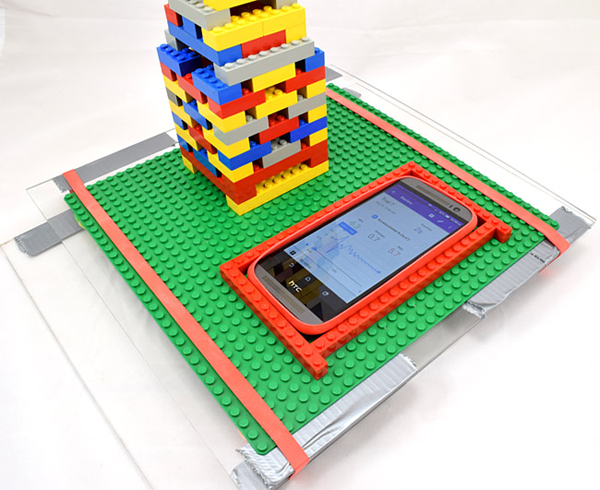 Science Buddies' staff scientists have thought outside the box to find ways to incorporate phone-based measuring in K-12 science projects. For example, in the project shown above, housing the phone in the shake table used for testing enables use of the accelerometer for measuring and recording data.
The following Science Buddies Project Ideas and Lesson Plans have been specifically updated to include options for using the Science Journal app for sensor-based measuring and on-screen graphing and data collection:
Project Ideas
Lesson Plans
Lesson Plans that have Science Journal app options are marked with the purple "works with Science Journal" button: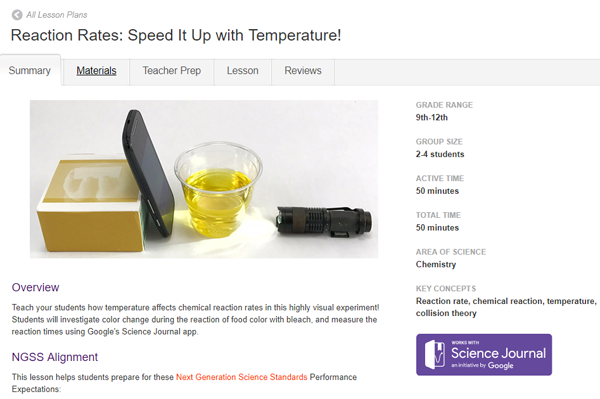 Try the Science Journal App for Yourself!
Download the Science Journal app and try it out to see firsthand the ways in which it empowers exploration and makes gathering data exciting and convenient. Download the app from the App Store (iOS) or from Google Play (Android).
Science Buddies' projects that use the Science Journal app are also listed in the activities section of the Making & Science site. In this area, students and teachers can find activities to do with the Science Journal app from Science Buddies, the Exploratorium, the Tech Museum, Maker Camp, California Academy of Sciences, and the New York Hall of Science.
See also: Google's Science Journal App Transforms a Cell Phone into a Powerful Tool for Science Class (Science Buddies Blog)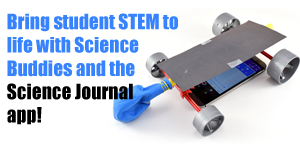 ---
You Might Also Enjoy These Related Posts:
Explore Our Science Videos
| | | |
| --- | --- | --- |
| 5 Science Experiments You Can Do With Peeps | DIY Glitter Surprise Package with a Simple Circuit | Make a Slushy! Yummy STEM Project |