Exploring Circuits with ArtBots: A Classroom Success Story
Eighty sixth grade students put what they had learned about circuits into action when they worked in teams to build ArtBots in science class. After building their robots, these students had fun experimenting to see how changing the engineering design of an ArtBot changes the kind of art the robot creates.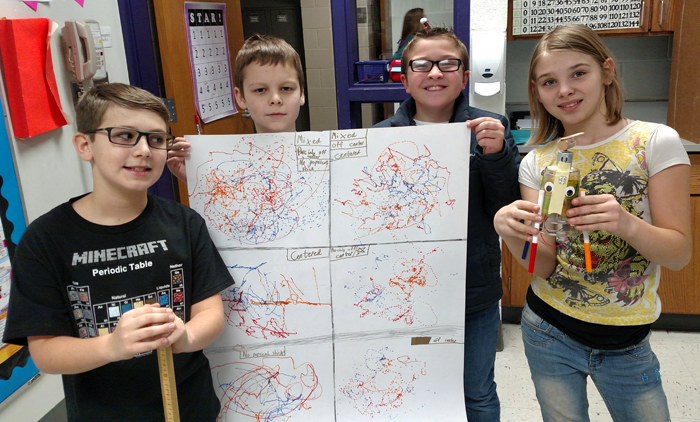 Above: Students in Nicole Johnson's class with a poster they made showing different pieces of "art" created by their ArtBot when testing and comparing the ArtBot with different design modifications.
Students who have the opportunity to experiment, build, test, and explore science, technology, engineering, and math (STEM) principles with hands-on activities and projects are able to see, experience, and engage with STEM concepts in ways that bring science to life. Building a robot is not the same as reading about how to build a robot!
Thanks to Next Generation Science Standards (NGSS) and an increase in the valuation of hands-on STEM, many students are benefiting from increased opportunities to do science projects in the classroom.
Building ArtBots
Students in Nicole Johnson's sixth grade science classes recently built ArtBots as a hands-on follow-up to a unit on electricity. After studying basic information about circuits, Nicole's students applied what they had learned by building and testing ArtBots.
ArtBots are introductory robots that use a simple circuit and ordinary materials like plastic cups and markers. They are easy to assemble, which makes them suitable for classroom exploration. Working in small teams, Nicole's 80 students were able to explore a number of science-based questions related to their ArtBots. And they had fun doing it!
"The students had to figure out how the ArtBot worked, what made it shake, and how to problem solve if the ArtBot stopped working," says Nicole, a teacher at Oakwood Grade School. As part of their hands-on investigation, her students explored how the positioning of the wooden sticks affected the kind of art the ArtBot created. Students made poster displays showing and comparing their findings and the different kinds of art their bots made.
Nicole says that hands-on exploration is an important part of her classroom. "I believe in making science come to life," says Nicole. This school year, Nicole has done many in-class activities with her students. While studying Life Sciences, they modeled plant and animal cells using candy, made DNA bracelets, extracted banana DNA, made a skin model, and dissected owl pellets. As her students moved into technology and engineering, Nicole was looking for a hands-on project. With the Science Buddies Bristlebot Kit and the ArtBot project, she was able to an exciting classroom activity with her students.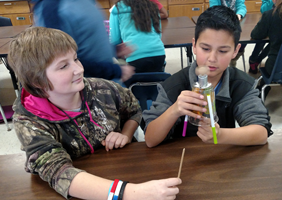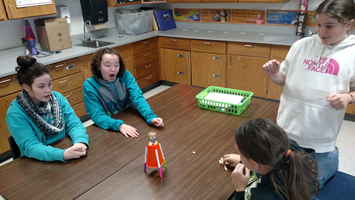 Creating Opportunities for Active Learning
Coordinating in-class activities takes time, but hands-on STEM experiences can make a big difference in how students respond to, absorb, and understand STEM material. "Students need to know how to problem solve and become critical thinkers," says Nicole. "Every student should have the chance to be engaged, excited, and willing to use their knowledge to think outside the box. Providing hands-on engineering lessons is just one way to engage students and give them the opportunity to learn from their peers and apply what they are learning to their real lives."
When talking about the importance of experiential learning, Nicole sees it as part of her role as an educator to create these kinds of pivotal learning moments. "It is up to us as educators to provide our students with the tools they need to think critically, be creative, be enthusiastic and become problem solvers. What better way than to get them excited in the classroom and make them want to discover more?"
For Nicole, building ArtBots with her students was a successful classroom project. "During this lesson I got to witness my students thinking about where they could get a motor and what they could do with a motor at home. I even heard one say that they could make a robot to deliver food to you while you play video games! What an inventor! That is what it is about."
ArtBots were Nicole's first experience with Science Buddies, and she used kits from Science Buddies to obtain the specialty parts used for the robots. At some point, her students may get the chance to build toothbrush-head BristleBots, too!
"I absolutely love all your ideas and lessons," says Nicole. "I plan on using many more resources from Science Buddies."
Making Connections
For resources, project ideas, activities, and other success stories involving doing introductory robotics projects like the ArtBot or Bristlebot with students, see the following:
Thank you to Nicole Johnson and her students for sharing their story and photos with Science Buddies.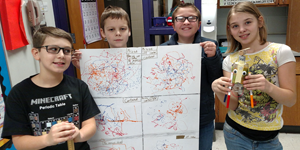 Categories:
You Might Also Enjoy These Related Posts:
Explore Our Science Videos
Build a Self-Driving Arduino Car
Colorful Melting Ice Ball Patterns - STEM Activity
Measure Static Electricity With An Electroscope!