Gold Star Science: A Student-Run Science Fair
Jackie, a tenth grade student and avid Girl Scout, is on a dual-headed quest to spark excitement about science in middle school students—and to earn the Girl Scouts' highest award.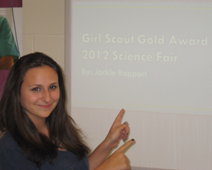 Jackie Rapport (pictured above) presented her plan for a county-wide science fair to her school's advisory board and to the Girl Scout Council. To read about other inspiring student and teacher science project successes, visit the Science Buddies in Action page!
When you think of
Girl Scouts
, you may immediately think of favorite cookies from yearly cookie sales, or maybe the familiar green uniform and patch-emblazoned sashes come to mind, a visual mark both of membership and of commitment. While cookie sales and badges are hallmarks of the organization, for many young women, being a Girl Scout is an important and formative activity, one that often begins in elementary school and continues for many years. Part social and part social responsibility, Girl Scouts enjoy the camaraderie of being part of a group and, at the same time, they engage in a variety of activities and challenges that help build confidence, self-esteem, leadership skills, and social awareness. With "Be prepared" as their motto and "Do a good turn daily" as their slogan, the Girl Scout organization and experience encourages young women to make positive contributions to society. It's been their mission since the founding in 1912, and with a membership of more than 3.2 million, the Girl Scouts are making a difference in communities around the world.
For Girl Scouts who continue throughout their high school years, the quest to earn a Gold Award, the Girl Scouts' highest honor, presents a wonderful opportunity for senior scouts to channel leadership, personal passion, and social commitment into a community issue.

Meeting a Community Need
The journey to a Gold Award begins with a scout identifying a community issue that she cares about and then finding a way to approach that issue to make a positive contribution and a difference. Previous scouts have received the Gold Award for projects ranging from a public service announcement campaign designed to increase awareness of teen suicide to a local environmental restoration and conservation project that aimed to protect a rare species of salamander.
For Jackie Rapport, a tenth grade student in New Jersey, the path to a possible Gold Award took root in her love of science. Joining what has become a national campaign to increase science literacy among U.S. students, Jackie set out to create a science fair for 6th-8th graders in her area.

Why Start Another Science Fair?
"I'm very interested in science, and I wanted to do a Gold Project for Girl Scouts," explains Jackie. "I became aware that U.S. students are not being prepared for careers in science, engineering, and math, and that the President has challenged us to increase interest in science in young people." A student at the Health Science Academy (HSA), Jackie wanted to find a way to share her enthusiasm for science and science careers.
In the idea of a local science fair, she saw a perfect opportunity to meet the requirements for a Gold Project, a project for which a minimum of 80 hours of work is required, and to invest in a project she would enjoy and find personally rewarding. "Creating a county-wide science fair was a perfect opportunity to combine all of my goals," says Jackie.
Jackie participated in a science fair as a sixth grade student. While the fair was not judged, the experience—and the concept of a science fair—left an impression on her. She believes science fairs are important for students on many levels. "A science fair gives students the opportunity to become more immersed in science and [to] realize the different aspects that it takes to create a project," says Jackie. But participating in a science fair may offer other benefits as well. A science fair "helps students learn the scientific method, but also helps students develop communication skills, math skills, reading comprehension, time management, and ethics," Jackie adds.
Jackie's school, the Health Science Academy, is a new, public, college-preparatory high school, similar to other high schools in the area, but with one marked difference. Jackie's school specializes in health science.The school, run by Mercer County Technical Schools, is in its second formative year and currently consists of grades nine and ten. Grades eleven and twelve will be added over the next two years, with Jackie's class being the first graduating senior class.
"It is a small school of students interested in pursuing careers in medicine or health fields," explains Jackie, "so most students here know the importance of science." But Jackie realizes that not all students are as tuned in to science as her classmates at HSA. She hopes her science fair will spark interest in science among younger local students, a passion for science that may put them on a path to a science career.

Organizing a New Fair is Big Project
As Jackie has discovered, planning a science fair from the ground up is no small undertaking. From getting support and buy-in from her own school and approval from the Girl Scout Council to generating interest among students at local schools, setting up and running an information website, handling the planning logistics for the actual event, and procuring judges, organizing a science fair requires excellent time management skills, meticulous attention to detail, and unwavering commitment to the project.
The process can be daunting, but Science Buddies has a wealth of planning resources for fair coordinators, materials designed to help with every step of the planning process, from the initial overview to judging rubrics for use at the fair. According to Jackie, Science Buddies resources, including A Guide to Planning a Science Fair, were a "great first step" and gave her a concrete place from which to begin. The guide's comprehensive look at what is involved in creating and running a fair helped Jackie visualize her science fair in terms of the "big picture" and enabled her to create a step-by-step plan of action.
For Jackie, Science Buddies materials served as both a guide and a catalyst. Seeing the process broken down into concrete and actionable steps gave her confidence and encouraged her about the feasibility of starting a science fair as a Gold Project. "Science Buddies resources helped me make the decision to have a science fair," says Jackie. "The [Science Buddies website] stresses the value of science fairs and helped me realize that it would be possible for me to create one."
With the idea of creating a local fair in place, and with Science Buddies resources on hand to aid in planning, Jackie moved on to the next phase: getting approval and local support. "My next step was to develop a proposal for Girl Scouts and to get approval from my mentor, advisor, council, and school. The Girl Scout Gold process was extensive," explains Jackie. "I had to outline my project, plans, budget, and more. Then, I had to present and defend the project before getting approved."
For a tenth grader, the planning stages required an immense amount of work, outside of regular coursework and activities. Deciding to have a science fair was only the beginning of Jackie's Gold Award journey. With a blueprint for the fair in place—and approval for the project from the Girl Scout Council—the rest of the work involved began in earnest.


The Value of Community Involvement
While Jackie is spearheading the science fair, organizing a fair requires the support and involvement of a number of people in the community. According to Jackie, the teachers and administration at her school have been supportive of her Gold Award project. "My principal, Lucille Jones, [has been] instrumental," says Jackie, noting that the principal helped arrange for a local community college to host the awards ceremony this spring. "My school advisor for the project, Ron Tarchichi, is my microbiology teacher and the school's Vice Principal," continues Jackie. "He gave me insights in developing my proposal." She goes on to list the contributions of other individual teachers, some of whom have agreed to help as judges, others to whom she has turned for advice and support. Jackie has also received help from other students, parents, and even Boy Scouts in the area. In addition to support from her school and community, Jackie acknowledges the support of her Girl Scout troop, 71452, and, in particular, Cathi Macheda, the leader of Jackie's troop and project mentor for her Gold Award initiative.

Jackie views the fair as one "for students by students" and has spent time getting her classmates excited about the fair and recruiting them into volunteer roles. For example, while she has secured a line-up of judges comprised of professionals and experts in health, science, and education, each group of judges will also include a tenth grade student from her school. She hopes that being a part of the fair in this way will serve as a learning opportunity for her classmates as well as encourage social responsibility among her peers.

Supporting Science at the Middle School Level
For Jackie, holding a fair targeted for middle school students is especially important because she believes students in grades six, seven, and eight are just beginning to consider their careers. As they also evaluate their options for high school, Jackie hopes to inspire interest for her school and for the sciences through the fair.
There are other science fairs in the area, including the Mercer Science and Engineering Fair, an ISEF-affiliated fair. Jackie's county-wide science fair will give students another opportunity to exhibit their science projects. Because her fair will take place after many of the local fairs, Jackie hopes students will take advantage of the timing to revise or correct problems that surfaced in a project exhibited at a local fair. Entering her fair offers students a second chance and another chance to win.
Jackie believes the idea of entering multiple fairs is advantageous for students. "Students will get more mileage from their projects," she says, "have more chances to win prizes and be acknowledged, and also have a chance to revise and improve their projects that may not have won in other fairs."


Gold-Level Effort
Many first-time science fair coordinators have found support at Science Buddies, but Jackie may be the first student that has used these materials to establish a fledgling science fair. When she emailed Science Buddies in August, she told us: "I am Jackie Rapport, a 10th grader, who is NOT doing a science fair project. Instead, I am creating a county-wide science fair for 6th through 8th graders, involving hundreds of students from dozens of public and private schools in Mercer County."
Jackie's initiative, determination, and self-motivation immediately caught our attention, and we have checked in with over the course of the year as she moved closer and closer to the fair's date. Her enthusiasm for her project has not wavered.
We hope Jackie's fair draws submissions from a number of local students and that the time and effort she's invested in helping support local science education results in a wonderful first showing for this new science fair. Jackie's fair is scheduled for April 28, 2012. To learn more about the fair, visit Jackie's fair website: www.sciencefair4all.webs.com

Science Buddies encourages students to look for additional fairs, competitions, contests, they can enter—or special awards for which their projects may be eligible. Students in grades 6-12 who completed a food sciences, biotechnology, or chemistry project this year are invited to submit their projects for the Rosalind Franklin Chemistry Contest, sponsored by Science Buddies and the Astellas USA Foundation.
Categories:
You Might Also Enjoy These Related Posts:
Explore Our Science Videos
Potato Battery Science Project
How to Make Great Rock Candy – STEM activity