Science Buddies Volunteer Wins Intel Science Talent Search
Nithin Tumma, a previous student mentor at Science Buddies, wins Intel Science Talent Search for cancer research project.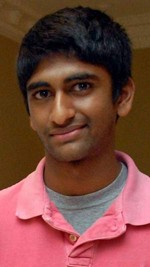 Nithin Tumma, winner of this year's Intel Science Talent Search
Each year, thousands of students complete science projects and participate in science fairs around the country—and around the world. With the national spotlight on science, technology, engineering, and math (STEM) education fueled by the
Educate to Innovate
campaign,
Change the Equation
, and the
Google Science Fair
, now in its second year, the science fair scene is evolving, but there are two competitions in the U. S. that stand among all others as pinnacles of science success: the
Intel Science Talent Search
(STS) and the
Intel International Science and Engineering Fair
(ISEF).
The winners of this year's Intel Science Talent Search were announced last week, and Science Buddies was thrilled to learn that the top award went to Nithin Tumma, a senior at Port Huron Northern High School in Port Huron, Michigan. There were cheers all around when we heard the news because Nithin volunteered at Science Buddies as a high school mentor in our Ask an Expert forum last year and won the Craig Sander Outstanding Mentor Award for his contributions.

Advanced Student Science
Nithin's project for this year's Intel Science Talent Search deals with slowing the growth of breast cancer cells, a step which may aid in treating the disease. "I studied protein interactions during the progression of leukemia and breast cancer," explains Nithin, "and discovered possible therapeutic targets to slow the growth and spreading of the cancers."

His project built upon research he began working on last summer at Stony Brook University as a Simons Fellow. Prior to his Stony Brook fellowship, Nithin was a finalist at ISEF three years in a rows and won Best of Category and first place honors in the Cellular and Molecular Biology category last year for his project, "Identifying Novel Mechanisms of Cytochrome-P450 2E1 Regulation," a study of the ways in which insulin or metformin (two drugs commonly used to treat Type 2 diabetes) alters Cyp2E1, a liver enzyme that helps eliminate carcinogens.
In a letter Nithin wrote last year after his ISEF success, he put his own cumulative science fair experience in perspective. "Science fairs provide an opportunity to experience learning on a different level, a hands on approach that helps develop a deep, true understanding of subject matter. The topics that I know the most about are the topics that I have spent time researching, from global warming in seventh grade to the connections between diabetes and liver cancer, my current study."
This year, he adds breast cancer to the list of topics in which he has immersed himself with advanced student science projects and joins an elite group of young scientists who have been named finalists and winners of the Intel Science Talent Search.
"When I heard, I was totally taken aback," says Nithin. "I had no idea that I would win, and I truly think that any of the 40 kids just as easily could have taken home the first prize. At first I was shocked, then elated as it started to sink in."

Commitment to Science
While community service is increasingly valued among high school students (and incoming student admissions boards), not all students engaged in advanced research and preparing for top-level competition have time for one in-depth community project, much less several. Nithin has devoted time and energy to fostering science education in his community, to volunteering at Science Buddies, and to restoring historical and cultural landmarks as part of his work with the Port Huron Museum.
Passionate about science and the importance of high school science, Nithin didn't sit quietly when his local science fair disbanded due to funding and participation issues. Wanting to encourage advanced science activity at the student level—and hoping to foster interest in science among middle school students—Nithin started a science club at a local middle school. The club meets twice a month, beginning at the start of the school year, and encourages students to work on year-long science projects. In its first year, Nithin was excited to find that he had tapped into a wealth of interest in science. Students wanted an avenue for pursuing in-depth research and showcasing it at a fair. "We ended up having about 45 projects to present at a district science fair that I help set up," says Nithin.
He credits mentoring at Science Buddies as a student Expert in the Ask an Expert volunteer program with helping him recognize and understand the "teacher" within him. His experience at Ask an Expert, he says, also helped him better articulate science—both his own and scientific concepts he spent time explaining in answering questions from other students.

A Glimpse at Tomorrow
In an announcement of the winners issued by Intel, Wendy Hawkins asks... which of the 40 finalists from this years STS will go on to someday win a Nobel Prize? With the kind of talent, research, and dedication demonstrated by Nithin and other STS finalists this year, it is a question of merit and one supported by the growing list of past STS participants who have gone on to win Nobel Prizes. It's an impressive group. As Hawkins wrote: "We do know that the 40 finalists assembled here this week are well on their way to becoming science game changers. They are talented, brilliant, passionate, and they are able to communicate that passion and the science they care so deeply about to others in terms we can all understand—a necessary talent for an aspiring scientist."
We at Science Buddies are proud to have young scientists like Nithin as part of our team of volunteers!
Categories:
You Might Also Enjoy These Related Posts:
Explore Our Science Videos
Jumping Candle Flame Experiments – STEM activity
Can you solve this air pressure puzzle?
4 Easy Robot Science Projects for Kids