Meet Kathy Hooper, Design Verification Engineer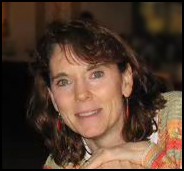 Kathy Hooper is a Design Verification Engineer at Advanced Micro Devices (AMD).
If you played a video game or enjoyed a streaming video on your smart phone today, and everything worked as it should, you might have someone like Kathy Hooper to thank. Kathy is a design verification engineer at Advanced Micro Devices (AMD). At AMD, Kathy's work focuses on the design verification of new computer chips being designed for use in 3D graphics and multimedia products.

Day to day, Kathy and her colleagues work hard—and apply rigorous engineering and computer testing—to find and eliminate any "bugs" that might cause a device to not work properly. Sometimes a bug turns out to be a flaw in the verification test, says Kathy. But other times, a problem spotted during testing indicates a real issue with the chip design, one that needs to be resolved by a hardware designer.

Catching and identifying bugs during early stages of chip design is a critical step in the process, says Kathy. She and her team work on testing new designs in their early prototype stages, long before the chips reach a point of production. If a problem is detected, a hardware designer can address and correct the problem, returning the modified design to the verification engineers for re-testing. Depending on the complexity of the problem, the process to correct a design flaw at this stage may take a few hours or a few days. Correcting a bug once it has already moved to a fabrication or production phase is a much more time-consuming and costly process. If a bug was not spotted before a new chip made its way into stores and consumer devices, correcting the problem could take months, might cost millions, and could frustrate thousands of consumers.

It's up to design verification engineers, like Kathy, to put a software version of a new chip through all tests necessary to ensure there are no bad "surprises" for users who end up buying and using a product containing a new or updated component from AMD.

Working on Tomorrow's Hot Products
Part of Kathy's design verification process involves writing software programs that test a model's "logic design." By putting the logic design through a variety of possible situations, and by testing the logic design with other kinds of software programs with which it will interact, verification engineers are able to weed out unforeseen problems and compatibility issues that arise during actual use. According to Kathy, they write programs and tests "to flush out any issues where the behavior of the design doesn't match the specified (or intended) behavior."
It's precise and meticulous testing, but as Kathy explains, "the effort that a verification engineer puts into creating meaningful and stressful test conditions while we are still running with software models of the design greatly reduces the risk of having hardware 'bugs' avoid detection until the chip ends up in someone's laptop, game console, or smart phone."

The Cutting Edge
According to Kathy, her work at AMD is exciting because she's working on components of products that ultimately show up on the shelves of familiar stores like BestBuy and Staples. Because consumer technology products change often in response to advancements in technology, the world of design verification is one Kathy describes as fast-paced and constantly evolving as new products are envisioned, designed, tested, released, and improved. The products and features consumers are buying, talking about, and wishing for influences what happens at a company like AMD. It's a fast-moving technical environment Kathy enjoys.
While Kathy's work focuses on specific electronic components, she's always aware of the big picture. Looking beyond the 1's and 0's involved in the code she is testing and troubleshooting, Kathy knows that the models she puts through testing are ones that friends and family may someday use every day. The models she tests may even end up as part of the next blockbuster gadget or gaming device. For example, one project she worked on involved performing design verification testing on the memory interface block of a 3D graphics controller. That memory interface block isn't something you'll pick up and use by itself, but the block ended up being used in a popular line of smartphones. Those phones are used by many, many people each day, and they work, in part, because the controller Kathy helped test does its job the way it should.
"When we first embarked on that project, I could not imagine the market demand for 3D gaming graphics power on a handheld device with a screen that was only 3-5 inches in size," admits Kathy. "At that point, I couldn't imagine the demand for 3D graphics quality for games like Angry Birds, or for the ability to stream a movie from Netflix on my handheld device." Today, those capabilities on a phone or other portable device are exactly what users want and have come to expect. Kathy knows, without a doubt, that her work paid off. "A chip that I directly worked on delivers unbelievable graphics quality in those devices," she notes.
Categories:
You Might Also Enjoy These Related Posts:
Explore Our Science Videos
Draw with a Pantograph - STEM Activity
The First Cartoon: Make Your Own Thaumatrope!
Make a Model to Explore the Distance from the Planets to the Sun