Science Buddies Success Story a Finalist in Global Challenge with Girls in STEM Project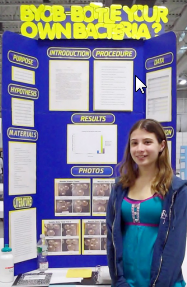 Above: Laura with her display board for a project she did on bacteria and water bottles. Read Laura's story in the Science Buddies in Action area.
Science Buddies is always excited to hear about and share a student's success with a school, home, or science fair project. Our
Science Buddies in Action
stories acknowledge the hard work students do on their science, technology, engineering, and math (STEM) projects and also show teachers, parents, and other students what is possible with student science. Student science is broad, can be driven by individual interests, and can parallel the kinds of projects that are being carried out by scientists today. Volcanoes are fun, but there is so much more that students can do, question, test, and explore with hands-on science.
A few years ago, we shared a story about Laura Fulton, a student who had been curious about what kind of water bottle she should take with her to dance class to get the best protection against bacteria.
Laura's microbiology project was a wonderful example of a student exploring a science question that was related to a passion or hobby. As a dancer, Laura was curious about the water bottle she carried to class—so she turned her interest into a winning science project.
Today, Laura is one of twenty finalists in the Microsoft YouthSpark Challenge for Change global competition. Laura's project for the challenge is called Science for Success, a project through which Laura is working to encourage girls to enjoy science and explore STEM careers.
To see a video summarizing Laura's project and to learn more, visit her project website. Public voting for finalists runs April 15-22.

Categories:
You Might Also Enjoy These Related Posts:
Explore Our Science Videos
Junkbots Lesson Plan Introduction
Fun Physics with Your Cell Phone
Make Fake Snow - Craft Your Science Project