Teaching about the Pandemic with SimPandemic
A free simulation tool from Science Buddies enables student exploration of variables related to a pandemic. A team in Qatar put the tool to use as part of a summer program for high school students.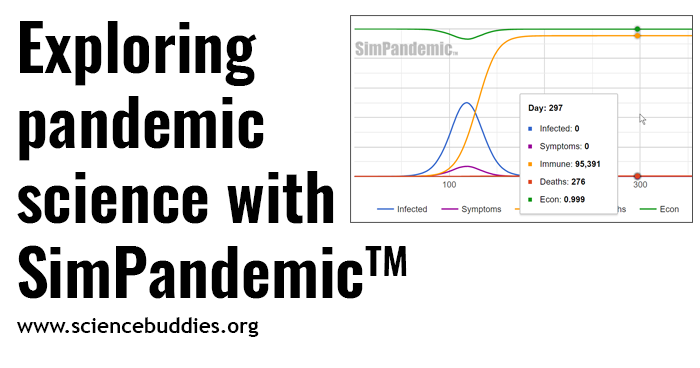 No one wants to be in the middle of a pandemic, but when you are in the middle of one, there is tremendous opportunity to use the situation as a learning moment. SimPandemic, a new online tool from Science Buddies, helps the public (including teachers and students) learn more about epidemiology and the relationship between a pandemic and the economy.
Simulating Strategies for Solving a Pandemic
The global COVID-19 outbreak has been eye-opening for people of all ages. With daily attention focused on the number of cases, the number of deaths, positivity rates, infection rates, and more, the general public is interacting with, using, and relying on statistics to understand the evolution of the current coronavirus pandemic. Graphs, charts, and maps have helped people understand the shifting contours of the pandemic, and epidemiological modeling has informed decisions made by local, state, and government officials.
With the interactive SimPandemic tool, users can run their own statistical simulations to see how different strategies impact the duration of a pandemic, the number of infections, the economy, and more.
SimPandemic Lesson Plans
For educators and their students, the free simulation tool offers a powerful sandbox for exploration of pandemics and specific variables that may affect how a pandemic unfolds. The new Using Vaccines to Fight Outbreaks lesson plan guides educators in teaching students about the biology behind vaccines. They then use SimPandemic to model how vaccines could affect individuals and populations during an outbreak like COVID-19. Three additional SimPandemic lesson plans will be available soon.
SimPandemic and a Summer Program in Qatar
SimPandemic was released in April, just weeks after the World Health Organization (WHO) categorized COVID-19 as a pandemic, to enable people to proactively explore various strategies for responding to the pandemic. Thousands of people have run their own simulations since then. One early user was Becky Cramer, PhD.
Cramer, then teaching at Weill Cornell Medicine-Qatar (WCM-Q), discovered SimPandemic when looking for pandemic resources for a summer program that was being reimagined as a virtual STEM program. A collaboration between WCM-Q and the National Museum of Qatar (NMoQ), the summer program for high school students had been planned as a hands-on experience that would integrate science from WCM-Q with the collections at the NMoQ. "We had planned to do DNA barcoding of some gazelle samples," says Cramer. "The students would have extracted DNA, set up PCR, and analyzed DNA sequence data. We also wanted the students to do some kind of presentation at the end."
The COVID-19 pandemic forced a change of plans. Rather than canceling the summer program, Cramer and her colleagues decided to refocus. In the face of what was happening around the world, they decided to shift the program's subject to the pandemic.
Finding an interactive tool students could use was important to Cramer. "We wanted to maintain some element of hands-on scientific thinking and have the students do presentations at the end," she explains. "I was concerned that if the students did reading-based presentations on the pandemic that we might end up with a lot of dis/misinformation, so I started looking for simulation platforms. I figured that simulations would allow some critical scientific thinking skills as well as give them something original to present about."
Sandbox Simulations with SimPandemic
SimPandemic was a great solution to enable hands-on exploration with students in the program. Thirty-one high school students, most in grades 11 and 12, took part in the week-long virtual STEM program, which was mostly conducted via Zoom video sessions.
According to Cramer, students worked in groups of 5-6, each group exploring a specific area of a pandemic, like virus characteristics, population demography, or intervention strategies. The goal was for each group to do a presentation at the end of the week sharing their findings when comparing two possible treatments and looking specifically at the impact of each treatment on their group's topic.
Cramer says her experience using SimPandemic with the summer program was excellent. By familiarizing herself ahead of time with the tool, she and her colleagues were able to give students guidance and set up a framework for the collaborative projects. They provided a combination of spreadsheets for data entry and a Google Slides template for the final presentation.
"I'm very impressed with how easy SimPandemic was to use and understand, and with the variety of questions that can be robustly addressed using this tool," says Cramer. "After a fairly brief introduction to the concept of simulations, the students worked independently and successfully. I think all the students benefited from practicing scientific thinking and designing controlled simulation experiments [using SimPandemic]," she adds.
For teachers who are considering using SimPandemic with students, Cramer says, "do it!"
"SimPandemic works well on at least two levels: it lets students think critically and scientifically, and it also helps them think about the pandemic and all that's going on in the world." Becky Cramer
Exploring COVID-19 and Viruses
Educators can use SimPandemic lesson plans to explore pandemic science with students. Science Buddies Lesson Plans contain offer NGSS alignment, contain background materials to help teachers prepare even in areas of science that may be new to them, and include supplemental resources like worksheets, videos, discussion questions, and assessment tools.
To support educators teaching about topics related to the current COVID-19 pandemic and viral outbreaks in general, see our collection of STEM Activities Related to COVID-19 and Coronavirus. With activities related to handwashing, the effect of soap and water on viruses, herd immunity, and more, there are a wide range of ways students can learn more about the science behind the pandemic.
You Might Also Enjoy These Related Posts:
Explore Our Science Videos
Hydroponics in a 2-Liter Soda Bottle – STEM activity.
Raspberry Pi Adaptive Game Controller