Success Story: Lip Balm Project Shines at Science Fair
Americans spend billions on cosmetics every year. Who creates and tests all of these shampoos and lotions? Cosmetic chemists!
By Kim Mullin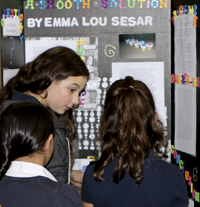 Emma Sesar was surrounded by science fair attendees last Spring as she handed out samples of the lip balms she developed as part of her science project.
Why was Emma Sesar surrounded by groups of young girls at her school science fair? Lip balm samples! For her sixth-grade science project, Emma chose the "Lotions and Potions: Lessons in Cosmetic Chemistry" Project Idea because she is a fan of lip balm and wanted to explore the world of cosmetic chemistry.
Guided by recipes and procedures in the Project Idea, Emma created three different lip balms and then formulated questions to ask her test subjects. As she cooked up her custom creations, she had fun learning about the different components of lip balms, such as emollients, emulsifiers, and stabilizers, especially because many of the ingredients smell so good. Throughout the process, Emma found the Science Buddies Project Guide "extremely helpful" and was pleased that her project turned out so well.
What really surprised Emma, however, were the crowds that swarmed her at the science fair. After working hard on a project, the science fair allows students to show off their work, and Emma was certainly able to do that! Her creative project display board and enticing lip balm samples attracted a lot of attention. "I was surrounded by young girls for the entire fair," says Emma. "I ended up giving some students second, third, and fourth testers!"
A Positive Science Experience
Will Emma be the next Estée Lauder? She has many different interests, so she doesn't know what she wants to do when she grows up. However, she looks forward to perfecting her lip balm recipe and also plans to participate in next year's school science fair!
Read about Emma's teacher's use of Science Buddies in the classroom and other student science successes in the Science Buddies in Action area.
Categories:
You Might Also Enjoy These Related Posts:
Explore Our Science Videos
Make a Water Strider - STEM Activity