Success Story: Science Fair Projects with Real-World Impact
A science teacher at Brawerman Elementary School in Los Angeles views Science Buddies as an indispensable classroom partner, especially when it comes to helping students locate quality science Project Ideas—in all areas of interest.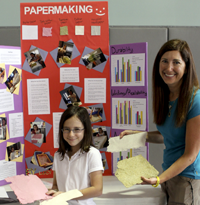 Above: Teacher Lisa Niver Rajna with a student at last year's school science fair. Science Buddies is an important part of Lisa's approach to science education in the classroom. Lisa's students used the Topic Selection Wizard to help them locate exciting projects, many of which have real-world connections and applications that she encouraged them to explore.
Some of the Project Ideas Lisa's students selected last year include:
Students in grades three through six at Wilshire Boulevard Temple's Brawerman Elementary School in Los Angeles all participate in the school's annual science fair. While doing a Science Buddies Project Idea is not a requirement in Lisa Niver Rajna's science classes, all of her fourth, fifth, and sixth grade students begin their search for a science fair project by using the Topic Selection Wizard, a Science Buddies tool that suggests science projects to students based on their interests, assignment, timeline, and grade level.
Finding the Right Project
From Lisa's perspective, the project selection phase of the science fair assignment is a "crucial" step in the process. "I want each student to care and be passionate about her topic," says Lisa, who has been using Science Buddies and the Topic Selection Wizard with students at Brawerman for several years. When she talks with her fourth, fifth, and sixth grade classes about the science fair project assignment, Lisa says she "highly recommends" that they choose a Science Buddies project, and she allots valuable classroom time for her students to use the Wizard. Despite the crunch many teachers feel in fitting all the pieces of core curriculum into the hours of a school year, using class time to have students use the Wizard is a process that helps both Lisa and her students.
Students who work on a project in which they are interested typically enjoy the science project experience more than students who are assigned a project topic or are guided to an area of science based on someone else's suggestions or interests. The Wizard's sophisticated algorithm uses student answers to a variety of simple questions like "Do you enjoy discovering new ways to recycle, restore, or reclaim used material and objects?" to recommend a unique group of projects for each student. Because the Wizard's questions touch on a wide range of areas of science, each student's combination of answers reveal individual patterns of possible interest.
With the Wizard's help, Lisa's students discover exciting projects they may enjoy (and might not have found on their own), and Lisa sees students choose and conduct robust science explorations that are scientifically sound and challenging. "I love the Topic Selection Wizard," says Lisa. "It seems to work as a multiple intelligences fit. I am always impressed by the variety of topics and experiments and how well the choices offered fit each individual student."
After answering the Topic Selection Wizard questions, Lisa has her students look over the Wizard's recommendations and pick the three in which they are most interested. "I tell them, 'you are going to be working on this project for a long time.' We start in February, and the fair is in May. We go through each step [of the scientific process]; we do research. I tell them, 'Pick something you want to know more about. Something you like.'" After her students narrow down their lists of possible projects, she talks with them about their choices. "We discuss what would be the best fit for them based on interest, difficulty, and what they did in the past."
According to Lisa, last year, almost all of the eighty fourth and fifth grade science fair projects were based on Science Buddies Project Ideas, as were a large number of the forty sixth grade entries. A number of Lisa's students explored video game-based projects, including a team of students that worked on developing a game for the blind. Other students made their own paint, lip gloss, and markers, explored desalination, built circuits, crystal radios, bridges, and solar-powered robotic creatures, and experimented with the perfect carbonated soda recipe.
Making Real-world Connections
For Lisa, tying science exploration to real-world events, issues, and problems is all part of the science, technology, engineering, and math (STEM) education process. In her classroom, science is not a standalone subject. Instead, Lisa teaches science as a subject that is connected to everything. "I work hard to make sure they see the connections between what we are studying in class and life outside the classroom," says Lisa. Her classroom lessons and discussions include social issues, global concerns, and examples from other countries, steps she takes to broaden her students' understanding and awareness of the world around them. "Making connections between science and real life as well as science and other subjects is a major focus of my teaching," explains Lisa. "I integrate with art, library, and as many teachers as possible. Students need to see how science is connected to everything."
When it came to last year's end-of-year science projects, Lisa's classroom emphasis on real-life connections gave added context to her students' projects. Many of them took additional steps during the research and background stage of the scientific process to learn more about how their research might matter and to get a better understanding of the problem or challenge at hand. For example, a group of students working on developing video games that can be successfully played by blind people visited a local center for the blind. Lisa helped connect a team working on a solar cooking project with a group that has a solar cooker project in Africa.
Rather than simply completing a project to fulfill an assignment, these students emerged with a broader view of the importance of their research—and of the value of science and engineering in the world beyond the classroom. One of Lisa's fourth-grade students, Andrew, researched the dangers of using a cell phone while driving. Andrew conducted his testing using a Wii-based driving video game, but at the end of his project, Andrew felt that he had "gathered data that could save lives."
"When I suggested connections with their science fair projects, most of them were really excited and wanted to add the community connection," says Lisa. "I loved to see the 'a-ha' in their eyes when they saw how their project fit in with something outside of our classroom."
Supporting STEM Teachers in the Classroom
Lisa relies on Science Buddies for her students, but she also appreciates Science Buddies teacher-focused resources and the fact that Science Buddies continues to expand offerings to enable students and teachers to explore cutting-edge areas of science. After seeing a survey from Science Buddies that asked "do you allow engineering projects," Lisa says she learned more about the engineering design process and made a point to incorporate it into her teaching. Similarly, she notes making both environmental science and video and computer game projects a "priority" based on Science Buddies materials.
When asked what is the most important element in exciting students about science and engineering, Lisa boils it down to finding the science (and the science project) in areas of personal interest. "The most important thing to me is that everyone cares about their project. I want them to learn about their passions, to find their passions and to see that science is everywhere. One mom called me and said, 'Really, watching movies is their science fair homework? You have to be kidding me.' She thought they kids had gotten away with a sneak attack. But those two girls worked so hard. They watched movies and made charts and created a PowerPoint. They talked to the music teacher, and I was able to connect them with a friend who is an award-winning film editor. They loved the project, they worked hard, and they had a great time. I wish that every child could enjoy learning as much as they did. If you find a way to reach your students, they will be excited about science or any other topic."
Science Buddies is proud to have been a part of Lisa's classroom solution, and a cornerstone for helping Lisa ignite enthusiasm for science—and for real-world connections—among her students. Lisa is spending the coming school year out of the classroom and traveling in Asia. She will be documenting her journey, and her commitment to global education, on the Wandering Educators site and on her own site, WeSaidGoTravel: A Passport to a Global Community.
Categories:
You Might Also Enjoy These Related Posts:
Explore Our Science Videos
Build a Simple Steerable Robot
Make a Lemon Volcano - Fun Science Experiment
Build A River Model – STEM Activity