Student Cleans Up Oil Spill Science Project with Support from Online Mentor
When this middle school student chose a science project with chemistry far beyond her classroom studies, the help from an Expert at Science Buddies made all the difference.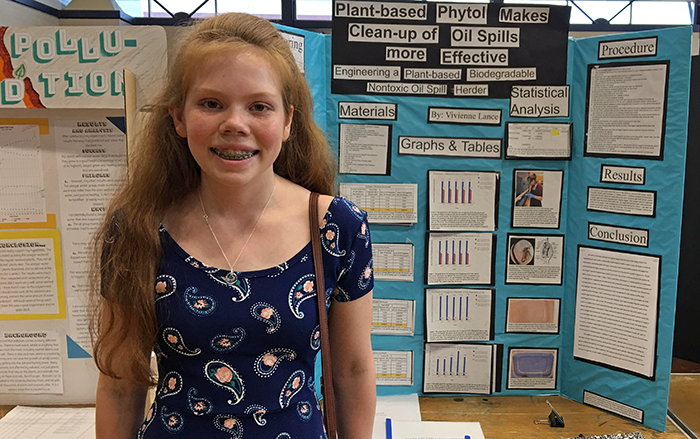 Above: Vivienne with the project display board for her winning eighth-grade science project.
An Ambitious Environmental Science Project
When Vivienne, an eighth-grade student in Littleton, MA, got inspired to do a project to find a safer way to help clean up oil spills in water, she had a great idea, one with real-world environmental implications. What she didn't have as a middle school student was a background in chemistry. Without help from an Expert in the Science Buddies Ask an Expert forums, Vivienne might not have been able to complete the project she had in mind.
The Ask an Expert forums offer a free and convenient online space for students to ask questions and get assistance with their science projects.
"The Ask an Expert forum and the expert were very important to my project. I needed to know about a lot of scientific terms and information involving chemistry that I had not yet learned about in school. SciB was a great mentor and helped me learn about science that was well beyond my years."
~Vivienne, 8th grade student
Asking Important Questions
Vivienne says she first learned about the Ask an Expert forums when her teacher directed students to the Science Buddies website to "look around" as they considered topics for their projects. Vivienne already knew what she wanted to explore with her project, but she was particularly interested when she saw the Ask an Expert forums. "I thought it would be perfect way for me to find someone who could help me understand more about the aspects of my project, as my project had very little research done on it."
Vivienne wanted to do a hands-on project investigating an all-natural alternative to the chemicals used to clean up oil spills. These chemicals, referred to as chemical herders, serve an important purpose but may cause additional harm to marine life. "I did research and decided that I would use phytol and avocado oil to create [an alternative to chemical herders] and then test to see if it would work as an all-natural, biodegradable, non-toxic solution that could congeal oil from oil spills," explains Vivienne.
Vivienne posted in the forums the first time in October of her eighth-grade year. "I first used Science Buddies' Ask an Expert to ask some crucial questions about the science in my project at the beginning stages to see if what I wanted to do was realistic. From there, the Science Buddies Experts helped me answer all my questions and suggested different methods of how to do things." Over the course of the next six months and with more than a hundred posts back and forth between them, Vivienne worked with an Expert who helped her determine an approach to her initial problem (extracting phytol) and, along the way, helped explain the chemistry she needed to understand for her project.
"I could not get the answers I needed to my questions for my science fair project at school as the information I needed was very specialized and there was no one at school who could help me," says Vivienne. "I also did not have any other connections to people who could help answer my questions." The Expert who assisted Vivienne in the forums is known as Sybee (SciB). Sybee is a retired molecular biologist and university professor. From the beginning, Sybee was enthusiastic about the project Vivienne was doing and the real-world implications it might hold.
A Phytol Problem
As her project unfolded, Vivienne would report in the forums about something she had read or tried, and Sybee would reply with insight, confirmation, troubleshooting ideas, or additional information. More than sixty posts into their exchange, Vivienne was still trying to find a solution for procuring phytol that she could then test as part of a more environmentally-friendly solution for oil spill cleanup. Extracting phytol was not, in and of itself, the goal of Vivienne's project, a fact that she and Sybee discussed during the mentorship. Ultimately, Vivienne bought off-the-shelf phytol, a move that allowed her to focus on testing her natural herder with model oil spills.
Throughout the project, Vivienne posted photos of her trials, and when she ran into problems when first simulating oil spills and testing her phytol and avocado oil-based solution, she and Sybee talked through the experimental setup for her oil spill and the application of her herder to troubleshoot what might be happening.
Sticking with It
Vivienne's use of the Ask an Expert forums highlights her determination and her perseverance, an important skill for a young scientist. It would have been easy to shift to another project when it became clear that finding a way to source the phytol directly was a bigger challenge than expected. Grappling with the chemistry required and the need for a lab that would offer necessary safety equipment also posed challenges, but with Sybee as a sounding board and mentor (and with arrangements to use the chemistry lab at the high school at set times), she stuck with it.
"The Ask an Expert forum and the expert were very important to my project. I needed to know about a lot of scientific terms and information involving chemistry that I had not yet learned about in school. SciB was a great mentor and helped me learn a lot about science that was well beyond my years," says Vivienne.
Success!
In March, Vivienne reported in the forums that after troubleshooting her initial oil spill trials with Sybee, modifying her experimental setup, and trying again, her tests with a combination of phytol and avocado oil worked to clean up an oil spill simulated with motor oil. After many months of intense work and support, Vivienne and Sybee were both excited about the successful experiment. Vivienne then went on to run tests to analyze the safety of her herder on Daphnia magna ("water fleas").
Vivienne won first place at her school fair. She then won first place at the regional fair and Optical Society Second Place at the state fair. She also was nominated for the Broadcom MASTERS competition. Vivienne says completing the Broadcom MASTERS application took a lot of work and was an opportunity to really articulate the importance of her project and the science behind it. "Completing the application taught me a lot about writing to the point, as there was a word limit, and about time management. I hope to qualify in the top 300 MASTERS, but just getting the opportunity to complete the application was a great honor."
As part of a team of volunteer Experts in the Ask an Expert forums, Sybee helps many students each year with their science project questions, but not all student questions evolve into long-term mentorships. Assisting a student like Vivienne and watching her project progress from initial exploratory questions to a successful project is immeasurably rewarding to Experts who help in the forums. Sybee was excited to hear about Vivienne's success at the science fairs. "She was an amazing person to work with—incredibly patient in trying and retrying experiments that didn't work the way one expected them to. The idea about using phytol as an oil spill coagulant was her own and an excellent choice. My help was with the details of actually doing the experiments and also understanding the chemistry since she has not had a chemistry course in school yet."
In her free time, Vivienne says she enjoys hanging out with her friends and participating in drama programs at her school. She is interested in pursuing engineering or pediatric nursing in the future. "I love to solve real world problems, especially involving the environment, but I also love working with children and the medical field." Her experience with her science project has made her much more curious about engineering. "The success I had and knowing that I was able to do research and make a discovery that will benefit the world was very rewarding and has inspired me to investigate careers in engineering. I even am setting up a time to go for a day at my uncle's company where he is a chemical engineer to learn more about the engineering field. I also have been inspired to continue making discoveries with science fair projects as I go into high school."
According to Sybee, Vivienne has what it takes to be a scientist. "She was a quick learner and always had a sense of humor about the work, which is an excellent trait for a researcher," says Sybee. "I would love to see her continue with a career in science! I know with her curiosity, diligence and creativity she will make a great researcher in whatever area she would decide to go into."
Supporting Students Doing Hands-on Projects
The Science Buddies Ask an Expert forums offer free and convenient online assistance to students working on science projects. The forums are monitored by a team of adult volunteers who work in STEM fields and at STEM companies and top high school science students. These Experts assist with student questions ranging from help finding a project to troubleshooting a procedure or analyzing data. For many students, the ability to get additional support to supplement what is available in the classroom or at home can have a tremendous impact on the success of their project and how they feel about doing science projects.
Sybee says he is happy to help students like Vivienne in the Ask an Expert forums. "She's part of our next generation, and we must nurture and inspire her and her peers to make the new discoveries of the 21st century."
To learn more about the Science Buddies Ask an Expert volunteer program, please visit: www.sciencebuddies.org/volunteer.
Update! Vivienne was recently named one of the 2018 Top 300 Broadcom MASTERS for her oil spill cleanup project.
"The success I had and knowing that I was able to do research and make a discovery that will benefit the world was very rewarding and has inspired me to investigate careers in engineering. I also have been inspired to continue making discoveries with science fair projects as I go into high school." ~Vivienne, 8th grade student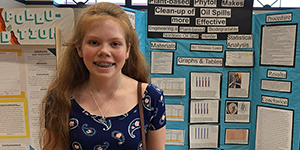 Categories:
You Might Also Enjoy These Related Posts:
Explore Our Science Videos
Gear Ratio for the Junior Solar Sprint
How to Measure Light with Google's Science Journal App