Success Story: Tracking Wolves
By Kim Mullin
Tracking wild Minnesota wolves for your 6th-grade science project? When you live in Louisiana? As this animal enthusiast discovered, with the availability of online data and a Science Buddies Zoology Project Idea, you don't have to live "near" wolves to study them.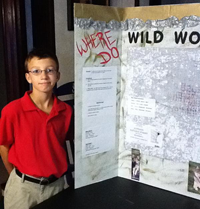 Animal Movement Study Makes for a 'Wild' First Project
Dakota LeMaire, a sixth grade student in Louisiana, was on the hunt for a science project when he came across Science Buddies' Where the Wild Wolves Wander Project Idea. Since he is a dog- and wolf-lover, Dakota was excited to discover this unique project.
With the information provided in the Project Idea, Dakota's mom ordered a wolf tracking activity booklet and map from the International Wolf Center. Then, Dakota tapped into the online Track Wild Wolves Database to record the historical movement of two wolves that had been fitted with radio collars. The information from the wolves' collars had been recorded over a period of about two years. Dakota's job was to record and analyze the data to discover how far the wolves traveled at various times of the year.
Marking his map with different colors for each wolf in each season required attention and precision, but Dakota loved the process. "I learned that wolves travel very far in the winter," says Dakota. "It was fun to work on this with my parents, and a great opportunity to learn more about something that I already loved!"
Dakota's project was a howling success. After first place wins at both his school and parish fairs, he attended a regional science fair where he garnered third place in Animal Science. Overall, Dakota describes his first science project as "easy, fun, and a wonderful experience."
Read about other student science successes in the Science Buddies in Action area.



Categories:
You Might Also Enjoy These Related Posts:
Explore Our Science Videos
Popsicle Stick Paddle Boat
Vibration & Sound: Make Sprinkles Dance
Video: Paper Airplane Launcher