Success Story: Zapping Zits in the Name of Science
A Science Buddies Ask an Expert advisor guides a budding microbiologist through a project on the scourge of the teenage years: acne!
By Kim Mullin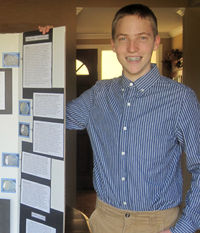 In his senior-year science project, Matthew Brewer (pictured above) tackled a problem familiar to many teenagers—acne. Project Ideas in Medical Biotechnology enable students to investigate questions related to connections between medicine, genomics, diseases, prescription drugs, and more.
Read about other student science successes in the Science Buddies in Action area.
Acne is an unhappy rite of passage for most adolescents, and as a twelfth grade student, Matthew Brewer of Lafayette, CA, was no exception to the rule. When the Science Buddies Topic Selection Wizard suggested the
"Which Acne Medication Can Really Zap That Zit?"
project from Science Buddies' Medical Biotechnology section, Matthew felt like it was a natural fit for him. "I am interested in microbiology, and I want to help acne sufferers of all ages because I know what a negative effect it can have on self-esteem."
The resources in Science Buddies' Medical Biotechnology section are designed to help students investigate the ways in which drugs and medications work in the body—and the impact of individual biological and genetic differences. Matthew's project, which involved testing the antibacterial properties of a variety of acne medications, proved to be both interesting and challenging for him and his project partner. When Matthew needed help pinpointing the similarities between E. coli bacteria and P. acnes, the bacteria commonly found in acne, he visited the Science Buddies Ask an Expert forums. It was Donna Hardy, a longtime Ask an Expert advisor from Bio-Rad Laboratories, who guided him to resources that could answer his questions.
As the project progressed, Matthew confronted several hurdles: finding the right antibacterial agents to test, nutrient agar plates that didn't grow bacteria as expected, and water pooling on plates in the incubator. As he and his teammate faced each new challenge, Matthew continued to correspond with Donna via the forums. "We could not have completed the project if it weren't for all the support I received from Ask an Expert and Donna," says Matthew, "and the project would not have received the awards that it did."
The project required a lot of hard work and long hours, but Matthew says he is glad that he did it. "The experience I gained from this will last a lifetime. This project taught me to be patient, to deal with the obstacles that life throws you, and to never give up." In addition to the personal lessons learned from his senior science project experience, Matthew's project won third place in the Contra Costa Science and Engineering Fair (CCCSEF) and two other special awards: a Chevron Innovation Award and a John Muir award for the Advancement of the Future of Health Care.
Categories:
You Might Also Enjoy These Related Posts:
Explore Our Science Videos
Popsicle Stick Paddle Boat
Vibration & Sound: Make Sprinkles Dance
Video: Paper Airplane Launcher