Do the Tallest Paper Tower Fluor Challenge — 10 Steps to Success
All students in grades K-12 are encouraged to enter the 2021 Tallest Paper Tower Fluor Challenge! The Fluor Challenge is a great fit for Engineers Week and an engaging way to give students the chance to try engineering. The Fluor Challenge is designed to work for all grade levels and around the world. See the 10 steps below for a handy blueprint for doing the 2021 Fluor Challenge with your students.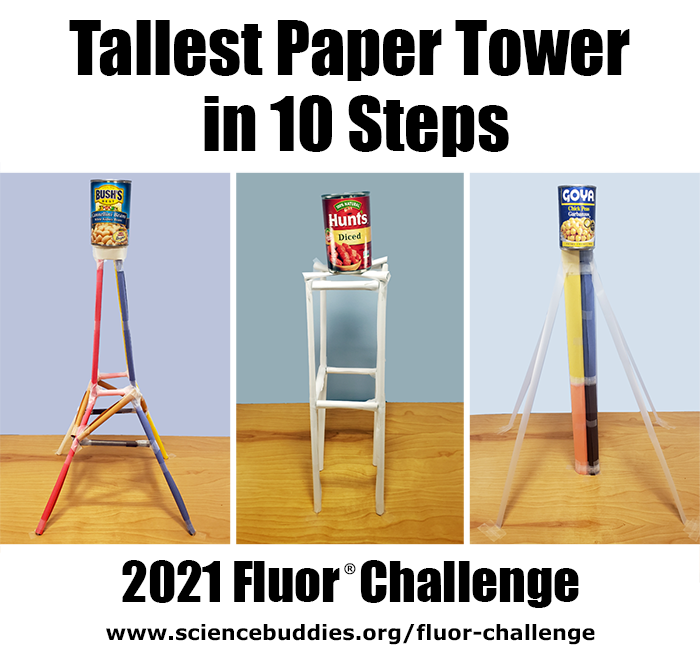 10 Steps to Do the 2021 Fluor Engineering Challenge with Students
1
Introduce this year's Tallest Paper Tower Fluor Challenge and watch the Tallest Paper Tower overview video.
2
Review the steps of the Engineering Design Process and watch the Engineering Design Process video.
Tip! Talking about the Engineering Design Process will help students understand how to approach designing, testing, and iterating to troubleshoot and improve their designs as they work on their towers
3
Optional! Have students research "tall towers" to learn about some of the tallest towers in the world. Having students sketch or record the towers they discover through their research will help them observe different tower designs and different approaches used in building tall towers before they start designing their paper towers for the Fluor Challenge.
4
Review the rules for the 2021 Fluor Challenge and the allowed materials. If students have questions, consult the FAQ.
Tip! Make sure all students are clear how materials will be counted when calculating the final score for their towers.
5
Have students sketch their ideas for multiple tower designs and then choose the design they think will result in the tallest tower that can support the can of food. Why do they think the selected design will work well?
6
Alone or in teams of up to 4, have students design, build, test, and iterate on their Tallest Paper Tower solutions. Remind students that it's okay for initial designs to not work well. Troubleshooting, making design changes, and building again (or iterating) are all important parts of the engineering design process. When a design doesn't work, encourage students to think about what happened and what changes they might make to address the problem. For towers that do stand and support the can, encourage students to see if there are still ways to improve the design or make the tower even taller.
7
Optional! For classroom assignments and check-in points, use the Fluor Challenge worksheets (available with the lessons for grades 3-5, 6-8, and 9-12) or ask students to record testing notes and reflection throughout the challenge about what worked and what didn't work with their design and what changes they made with each iteration.
Note: If you use a tool like FlipGrid with your students, having them make videos of their tower testing can be a fun extension of the project!
8
Review the testing protocol for the 2021 Fluor Challenge and set a deadline for students to complete their tower and testing. To enter the contest, students will need to calculate their final score and take a picture of the complete (full-length) tower with the unopened can of food on top. (A second photo of the team with the tower is optional.)
Tip! In case the tower collapses or breaks during final testing, we recommend having someone take the photo during testing, while the tower supporting the can is being timed.
9
Visit the challenge site at Science Buddies to submit each team's entry by Mar 12, 2021 for a chance to win! Remember, all student entries will be reviewed for the final 2021 Fluor Challenge scoreboard. Students in listed geographic regions will also be entered in random drawings for prize money to be awarded to the student's school or organization. Students do not have to have a high score to enter or to win!
Note: Students can submit their own entries, but they will be asked to list a teacher or adult contact (by name and with an email address).
10
Optional! Show off your students' Tallest Paper Tower solutions and celebrate engineering and hands-on STEM learning! If you share your students' towers, please tag #FluorChallenge and @ScienceBuddies!
Engineers Week
The Fluor Challenge is a great way to celebrate Engineers Week with students. This year's challenge specifically uses readily-available materials to make it accessible to students who are building their towers in the classroom or completing the challenge at home.
If you are looking for additional hands-on engineering challenges, we recommend looking at these collections:
Related Reading
The following books and reading selections may pair well with this year's Fluor Challenge, especially with younger students.
Categories:
You Might Also Enjoy These Related Posts:
Explore Our Science Videos
Balloon Magic with Bernoulli's Principle
How to Make Great Rock Candy – STEM activity
Model the Size of a Virus