Thousands of Tall Paper Towers (and Lots of Tape!)
More than 6,000 students around the world built and submitted tall paper towers for the 2021 Fluor Challenge. In a pandemic year, this challenge, always a favorite among STEM educators, was a highlight for many, and the results were inspiring.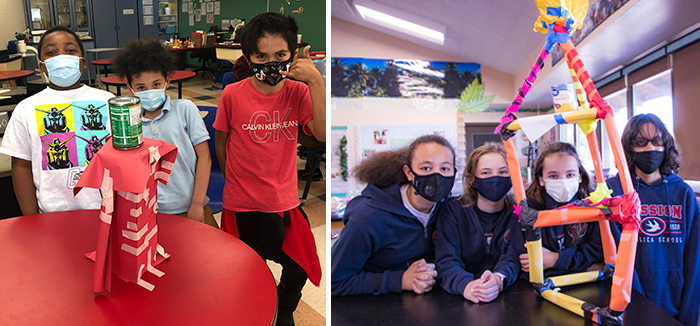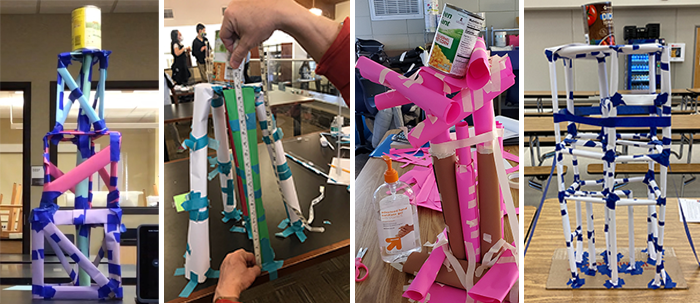 Figure 1. Students worked in teams of 1-4 to build paper towers for the 2021 Fluor Engineering Challenge.
The 2021 Tallest Paper Tower Challenge was the seventh annual Fluor Engineering Challenge. The annual challenge is sponsored by Fluor Corporation and aims to give students everywhere a fun opportunity to try engineering. Previous Fluor Challenges have involved building marble sorting machines, ball launchers, catapults, and balloon cars.
Designing the Fluor Challenge for the Pandemic School Year
The pandemic has made this an unusual and challenging school year. Given the variety of in-person, remote, hybrid, and asynchronous teaching scenarios being used around the world, Science Buddies knew that it might be a difficult year for teachers and students to complete and enter a hands-on engineering challenge. With some schools in-person, some fully remote, and some hybrid, we know it has been a complicated year for educators everywhere (and for parents at home).
As always, this year's student engineering challenge was inspired by an annual real-world challenge among Fluor Corporation's engineers. Each year, Science Buddies' staff scientists take Fluor's internal competition and create a version designed to appeal to (and be accessible for) K-12 students around the world. Making sure the 2021 Tallest Paper Tower Challenge was simple enough in concept to work for all ages, flexible enough to be done at home or at school, straightforward enough for students to tackle independently, and yet challenging enough to be interesting for older students was important.
As far as engineering challenges go, the Tallest Paper Tower Fluor Challenge had it all:
It was simple in concept—build a tower
It used inexpensive and readily-available materials—paper and tape
It had an unexpected twist—the tower needed to hold an unopened can of food for sixty seconds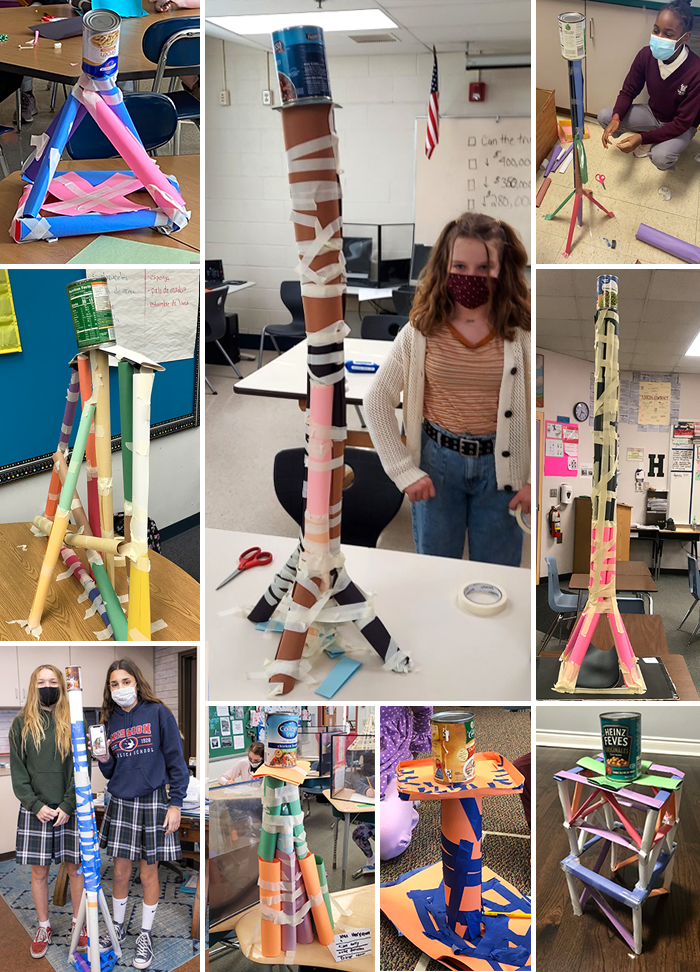 Figure 2. Paper towers submitted to the 2021 Fluor Engineering Challenge came in all shapes and sizes.
So Many Inspiring Tall Paper Towers
The Challenge, which opened in sync with Engineers Week in February, ran through the middle of March. The goal of the challenge was building tall, tall, tall towers for a chance to win money for the student or team's school, and teachers and students around the world came through.
In a year where schedules and classes have been topsy-turvy and the ability to do hands-on, group- or team-based activities has been complicated, we were amazed and inspired by the turnout for this year's Fluor Challenge.
More than 6,100 students entered the challenge, with entries coming in from 20 countries. Within the US, we received submissions from students in 48 states, Puerto Rico, and the Virgin Islands.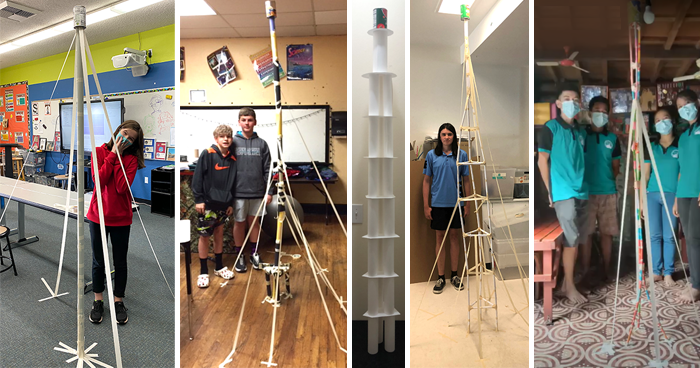 Figure 3. There were many very tall towers submitted for the 2021 Fluor Engineering Challenge.
A Simple Challenge that Scales for all Ages
With up to 30 sheets of paper and a roll of tape the only allowable materials, it might seem like there wasn't much to the Tallest Paper Challenge. If you looked at the few examples provided in the project, lessons, or video, you might have thought that every student would do something similar. Part of the wonder of the Fluor Challenge is that every year, students surprise us with their innovation, their willingness to try new things with their designs, and their creative thinking.
The Fluor Challenge encourages, enables, and engages the engineering spirit. With a simple construct and minimal rules, the Fluor Challenge opens engineering design up to students to show them that yes, they can design, build, and test like engineers.

Figure 4. The Fluor Engineering Challenge is designed to be engaging and accessible for students in grades K-12.
Hundreds of Innovative Designs
There were all kinds of tower designs submitted this year. Some students used loosely rolled tubes of paper. Some used tightly rolled tubes. Some took a tapered approach to gaining height, and some used multiple same-size tiers. Some balanced tall towers on closely-set internal columns, and some spread their designs to distribute the load. Some students tried guy-wires from tape, and other students experimented with myriad internal supports. We saw box-like structures, A-line towers, pyramid shapes, and narrow columns. We saw towers that combined multiple designs and even towers rising from legs that were, in and of themselves, small towers. We saw origami folds, pleated papers, and more.
We saw a lot of tape.
We saw lots and lots of students collaborating on tower designs while wearing masks for safety, and we received many entries from students working on towers from home.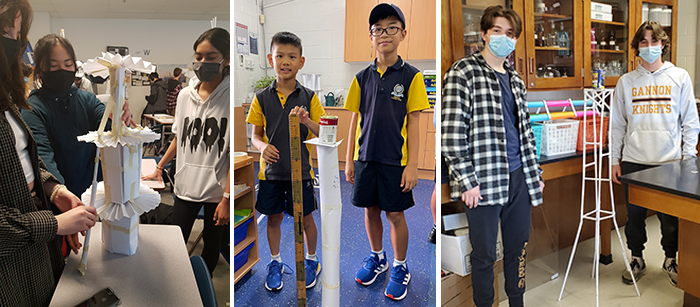 Figure 5. Students had all kinds of creative approaches to designing their paper towers for the 2021 Fluor Engineering Challenge.
In the photos submitted, we saw moments of anticipation as students waited for the 60 seconds to pass during testing. We saw towers that were starting to lean. We saw moments of excitement as towers successfully supported the can of food. In submission after submission, we saw students who were proud of the towers they built and what they accomplished with simple paper and tape.
And we saw all kinds of canned foods!
What was in the can of food on top of the tower was irrelevant to the challenge, but it was fascinating to watch the tower submission come in and see the wide assortment of canned foods: beans, kidney beans, Veg-al, soup, chili, spaghettios, mandarin oranges, corn, cranberry sauce, beets, broth, green beans, diced tomatoes, and more.
We saw towers of all heights, and we applaud every student who built a tower, big or small, for trying the challenge. But we were surprised and inspired to see many submissions that were so tall they required step ladders, or chairs, or kids standing on desks, or tables.
We tasked students with building tall paper towers, and the results were spectacular.
Ten students or teams were awarded $1,000 (USD) for their school or organization from random drawings. All winning teams have been notified, and the leader board for the Fluor Challenge has been updated to give students and teachers a sense of how their designs performed compared to other tower submissions in their grade range.
Figure 6. Some paper towers submitted for this year's Fluor Engineering Challenge were so tall that reaching the top was a challenge.
A Challenge for All Students
The feedback we receive each year from teachers and students always confirms how empowering the Fluor Challenge is for students in all grades. We are also always inspired to see educators sharing posts about their students' work on the Fluor Challenge in social media and schools supporting their teachers and the work they are doing to create opportunities for their students to explore hands-on STEM.
One of the primary goals of the Fluor Challenge as a multi-grade, global student engineering challenge is to enable and inspire students to try engineering. All prizes are awarded from random drawings. As a participation-based challenge, towers that were 12 inches tall were viewed equal to towers that might have stretched many feet into the air.
Science Buddies and Fluor believe in the importance of having students try engineering because they may discover that they enjoy the mindset, designwork, prototyping, building, testing, and iterating. A simple hands-on challenge may lead to a new passion or interest in an engineering-based STEM career path.
Cedar Crest High School, Lebanon PA
Molly Chahwala, a teacher at Cedar Crest High School in Lebanon, PA, works with non-ambulatory students. She and her co-teachers did the Fluor Challenge this year with two students in a Non-Verbal Life Skills class. The students of Team The Sky's the Limit! were not able to execute the building of their tower on their own, but after studying towers and talking about tower design, they collaborated to design the tower and oversaw the construction.
"We really talked a lot about the design process and trialed many different designs until we landed the final tower," says Molly. When it was time to build the tower, Molly created a set of options for the students' switch-activated devices. This enabled them to convey directions to teachers and aids who were helping construct the tower.
"I made picture icons using LessonPix along with their Proloquo2Go communication devices for student choices," explains Molly. "Students were able to tell us if they wanted more or less paper, if they wanted tape on top or bottom, if we should roll the paper or fold them into triangles, or if they wanted lots of paper taped together or single sheets, etc."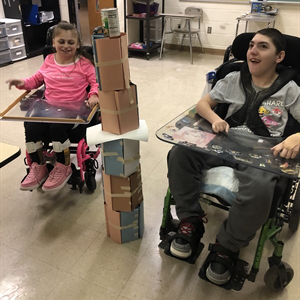 Figure 7. Team The Sky's the Limit used picture cards customized for the tower building process to give directions for building their Tallest Paper Tower entry.
This was Molly's first year doing the Fluor Challenge, but the challenge was a hit with staff and students.
"We liked the freedom of the challenge. Once their design was built, my students recorded the time on their iPads. The tower stood for DAYS!!! We enjoy doing weekly STEM lessons, but this challenge was FUN! My two students were the ones who came up with the design and my staff and I all agreed that it was far beyond our goal."
Frostig School, Pasadena, CA
Frostig School offers academic instruction for students with different abilities in grades 1-12, with continued support for students who may need extra assistance transitioning out of high school.
Students in Frostig School's high school STEAM elective class built paper towers this year for the Fluor Challenge. This is the first year for the school's STEAM class and the first year Frostig School students have participated in the Fluor Challenge. According to educator Faye Nahm, the Tallest Paper Tower challenge fit right in with what her students were studying. "We were using Science Buddies projects to support our curriculum, so when our lessons on tower structures coincided with a timely email notification about the Fluor Challenge, we knew we had to join the fun."
Faye, who co-teaches the STEAM class with Dr. Alexandra Brousseau (Dr. B), had eight students participate in the challenge. Their students have been learning remotely this year, so Faye and Dr. B focused on having students build towers even if not every tower was built in a way that would allow entry for the Fluor Challenge.
"We took a very casual approach," says Faye. "We set the guidelines but allowed the students to explore the parameters in their own style," she notes, acknowledging that working with students at Frostig School often requires flexibility.
She and Dr. B worked closely with students to help model and support the building and design of the towers and to encourage students to think through steps of the engineering design process. Even though the official Fluor Challenge was paper-based, Faye says, "We allowed students to use K'nex models, to build out instead of up, to create elaborate bridge-like designs, and to celebrate even one or two levels of tower. In the end, we only had 1 student who qualified given the requirements of the Challenge."
"I can imagine that if we were in the classroom, we would have [needed] more modifications, such as physical scaffolds, visual aids for measurements, and basic structures, step-by-step guidance, and standard materials."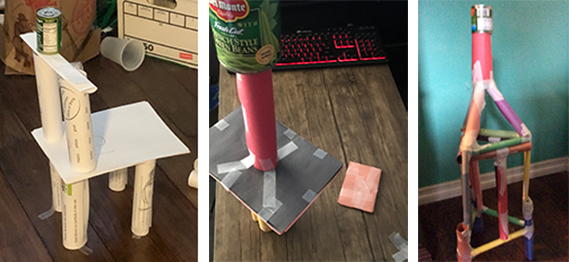 Figure 8. Paper towers built by students in the STEAM class at Frostig School.
For Faye and Dr. B, the Fluor Challenge fit into the STEM learning model at Frostig. "Nearly all of our projects are hands-on," says Faye. "We have found that conceptual ideas are very difficult for our students to grasp if they are not 'tinkering' with actual builds. From Science Buddies, we've used lessons for the cotton-ball launcher, the balloon powered car, and the best bridge model."
"Our motto/theme this year has been 'Failure is informative,'" says Faye. "The Fluor Challenge really put context to that theme! We had many groans of frustration as towers toppled and tape got tangled, but in the end, many of the students were able to show off some inspiring creations!"
A Favorite STEM Challenge for Many Educators
In their own words, here are quotes from some of the many educators who participated in the Fluor Challenge with students this year:
"This was such a fun project to share with my STEM class. It was great to see the creativity of the different towers, and I enjoyed the fun, competitive atmosphere this project created. We had two teams that pushed each other to new heights, literally!" Teacher at Briarwood Christian School, Birmingham, AL
"Having a hands-on project that included creativity, imagination, communication, and collaboration is great at any time; however, during the pandemic and at a time when students and educators are feeling isolated—the project provided both excitement, passion, and a return to the "love of learning." Teacher at Macon Middle School, Franklin, NC
"The Fluor Challenge was certainly a different kind of challenge this year. That is for sure. We are technically not allowed to do group work, so we needed to delegate duties in order to not be within a 6-foot space for 15 minutes at a time. It was kind of like an administrative puzzle, if you will. But, the children LOVED it!!! They need normal so, so badly. It was well worth the extra work." Teacher at Unioto Elementary, Chillicothe, OH
"In this year of Covid it was fun to be able to experience hands-on learning in an environment where you could include virtual students, be a team of one, and easily obtain the materials for the challenge from around the house. As a Catholic School it was also rewarding to incorporate a service project with the challenge. We collected all of the canned goods to donate to the food pantry. Our students have been concerned about food insecurity in our area, and this gave them a sense of empowerment." Teacher at Resurrection St Paul School, Ellicott City, MD
"I loved the ways that my students tried to find ways to do something that they didn't think was possible. The sense of pride and achievement that I saw in them was wonderful. Thank you!" Teacher at St Matthew Elementary School, South Bend, IN
"Giving girls and those who are underrepresented equal opportunities to pursue and thrive in STEM careers is vital. This project left my female 3rd graders feeling not only more interested in the engineering process, but empowered to be leaders in science." Teacher at Girard College, Philadelphia, PA
"The kids absolutely loved the challenge. Their favorite part was the challenge to come up with a design that would be taller than anyone else's in the room. They did a great job at the challenge. It was very rewarding seeing them complete the challenge and it works. It brought a lot of joy for a crazy school year." Teacher at St. Martin Wings, Ocean Springs, MS
"This is a fantastic project. I teach Tech Ed and Bridge Building in 6th grade. This compliments it perfectly. The collaboration and design aspects are exciting to watch. Science Buddies is an amazing resource. Thanks so much." Teacher at Old Lyme Middle School, Old Lyme, CT
"Thank you for this great opportunity to apply critical thinking in the real world!" Teacher at Mockingbird Elementary, Coppell, TX
"This challenge allowed my students to think outside the box. It greatly enhanced their communication and collaboration skills while inspiring careers in engineering. The students enjoyed the opportunity to work hands on with a challenge and the idea that there were no wrong answers." Teacher at Theresa Bunker Elementary, Idaho Falls, ID
"This was a great opportunity to raise enthusiasm for STEM while teaching virtually. I appreciate your making the materials things the kids had access to at home." Teacher at Valley Elementary/Middle School, Sugarloaf, PA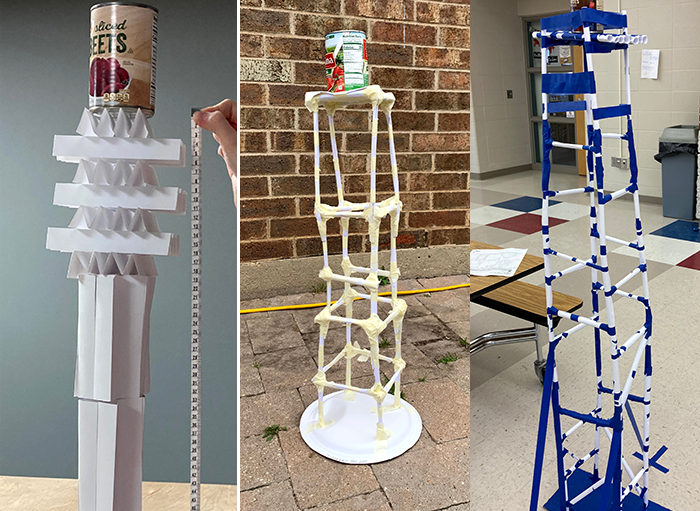 Figure 9. Students had many innovative approaches to designing and building their paper towers.
Students also provided great feedback on their experience doing this year's challenge:
"I have been participating in the Fluor Engineering projects since 2018, and this year's challenge beat out the rest on my list! It felt so rewarding to see my tower support the heavy can after days of hard work. I especially enjoyed letting go of my tower and seeing it stand on its own. As well, I loved being able to compare the height of my tower to myself and my brother (who is roughly 93cm) as it made me feel incredibly accomplished. All this said I cannot wait to participate in the Fluor Engineering Challenge next year!" Team Toothy and Cutie, Toronto, ON
"In this engineering challenge, I enjoyed the freedom of creativity that I had. As long as I stayed within the material requirements, I could use any design and structure techniques that I wanted. I really enjoyed brainstorming different ways to keep the tower sturdy while also making it look cool. My parents were super impressed with what I was able to come up with. I was proud of myself for the high score I got. Overall, it was a fun experience, and I look forward to potentially doing the next engineering challenge in 2022." Team Max P, Long Beach, CA
"I liked the challenge of only using paper and tape to make a tower because it made the rules and goal simple. You had to learn how to fold the paper into different shapes to make a sturdy, tall, and not using many pieces of paper, tower. It really helped me explore what I could make with simple materials." Neil's Paper Tube Tower Team, Long Beach, CA
"Thinking about a design, sketching a design, and being able to keep working on it until it worked was a challenge, but super fun. It was so exciting watching the can and doing our counting to 60 seconds!! After it stood for 60 seconds, we got so excited we started jumping up and down — which made the can go crashing down. It was awesome." Team The Jelly Rolls, Novato, CA
"Our tower that is like a rocket, is taller than both of our team members and that is amazing! Secondly, I liked building the tower with my friend." Team Engineers! Steven Millard Elementary, Fremont, CA
"Our favorite part was celebrating girls doing STEM! This month is Women's History month, and we liked working together as girls to build a tall tower. This project left us feeling more confident in our engineering skills, and we are ready to take on the next challenge!" Girard Girls Going Green, Philadelphia, PA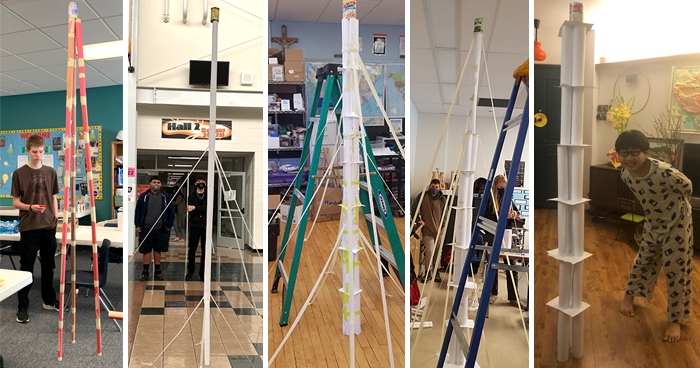 Figure 10. Tallest Paper Towers submitted for the 2021 Fluor Engineering Challenge.
The 2021 Fluor Challenge Winners
To view the leader boards and more information about the results of this year's Fluor Challenge, visit the Fluor Challenge page.
Congratulations to all students, educators, and parents who entered and supported the 2021 Fluor Challenge!
To view the top scores and winning teams from the 2021 Fluor Engineering Challenge (and more great tallest paper tower photos), see the Fluor Challenge page.
You Might Also Enjoy These Related Posts:
Explore Our Science Videos
Make a Paper Lantern STEM Activity
Stretchy Balloons! Fun STEM Activity