A Mirror Maze Success Story
This STEM teacher used the Mirror Maze lesson to help students get hands-on with the physics of light.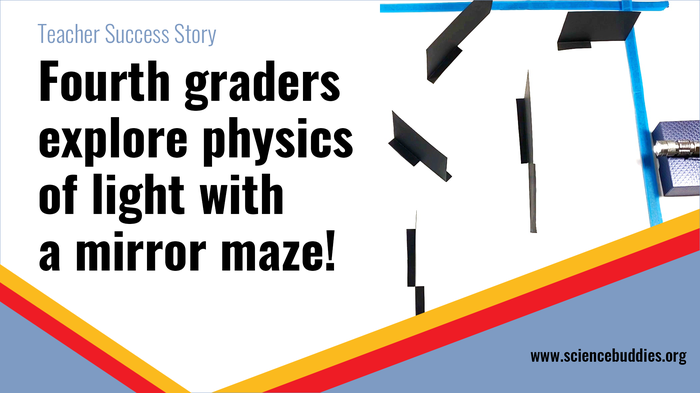 Engaging Students with the Physics of Light
Teaching students about light and reflection and the angles at which light will bounce from one surface to another can sometimes feel abstract. In a lesson that might bring old art gallery heist movies to mind with their fields of crisscrossing lasers, the Mirror Maze lesson has students explore the physics of light by bouncing light through a series of mirrors. Can students navigate the maze with a single beam of light to successfully illuminate the target?
School:
Coltrane Webb STEM Elementary School in Concord, NC
Summary:
Erin used the Mirror Maze lesson to help students explore the physics of light.
Bouncing Light in STEM Lab
Erin Espinoza is a STEM lab teacher at Coltrane Webb STEM Elementary School in Concord, NC. Students visit her lab once a week for STEM exploration, including activities that supplement the science and engineering they are learning about in their regular classrooms. Throughout the year, students in each grade do a variety of hands-on STEM activities in Erin's lab.
Erin recently used the Solve a Mirror Maze Challenge with the Law of Reflection lesson with 4th-grade students. We caught up with her to find out how the lesson went and how she adapted the middle school lesson for use with younger students.
What led you to the Mirror Maze lesson? How did it fit in with what you were teaching?
"My 4th-grade students were working on a unit about energy, including light. Students must understand that light can be refracted, reflected, and absorbed. The students had learned much of this information in class. I wanted to provide them with several 'stations' in which they could explore these ideas. I began searching on the internet for activities, which led me to the Science Buddies website. I have used Science Buddies before when helping my students or my own children to find ideas for science fairs, so I knew I could trust the website."
The Mirror Maze lesson plan is NGSS-aligned for grades 6-8. What kinds of changes did you need to make to use it with younger students?
"The biggest change I made was that I set up the maze for the students before starting the lesson, with all the obstacles set up and taped down. I followed the template and instructions on the website to do this. In addition, I provided students with 4 mirrors and 4 pieces of aluminum foil (rather than 3). I also provided a block for the flashlight to sit on, so it was on the same level as the target. Students noticed that the mirrors had to be turned to a certain angle to get the light to the next mirror. I briefly shared simple information about the law of reflection."
How did it go? What worked well? What surprised students? What were the challenges?
"It went very well. Students really enjoyed it! They were very surprised that they were able to get the light to the target with only 2-3 mirrors. The biggest challenge was my own! I purchased flashlights that could be adjusted to make a thinner beam of light, but these were not as bright as I hoped they would be!"
Have you used other Science Buddies lessons and activities with students?
"I have used two other activities with students thus far. I used the Create a Sea Breeze activity with my fifth-grade students during their unit on weather. I also used the Homemade Slushies activity with my second graders as part of their study of the states of matter."
What do you enjoy most about doing STEM projects with students?
"There are many things I enjoy about doing STEM projects with students. First, I love seeing the excitement and joy on students' faces when they can experience first-hand something they've learned about in class. Second, I believe STEM is more than a curriculum or a lesson. It is a mindset that values curiosity, imagination, and problem-solving, and I think all students benefit from this mindset. Finally, STEM is just fun! It's loud and messy and can sometimes look like organized chaos, but it's mostly fun!"
How important is hands-on learning in elementary school when it comes to science and engineering concepts?
"I believe hands-on learning is essential really for any grade level when learning a new topic. K-5 students especially need these experiences to build new background knowledge that will help them later in their school career as [they] learn harder and more abstract concepts. In addition, I believe that hands-on activities are more engaging than typical teacher-led lessons."
Try It with Your Students!
To explore the physics of light and build interactive mirror mazes with students, see the following NGSS-aligned lesson:
For more lessons, activities, and experiments related to the physics of light, see the following curated STEM resource:
Thank you to Erin for sharing her story with Science Buddies.
"I believe STEM is more than a curriculum or a lesson. It is a mindset that values curiosity, imagination, and problem-solving and I think all students benefit from this mindset."
Erin Espinoza, Teacher
Categories:
You Might Also Enjoy These Related Posts:
Explore Our Science Videos
Sweet Earthquake Shake- STEM activity
Program Your Own COVID-19 Simulator with Scratch