Teachers who Pin: Teachers Find Support and Inspiration for Science Education at Pinterest
Teachers may or may not be tweeting their science lesson plans or sharing every hands-on engineering classroom activity at Facebook, but they are finding inspiration and community at Pinterest, where discovering new ideas and approaches to teaching is fun, visual, and easy. See it. Like it? Pin it for later. As a virtual bookmarking and filing cabinet system, Pinterest gets an A+ from many teachers—and is helping this teacher with classroom science and math planning.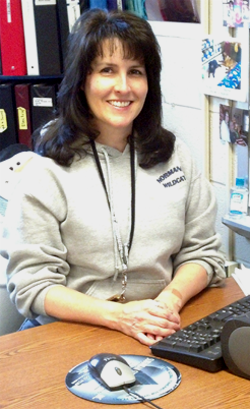 Pinning Classroom Ideas
Teacher Christi Woods (above) says that Pinterest is one of the few sites always open in a browser when she is working at home. At the visual bookmarking site, she finds all kinds of inspiration for science, technology, engineering, and math education—including Science Buddies!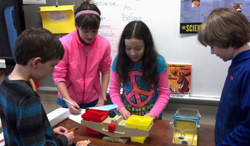 Bringing the Scientific Method into Classrooms
Thanks to support from Elmer's Products, Inc., many teachers in the Science Buddies community received a copy of the classroom Scientific Method Poster (shown above). Christi says her poster has already been helpful in the classroom. "I referred to ours each day as the steps were used and reviewed with each science experiment we covered."
In the photo below, two students consult the scientific method poster while working on an in-class project.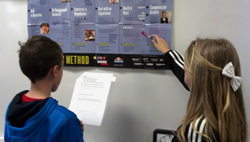 No matter what your profession, you probably frequent at least one social media site or online hangout where you indulge your need for news, social happenings, and,
maybe
, a steady stream of professional ideas, inspiration, resources, and support. For Christi Woods, a 5th grade teacher at Normandy Elementary School in Ohio, Pinterest is her social media spot of choice, one of the few browser tabs guaranteed to be open when she is working on her computer at home.
Christi is not alone. While many pinners are busy pinning hairstyles, home decorating ideas, wedding themes, and food, food, and more food, there are thousands of education-oriented pins and boards. With boards ranging from grade-specific collections like First Grade Fun, Second Grade Smiles, and Third Grade Troop to boards devoted to specific core curriculum subjects and themes (e.g., science, math, robotics) or grade ranges (e.g., middle school science), teachers have raced onto the Pinterest scene, virtual thumbtacks and staplers at the ready, and are actively pinning away.

The Teacher's Bulletin Board Gets a High-tech Update
Recognizing that teachers have gravitated to Pinterest for bookmarking handouts, printables, assignments, resources, bulletin board and class organization ideas, and more, Pinterest launched a specific set of curated boards for teachers last fall. The teachers hub may have been an experiment, but, today, the "Teachers on Pinterest" board collection has attracted more than 77 thousand followers. While there are other teacher-specific social media networks trying to draw teachers in, teachers appear to be comfortable at Pinterest and inspired by the easy exchange and sharing of information that happens through pinning and pin surfing.
With more than 70 million users worldwide, the soon-to-be-four-years-old visual bookmarking site has rapidly climbed the ranks of social media hotspots. Able to create and organize boards on any topic they want, pinners routinely scan pins, and repin ones of interest, adding them to their own specialized boards. As pinners repin pins that catch their attention, pins circulate, over and over. With each repin, other pinners may see the content in their streams, repin, and, in doing so, pass pins on to a new group of viewers. The site makes is very easy for users to "repin" content to a personal board. Pinners can add a comment, if they want. But it isn't required. Just click "repin," choose the board where you want to stick the pin, and the pin immediately floats to the top of the stream for your followers.
From the outside, pinners can pin fresh content they discover on Internet pages, stashing information for later reference or helping curate a certain category or topic for their own followers. With multiple ways to pin, share, and reshare content, Pinterest creates an elegant, and very visual, circular flow of information, one with an unlimited number of intake points for introducing new content.
While the visual grid of Pinterest has a bulletin board system at its core, the sheer size of the collections of pins amassed by many pinners quickly transforms any "board" idea into a giant filing cabinet system. Nice search features, easy visibility to "similar" pins, and the ability to discover new pinners based on others who have pinned the same kind of information make Pinterest easy to use—and, for many pinners, hard to put down.

Science Buddies @Pinterest
As a trusted resource in science education and hands-on science fair project ideas and materials for more than a decade, Science Buddies boasts more than 15 million student, teacher, and parent visitors each year—and more than 1,200 hands-on project ideas for students.
In an effort to keep members of the Science Buddies community up to date with Science Buddies content and inspired about science education, in ways that are most convenient to them, Science Buddies maintains an active presence at Facebook, Twitter, Google+, and Pinterest. Through any of these popular social media sites, followers can easily stay in touch with Science Buddies and catch highlights of popular projects, see stories about student successes, and catch posts that tie science news and popular culture into science education.
Excited about the potential of Pinterest as a way to help share, highlight, and curate science, technology, engineering, and math education content, Science Buddies has been pinning project ideas, blog posts, and updated student, teacher, and parent resources at Pinterest for more than a year. Science Buddies maintains a giant K-12 science project ideas board for teachers and parents who want to see everything, regardless of grade. At the same time, because many teachers are looking specifically for activities and ideas for students in certain grades, Science Buddies has grade-specific and thematic boards, too.
When Christi contacted Science Buddies with a question about classroom scientific method posters, she mentioned that she follows Science Buddies at Pinterest. We were excited to hear from a teacher who had noticed Science Buddies in her streams at Pinterest. When we talked further with Christi, it was interesting to discover that she knows Science Buddies from Pinterest. She wasn't first a member of the Science Buddies community who then started following Science Buddies at Pinterest. Instead, she learned about Science Buddies first from Pinterest, and Pinterest remains the way she keeps up to date with Science Buddies.

Teachers Pinning Science
Christi, who celebrates her twenty-fifth year of teaching this year, says she doesn't use Facebook or Twitter, but Pinterest is a staple stop for her, both for personal inspiration and idea bookmarking and for science and math lesson planning. "We, my team and I, try to incorporate hands on activities, especially in science, as often as we can," says Christi. "The kids love that best," she continues, noting that at her school, hands-on science education and active learning is widely practiced in the elementary grades.
Pinterest helps Christi mine for fresh ideas and new approaches. "I try to find ways to supplement our science texts and make things more interesting and engaging by using experiments, helpful anchor charts, and interesting lessons I find [on Pinterest]," explains Christi. "Along with pinning experiments that come from the Science Buddies site, I will often pin ideas that come up on my home page if they meet my curriculum needs, are ideas that are different than what I already use, and are ideas I think are unique."
Like many schools, Christi says that her school limits access to certain kinds of sites, including Pinterest. She was able to get special permission to access Pinterest from school, but she says most of her Pinterest browsing and pinning happens at home. "I pretty much am on Pinterest on a daily basis during the school year and on my days off! I am the first to admit to being addicted," she says, adding a smiley face. "However, I use it much more for classroom use than for personal use. Whenever I am working on my laptop at home, Pinterest (along with my school email, personal email, and ProTeacher) is one of the tabs I usually have open at all times."

Science Buddies in the Classroom
For Christi, Pinterest is where her teaching intersects with the wide range of materials at Science Buddies. But all fifth grade teachers at Christi's school also now have classroom Scientific Method Posters in their rooms, thanks to support from Elmer's® Products, Inc., which made a limited number of posters available to teachers last year. While Science Buddies was new to Christi, she says that when she told her students about the posters, she saw a few "head nods" in recognition of the online destination point for student science, technology, engineering, and math project ideas and resources. "I believe they, or their older siblings, have used the site for science project ideas before."
As her school approaches its science fair season later this year, Christi says she will be suggesting Science Buddies to both her students and her colleagues.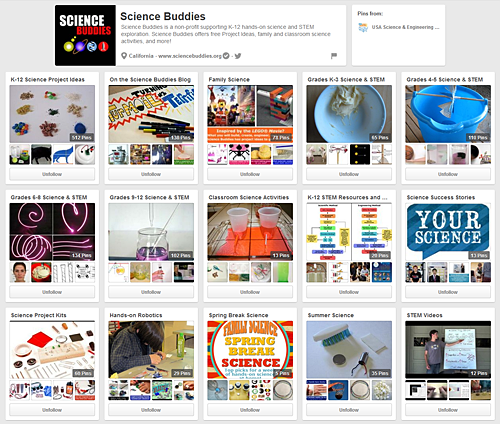 The screenshot above shows some of the many Science Buddies boards at Pinterest. To follow Science Buddies at Pinterest, visit
www.pinterest.com/ScienceBuddies
and click "Follow All" (or click "Follow Board" for individual boards)!
Note: Free Scientific Method Posters are not currently available. There is a downloadable version of the Scientific Method Poster in the Teacher Area that teachers can download and print.
Categories:
You Might Also Enjoy These Related Posts:
Explore Our Science Videos
Transform Yogurt into Spheres With Reverse Spherification
Build a Solar-Powered Car for the Junior Solar Sprint
Finding Pi Using Everyday Objects