10 Tips for a Winning Science Project Display Board
Putting together the project display board is one of the final steps before the science fair and can make a big difference in how others view the project. Science Buddies breaks down the process with clear steps a student can take to create an effective and successful display board. Make sure to review our top ten project display board tips and reminders before you begin creating your board!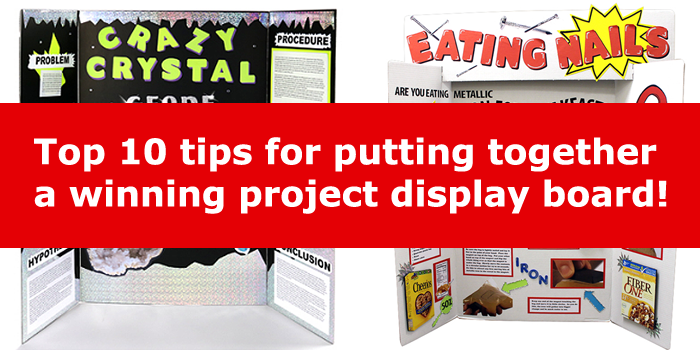 Visit any science fair, and you will find hundreds of project display boards on display. Each board represents a student's science, technology, engineering, or math (STEM) project. After all of the research, testing, data collection and analysis, the project display board asks students to organize and synthesize their project information and results into an eye-catching visual display.
The project display board requirement can be intimidating for some students, partly because of its size. Luckily, most science project display boards share similar elements. With a bit of planning and review of some basic information about creating a display board, all students can create a compelling display board to show off their projects!
Make a Great Display Board!
With the right approach, every student can create a successful display board. The ten tips below help students approach their display boards with confidence so that they work step by step to create great display boards that show off the hard work they put into their science projects.
Understand the goal. The goal of the science project display board is to share a project with a viewer who may or may not know anything at all about the project. Your display board is your key to getting a judge's attention at the science fair. Your science project may be top-notch, but if you can't get viewers to stop, look, and want to learn more about what you did, your project may not get the attention it deserves. Remember that the display board provides an overview of your project. By looking at the display board, the viewer should get a "nutshell" view of the project and understand what science question you asked, what hypothesis you proposed, what experiment you did, and how things turned out. Tip: Take a look at our gallery of project display boards for ideas about display boards that contain the necessary information but are visually engaging and exciting. Make a note of anything you see that you really like in terms of color, lettering, or layout. Many of the examples are linked to ArtSkills, where you can view step-by-step directions.
Plan your board. You should plan your project display board on a separate sheet of paper before you start printing your materials or gluing anything in place. Start by reviewing the sample layout shown below.

This example shows common blocks of information (with headers) that you will want to include on your board. After reviewing the example, print a copy of the ArtSkills project display board template. Fill in the blank board on your printed copy with the sections you will use for your board and where they will go. This becomes your blueprint (or "storyboard") for your display board. Tip: Use the checklist that appears on the side of the template to help you stay on track from start to finish creating an awesome project display board.
Buy the right size board. Most science fairs and school assignments require a large tri-fold display board. These boards are typically approximately 36" x 48", like these display boards from ArtSkills. (Note: Some tri-fold boards have an additional section for the title header. This is optional.) Buy your board early so that you have it on hand when you are ready to begin creating your display board. Tip: Make sure you check your science fair guidelines (or with your teacher) for any specific size requirements or limitations.
Choose a great title. Your title should be accurate for your project but should be catchy enough to make a viewer curious about your project. Your title should also be big enough to be read from a distance. Because the title needs to be large, you may want to consider using pre-printed letters or stencils to make your title stand out. You want to get attention in a room filled with display boards, so make sure you use a color, size, and style that is easy to read and stands out on your board. Check our supplies page for suggested poster letters products from ArtSkills to make creating an eye-catching title easier. You can find additional information about titles on the Project Display Board Design Tips page. Tip: spend time brainstorming for the best title for your project. Come up with a list of possible titles before you decide.
Know your font sizes. A project display board title needs to be readable from a distance. Other elements of the board should be clearly readable at arm's length (several feet). As the following image shows, it is very important to use text that is large enough to work well on a display board.

If your text is too small, a viewer won't be able to easily take in the information—and might not even try. Review our guidelines for font sizes and use appropriately sized text for titles, headlines, subheads, and the rest of your printed information. Use font sizes consistently to help guide viewers through the material. A board that is easy to read—both in terms of color balance and font selection—has a better chance of getting a viewer's attention and interest. Tip: Review the Everything You Need to Know About Fonts for Display Boards resource for more information.

Pictures can be powerful. Photos and diagrams from your project can quickly and efficiently convey information to a viewer—plus, they'll add visual interest to your board! Just be sure to add relevant captions or subheads to explain photo or diagram contents. Do not put text directly on top of photos because it may be hard to read! Tip: You want your board to be visually balanced. Use visual elements to help support and convey your project information, but be careful not to make the board too cluttered.

Show your data. Like photos and diagrams, charts, graphs, and tables that show your project data help a viewer better understand your project. The image below shows an example from ArtSkills of a display board that effectively uses charts and graphs.

Visual aids on a project display board invite users to look more closely and then to read more of the board information or ask questions. Tip: Make sure your charts, graphs, and tables are large and clear and contain summary captions that help explain what they show. These elements are also a great way to add color to your display board!

Make a list of elements you need to type up or photos you need to print out. Using the sample ArtSkills template you printed as a guide, make a list of all of the information you will need, including headlines, titles, written information, diagrams, tables, charts, images, and photos. (Our handy Project Display Checklist can also help you keep track of what information should be on your board.) With your list in hand, and using all of the guidelines above, type up information that needs to be printed out and gather all other elements. Do not write elements for your display board by hand! Poster letter products, like these holographic letters (also available in jumbo size), these neon letters, or these black letters from ArtSkills, can make it easy to create titles and headlines that really stand out! Use a word processing program to type and print the rest of your project information. Remember, the board is large. You have a lot of space to fill. Be sure to review the information above about font sizes before printing your materials. Tip: Check things off your list after you print them to help you stay organized and to make sure you don't forget anything. Be sure not to leave out the acknowledgements and bibliography!

Use quality materials. From self-standing display boards to heavier papers and quality adhesives, gathering your materials before you start will help the project display board process go smoothly. In addition to buying your tri-fold board (or a board that meets your project guidelines), you will need adhesive and may also want to buy stick-on letters, stencils, heavy paper or cardstock to mount your sections on, or other materials. Tip: Our supplies list contains great options from ArtSkills for letters and embellishments to help you create and customize your board.
Don't Wait Until the Last Minute. You don't want to wait until the last night to do your display board! Plan ahead so you have time to map out how you want your information to appear, create your diagrams, charts, images, and text blocks, and print them out (in the right sizes) to assemble on your board. Remember: There is more to creating a successful project display board than just gluing some hand-written pieces of paper in place!
Your Turn!
Follow our tips and take things step by step, and you can create your own great project display board like the one shown below from ArtSkills.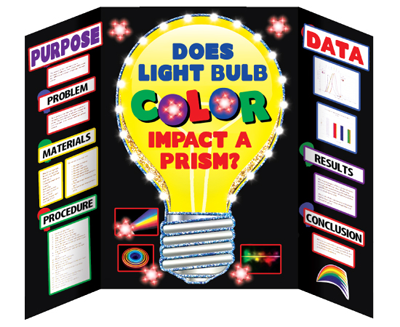 We hope you will have a great experience making your project display board. Once you are all finished, stand back and admire your work! Snap a picture, too! We would love to see your board. (You can email us a photo to scibuddy@sciencebuddies.org.)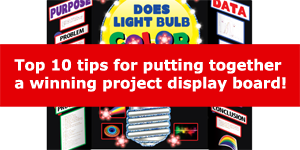 Categories:
You Might Also Enjoy These Related Posts:
Explore Our Science Videos
A Candle Seesaw – STEM activity
Shrink a Potato with Osmosis – STEM activity