Step by Step Science Project Display Boards
Science Buddies helps students understand the parts of a science project display board. Teachers can assign our resources to help students review the process and the content requirements for a standard project display board. Plus, new downloadable templates available for some projects make it easy for students to format information needed for the display board.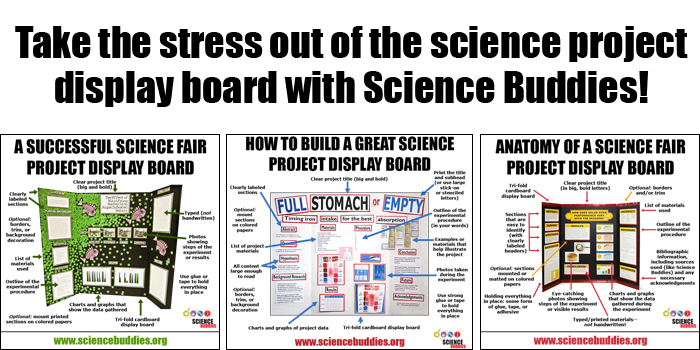 Take the stress out of the science project display board with Science Buddies!
It's that time of year. Students are finishing up hands-on science projects for class or for the science fair, and the thing that stands between them and completion is a large, cardboard, tri-fold board. It's just a piece of cardboard (or maybe foam board), but for many students, the Project Display Board requirement is intimidating. The sheer size of the typical science project display board can make it seem like a Herculean task and one that requires special design skills.
Pull Together the Project Details
The good news is that putting together a display board doesn't have to be scary or complicated. Creative students can definitely apply their creativity to laying out and decorating a project display board. But by understanding the basic layout of a display board and gathering the required material to fill in the sections, every student can put together a nice board for the science project.
Whether your students followed the Scientific Method or the Engineering Design Process, they followed a system of steps, and they gathered and identified specific kinds of information along the way. This information includes the science question, hypothesis, variables, data gathered, analysis, conclusion, and bibliographic resources. Plus, they also documented the materials they used and the steps of their procedure or experiment.
All of this information has a place on the Project Display Board, and with a bit of guidance, students can prepare their information and put it on a display board with confidence. Science Buddies has a number of how-to pages that help guide students in creating a Project Display Board. From blog posts with annotated examples and lists of tips, tricks, and best practices to an in-depth Project Display Board Resource, Science Buddies has plenty of resources designed to make the Project Display Board less intimidating.
Assign the Project Display Board with Google Classroom
If your students are approaching the Project Display Board requirement, we encourage you to assign one (or more) of these resources using Google Classroom. Have your students review one of these resources before beginning their own boards. Requiring that students upload a sketch of their own project board based on what they read can be a great way to help them synthesize their information. The sketch then becomes a blueprint and checklist for their own board creation, which can be very helpful for students.
Assign one of the following popular blog posts to help your students get a better sense of what the project display board is all about:
Or assign the in-depth Science Fair Project Display Boards resource.
Guided Display Board Template
Science Buddies has project-specific downloadable Project Display Board guides available in the Science Buddies Store for students doing the A Battery That Makes Cents project or the What Makes Ice Melt Fastest? project. The guide, developed by Science Buddies scientists, walks students step by step through preparing the project display board information. At each stage, students fill information about their project, research, experiment, or results into the file. When the file is complete, they can print their sections to adhere to the display board.
Buying the Board
Display boards can be purchased at a local craft and hobby store or online. Note that display boards come in a range of sizes. Students should be sure to check with the teacher or science fair to find out what size is required.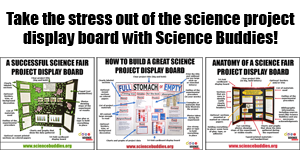 Categories:
You Might Also Enjoy These Related Posts:
Explore Our Science Videos
Paper Marbling – STEM Activity
Test Different Pinwheel Designs