See Where STEM Can Take You
The 2018 USA Science and Engineering Festival Expo is happening this weekend! Register to attend this exciting free event and see where STEM can take you. Plus, Lockheed Martin announced winners today for the 2017 Generation Beyond Video Challenge. Grand prize winners won $10,000 for videos presenting ideas for Mars habitation modules!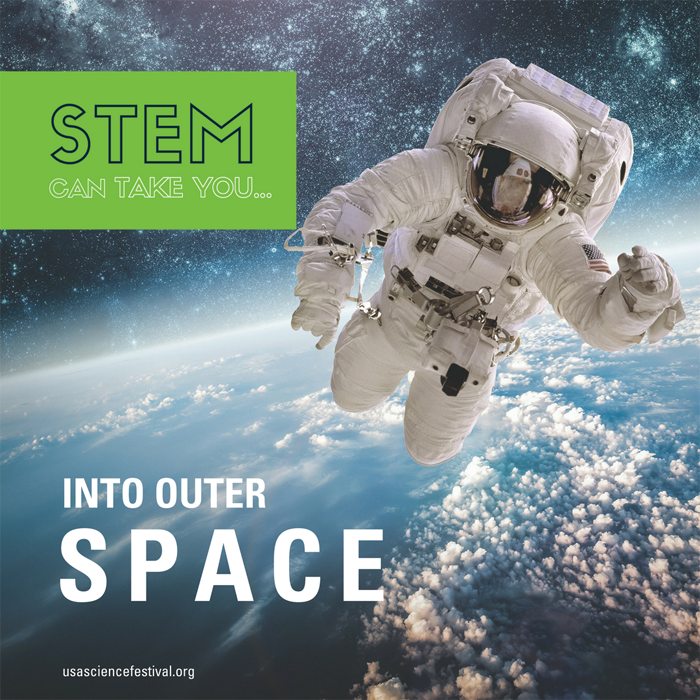 STEM Can Take You into Outer Space
The 5th USA Science & Engineering Festival is underway! Today, April 6, is Sneak Peek Friday for schools, and the STEM Career Fair takes place tonight. The giant Expo happens this weekend, April 7-8.
This year, the USASEF Expo has a theme that asks, "where can STEM take you?" At the Expo, attendees can explore that question by visiting more than 3,000 exhibits from STEM companies and organizations. In interactive pavilions brimming with hands-on activities, attendees will explore answers to the question in areas of Ocean, Space, Nature, the Human Body, Cyberspace, and more.
2018 USASEF attendees can visit the following pavilions at the USASEF Expo:
Aviation: how planes fly and how aircrafts are made.
Earth Sciences: extreme weather, earthquakes, the atmosphere, and more.
Energy: the Chevron STEM zone and STEM in sports.
Engineering and High Tech: robots, computers, and cutting-edge engineering.
Health and Medicine: secret electricity living under your skin, answers to medical mysteries solved, and the science of soap.
Kids: A special pavilion with a fun introduction to STEM for kids under 7 and kid-friendly hands-on exhibits.
Lockheed Martin Rad Labs: explore incredible real-life science.
Math and Computer Science: discover how fun math and coding can be.
National Science Foundation: 26 inspiring hands-on exhibits.
National Security/DoD STEM: STEM inside the DoD, Army, Airforce, Navy, and Marine Corp.
Natural Sciences: plant biology, agriculture, 'Microbial Frienemies,' and more.
Ocean: learn about marine life and ocean conservation and meet Danni Washington.
Space Exploration: NASA and SpaceX.
STEM and Social Sciences: discover how science, engineering, and medicine influence everyday behavior.
Sustainability: learn about the need to keep our biological systems diverse and productive.
Makerspace: robots and more!
You can filter by pavilion or browse the full list of exhibitors here.
Download the Expo map to plan your visit! As you explore the Expo, be on the lookout for life-size STEM Can Take You images for the chance to take #scifest selfies!
Lockheed Martin Announces Winners of the 2017 Generation Beyond Video Challenge!
With one of the USASEF STEM Can Take You themes being "Space," Lockheed Martin announced winners of the 2017 Lockheed Martin Generation Beyond Video Challenge today at USASEF.
In its second year, the video competition challenges students to brainstorm and model solutions based on challenges involved in real-world space exploration. More than 400 middle school students in the U.S. entered this year's contest. In teams of 1-4, students developed models for Mars Base Camp Habitation Modules and then submitted 1-2 minute videos presenting their Hab ideas. Challenge entries were judged based on scientific knowledge, creation of the habitation model, effective communication, and overall presentation.
The top individual and top team winners were awarded $10,000, 3D printers for their schools, and more. Congratulations to individual grand prize winner, Emilia D., a 7th grade student in Skokie, IL, and team grand prize winners, Jonah L. and Matthew W., 8th grade students in Portland, OR.
These winners will present their ideas at the National Air and Space Museum on Saturday, April 7. You can view their videos as well as videos from other 2017 winners on the video challenge site. Students interested in learning more about the competition can also watch videos from the 2016 challenge winners.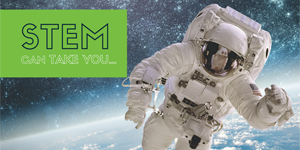 Explore Our Science Videos
Volleyball Machine: 2019 Engineering Challenge
Colorful Melting Ice Ball Patterns - STEM Activity
Write and Read Braille – STEM activity