Polymers Project Gets a Slime Update
A team of PPG volunteers got hands-on with homemade slime! The team applied their science expertise to the process of making slime and tested directions and variations for student and educator use.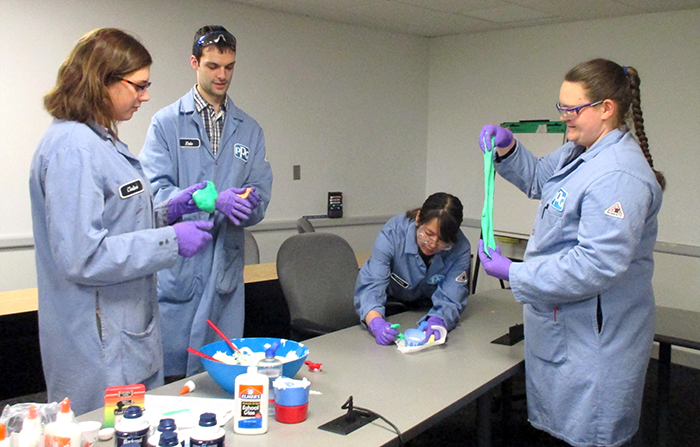 Above: PPG employees put the
Slime Chemistry
student science project to a hands-on test to find ways to make the popular project even more fun and rewarding as a STEM learning activity.
A Commitment to Student STEM Education
For the last several years, PPG's Science Education Council has organized a team of PPG employees to do a Day of Service project for Science Buddies. As a way to support Science Buddies and the importance of K-12 STEM education, the team volunteers their science expertise by doing a Science Buddies project and then evaluating ways to improve the project for an even better student learning experience.
Slime Testing
In years past, PPG volunteers have tested column chromatography, lip balm, and luminol projects. This year, the focus was slime, a popular, wiggly, jiggly, sometimes icky toy kids play with and can make themselves. Slime may have gotten a reputation from being dumped on people in Nickelodeon shows, but today, kids make and play with slime in all kinds of colors and styles. Whether they stop and think about it or not, the versatile DIY toy is all about chemistry, which makes slime an excellent and engaging topic for K-12 student STEM.
Science Buddies asked PPG volunteers to do general hands-on testing of an existing student chemistry project on polymers. In addition to testing the project with an updated emphasis on slime, PPG volunteers were encouraged to explore and suggest new approaches and variations to making slime that might offer interesting extensions to the project.
"Our volunteers had a lot of fun with this activity," says PPG's Shuyu Fang who helped organize the activity. "Our chemists all enjoyed the process of tuning the slime composition to reach certain desired properties," she adds.
Thanks to PPG's volunteer testing, Science Buddies was able to refresh the existing Slime Chemistry project and also create a new short-term How to Make Slime activity version. Full project ideas at Science Buddies are developed for students doing independent, multi-trial projects for school assignments or science fairs. Activities, on the other hand, are less rigorous and provide opportunities for short-term, informal learning. Activities at Science Buddies are family-friendly, and are suitable for home, classrooms, camps, or community and afterschool programs.
"All of us that participated in the Science Buddies event were very excited to help," notes PPG's Kayla Percic, who helped with this year's slime testing. "We are happy to help think about the project in scientific ways because I think it helps us get back to the basics of science and the process of learning as we try to design experiments and describe what we are doing to a much different audience than we are accustomed to. In this way, we can feel like we are helping our greater community with the projects, while also helping our volunteers become even better researchers/chemists."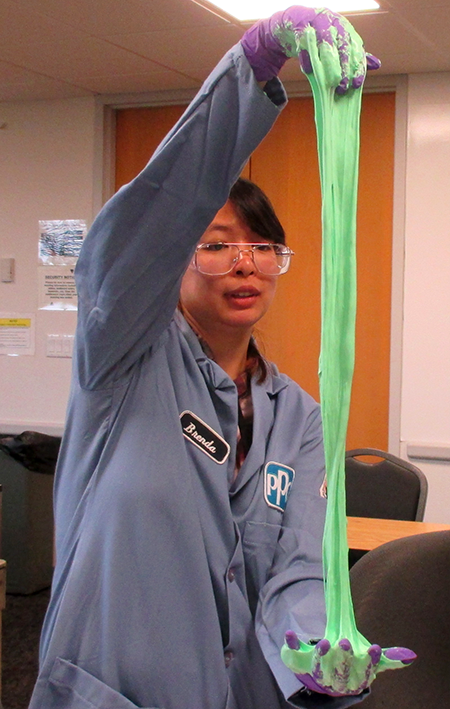 Science Kids Love
"We are incredibly grateful for the time PPG employees spent working through the slime experiment," says Sandra Slutz, Vice President of STEM Education for Science Buddies. "Making and playing with slime is very popular with elementary school students and offers a fun opportunity for kids to explore polymers in a really hands-on way. The PPG team was able to take the basic idea we gave them and use their chemistry expertise to come up with easy-to-do yet meaningful ways to test the physical properties of different batches of slime."
The video below shows the new slime content in action:
Science Buddies is also using ideas and approaches generated by PPG volunteers to create a slime-focused lesson plan for educators and a more advanced project for students who want to explore the chemistry of slime further. These new resources will be available for the 2019-2020 school year.
"The willingness of companies like PPG to donate their time and expertise in support of K-12 STEM education means that together we can develop and refresh more hands-on projects than Science Buddies could on our own."
Sandra Slutz, Vice President of STEM Education, Science Buddies
A Project or Activity for Every Student
With more than 1,100 free science project ideas and 130 STEM activities, Science Buddies is continually monitoring and evaluating procedures to ensure that students using Science Buddies' resources have a positive science learning experience.
"We very much appreciate PPG's support and that this team has returned to help Science Buddies several years in a row. Our in-house science team is highly experienced, but we're also small in number," says Slutz. "The willingness of companies like PPG to donate their time and expertise in support of K-12 STEM education means that together we can develop and refresh more hands-on projects than Science Buddies could on our own. In the end, that means students have more projects to choose from and thus a better chance to find a project that truly excites them."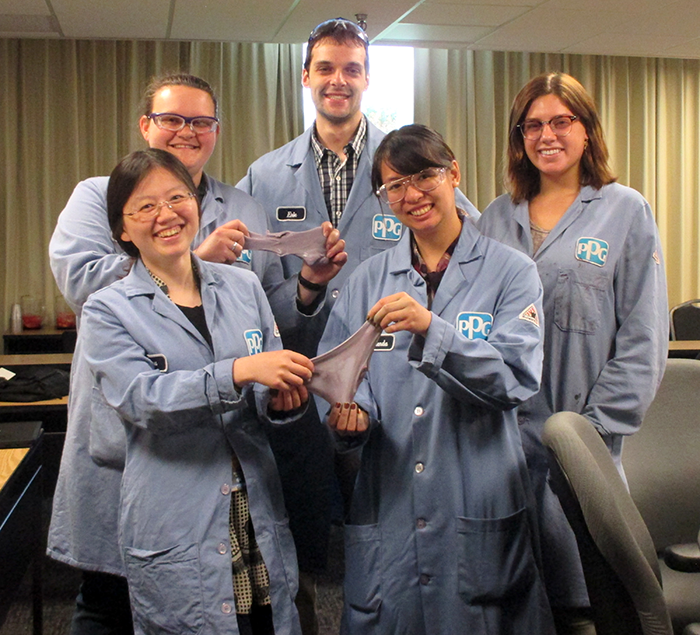 Above: PPG employees who participated in the slime chemistry Day of Service.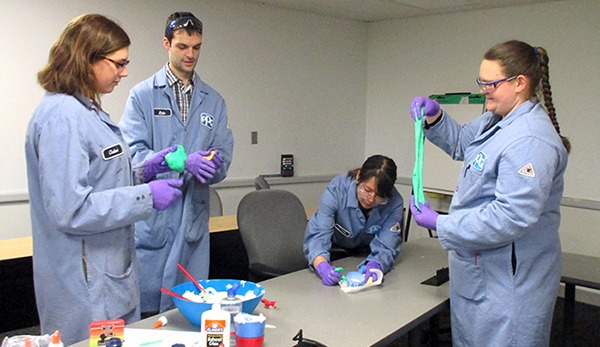 Categories:
You Might Also Enjoy These Related Posts:
Explore Our Science Videos
Science Buddies: Hand Warmer Chemistry
Candy Snap! Does freezing candy make it more brittle?
Squishy Circuits Classroom Activity Part 1