Space Radiation Protection
77 reviews
Summary
Areas of Science
Difficulty
Time Required
Short (2-5 days)
Credits
Sabine De Brabandere, PhD, Science Buddies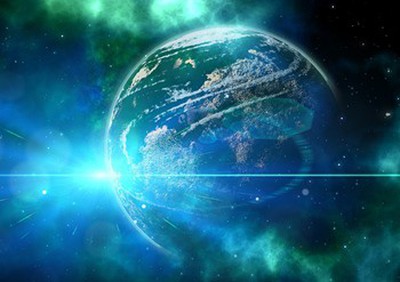 *Note:
For this science project you will need to develop your own experimental procedure. Use the information in the summary tab as a starting place. If you would like to discuss your ideas or need help troubleshooting, use the
Ask An Expert
forum. Our Experts won't do the work for you, but they will make suggestions and offer guidance if you come to them with specific questions.
If you want a Project Idea with full instructions, please pick one without an asterisk (*) at the end of the title.
Abstract

The radiation sources recommended in this experiment are
low-dose radioactive sources
and do not require a license to purchase; they
are safe to work with as long as these common-sense safety tips are followed
:
Wear disposable gloves when handling any radioactive source.
Never rub your eyes or mouth while you are handling the radioactive source.
NEVER swallow any radioactive source and use protective glasses when bringing a source within a few inches of your eyes.
When not in use, store your source in a cardboard or plastic container placed out of reach of children and animals.
Dispose of low-dose radioactive sources with normal garbage collection unless otherwise advised by the seller.
Additional background information on radiation safety is available in the An Introduction to Radiation & Radiation Safety. Although you will be working with a radioactive source, the doses and type of radiation emitted by the suggested sources make monitoring your exposure with a Geiger counter unnecessary.
Space exploration, living, and working in space exposes space travelers and their equipment to radiation not present on Earth. The study of how we can protect ourselves and our equipment is an essential part of space exploration. Although you will not be able to test at levels equivalent to what you might encounter in space, you can test with lower and safer levels of radiation in the lab or at your home.
There are many types of radiation. This project concentrates on ionizing radiation, or the radiation that carries enough energy to ionize atoms and molecules. This type is particularly dangerous for living organisms, as it can penetrate into a cell and damage its DNA structure. It also heats up materials much more than non-ionizing radiation. There are many types of ionizing radiation in space. For your testing, you will probably use a combination of α-, β-, γ- and/or X-ray radiation.
Space is vast. As you start your study, specify the scope of your investigation. Humans inhabiting a colony on Mars, a single visit to the moon, or spaceships transporting space travelers and goods will result in varied levels of exposure. Some factors to consider are:
The duration of exposure, as the duration plays a large factor in determining acceptable levels. A single dose, concentrated over a short period of time, has much larger consequences than the same dose spread out over time. What duration is needed for the exploration you want to study?
Where the space exploration you want to study occurs, as not all areas of space receive an equal amount of radiation. For example, on Earth, we are protected by a magnetic field trapping charged particles, and an atmosphere filtering other parts of the radiation spectrum. Is there anything that reduces the exposure at the place you want to study?
The scope will also put constraints on the materials available to create the shielding. When you study shielding for a colony living on Mars, consider if you want to rely on materials transported from Earth; the cost of transport for heavy or bulky materials would be very high. Can you make something from materials that are locally available? Do some research on what is available in space and see if you can use similar materials in your tests. For example, Mars regolith simulant mimics the ground cover found on Mars and can be purchased.
Once you have your scope narrowed down, think of your own question and design your experiment.
To test the efficiency of shielding, you will need a radiation source and a radiation detector. You will probably not find a radioactive source that mimics the radiation found in space. Instead, do some background research on the type and level of radiation you can expect in the area you would like to explore, and document how it is different from the radioactive source you will use in your tests. Some radioactive sources you can consider for testing are:
The ionizing core retrieved from an ionizing smoke detector. These detectors are available from a local hardware store. Follow the directions given in the section "Preparing a 241 Am Radiation Source from a Smoke Detector" to retrieve the ionizing core from the detector.
Several types of exempt quantity radioactive sources are available online.
Take measurements from rocks around you; some might be radioactive enough to use as a source for your study.
Radioacive rocks are also available from vendors like Amazon.com.
The science department from your local school might have a radioactive source you can borrow.
Once you have your source, look up what types of radiation it emits, and how these types can be stopped or reduced safely.
A Geiger counter is an effective instrument to measure radiation levels. As you look for a radiation detector, make sure it measures ionizing radiation, also called nuclear radiation (α-, β-, and γ-radiation, X-ray radiation). Hint: Do not search for "radiation detector" as the results will include electromagnetic radiation detectors (often abbreviated as EMR detectors); EMR detectors are not suitable for this project. You may see some cheap Geiger counters for sale on the internet, but you are likely to get more-accurate results by renting, borrowing, or buying a quality Geiger counter. Geiger Counter Nuclear Radiation Detectors are available on Amazon.com, and can be rented. Before you buy or rent, ask a science teacher if you can borrow one from school. The higher the measurement of the Geiger counter, the more radiation it detects.
Geiger counters cannot differentiate between different types of ionizing radiation. The following information can help you explore how much of each type (α-, β-, γ-radiation and X-rays) is present:
Placing nothing between the source and the detector allows you to measure the total radiation level.
Placing a sheet of paper between the source and the detector blocks most α-particles; you can then measure the total of β- and γ-radiation, and X-rays.
Placing a sheet of aluminum between the source and the detector blocks most α- and β-particles, allowing you to measure the sum of γ-radiation and X-rays.
The high-energy electromagnetic radiation (γ-radiation, X-rays) are the hardest to block.
Can you find out if your shielding works better for certain types of ionizing radiation?
When measuring how well a shield protects from radiation, always compare the measurement with a reference measurement. To make a reference measurement, measure the radiation with the source and detector in place, but remove the shielding. The difference between the two measurements (without shielding and with shielding) is a measure of how well the shielding works.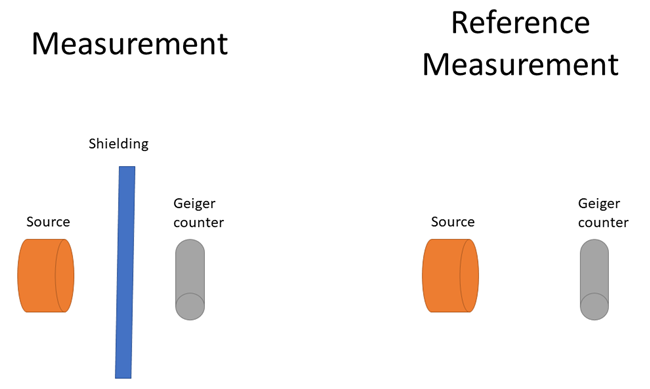 Figure 1.
Illustration showing how to take a reference measurement.
Be aware that radioactive decay—the decay that gives rise to radiation in many of the sources you can use for this project—is statistical in nature. By using a large enough time window for your measurements, these natural fluctuations should not obscure the data.
Disclaimer: Science Buddies participates in affiliate programs with Home Science Tools, Amazon.com, Carolina Biological, and Jameco Electronics. Proceeds from the affiliate programs help support Science Buddies, a 501(c)(3) public charity, and keep our resources free for everyone. Our top priority is student learning. If you have any comments (positive or negative) related to purchases you've made for science projects from recommendations on our site, please let us know. Write to us at scibuddy@sciencebuddies.org.

Ask an Expert
Do you have specific questions about your science project? Our team of volunteer scientists can help. Our Experts won't do the work for you, but they will make suggestions, offer guidance, and help you troubleshoot.
Careers
If you like this project, you might enjoy exploring these related careers:
Related Links
Cite This Page
General citation information is provided here. Be sure to check the formatting, including capitalization, for the method you are using and update your citation, as needed.
MLA Style
De Brabandere, Sabine. "Space Radiation Protection." Science Buddies, 17 Apr. 2023, https://www.sciencebuddies.org/science-fair-projects/project-ideas/Astro_p047/astronomy/space-radiation-protection. Accessed 3 June 2023.
APA Style
De Brabandere, S. (2023, April 17). Space Radiation Protection. Retrieved from https://www.sciencebuddies.org/science-fair-projects/project-ideas/Astro_p047/astronomy/space-radiation-protection
Last edit date: 2023-04-17
Explore Our Science Videos
Squishy Circuits Introduction
Line-Tracking Robot: BlueBot Project #3