A Prescription for Success: Drugs & Your Genetics
169 reviews
Summary
Areas of Science
Difficulty
Time Required
Very Long (1+ months)
Prerequisites
Basic understanding of what genes, DNA, and proteins are.
Material Availability
After 23andMe receives your sample, your results should be ready in 6-8 weeks. Alternatively, you can do this science project using a readily available free demo account on 23andMe.
Cost
Very High (over $150)
Safety
No issues
Credits
Teisha Rowland, PhD, Science Buddies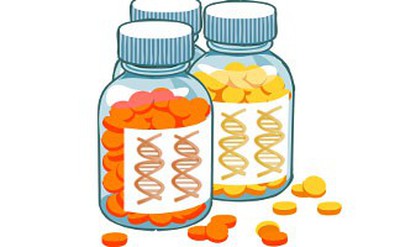 *Note:
For this science project you will need to develop your own experimental procedure. Use the information in the summary tab as a starting place. If you would like to discuss your ideas or need help troubleshooting, use the
Ask An Expert
forum. Our Experts won't do the work for you, but they will make suggestions and offer guidance if you come to them with specific questions.
If you want a Project Idea with full instructions, please pick one without an asterisk (*) at the end of the title.
Abstract
Have you ever known someone who had a bad reaction to a prescription drug? Although pharmaceutical companies test new drugs on a large number of people to make sure the drug works the way it is supposed to, often a small percentage of people respond differently to the drug. A person's genetics plays a large role in determining his or her response to a given drug. Our
genes
are made up of
hundreds to millions
of nucleotides of
DNA
(deoxyribonucleic acid), the genetic code. If just
a single nucleotide
of DNA has a
mutation
(change in the DNA sequence), a person might respond differently to a drug. A mutation in one DNA nucleotide is called an
SNP
, for
s
ingle-
n
ucleotide
p
olymorphism. When pharmaceutical companies test new drugs on people, they do a genetic screening of known SNPs sprinkled across their
genomes
(all of the DNA in an organism) to see if people who respond differently to the drug have an SNP, or multiple SNPs, that are not present in the genetics of the people who respond normally. Once pharmaceutical companies identify SNPs that are associated with an abnormal response to the drug, doctors can screen their patients ahead of time to find out how they will respond to a given drug. This rapidly growing medical field is called
pharmacogenomics
. In this science project, you will investigate how your own genetics may affect your response to different prescription drugs.
23andMe is a company that can sequence your own personal SNPs and predict your response to drugs, based on your SNP profile. There are many other companies that offer similar genetics sequencing services, such as Illumina, PacBio, and deCODE. If you use 23andMe, after you have received your genetics results, under the "My Health" section, click on the "Drug Response" link. Have you, or someone closely related to you, ever taken one of the listed drugs and experienced the predicted response? For any given drug sensitivity test listed, you can click on its name and then the "Technical Report" tab to read about the specific SNPs you have.
How can a little mutation be associated with such a big response? You can investigate how your SNP mutations may be causing your predicted drug response by reading another Science Buddies Project Idea, Drugs and Genetics, and developing your own experimental procedure based on it. Next time you visit your doctor, you can show off your detailed knowledge of how drugs affect your body and possibly prevent a bad experience by telling your doctor which drugs you will probably react poorly to!
Bibliography
To do this science project, you can have your genetics sequenced here:
Here are a few websites that will help you start gathering information about genetics, drugs, and pharmacogenomics:
Genetics Home Reference. (2011, September 12). How Genes Work. Retrieved September 19, 2011.
University of Utah, Health Sciences. (n.d.). Making SNPs Make Sense. Learn.Genetics. Genetic Science Learning Center. Retrieved December 17, 2014.
The University of Utah. (n.d.). Learn.Genetics. Genetic Science Learning Center. Retrieved August 19, 2011.

Ask an Expert
Do you have specific questions about your science project? Our team of volunteer scientists can help. Our Experts won't do the work for you, but they will make suggestions, offer guidance, and help you troubleshoot.
Variations
Instead of having your own genetics sequenced, you can do this science project by making a free demo account on 23andMe.
Careers
If you like this project, you might enjoy exploring these related careers:
Related Links
Cite This Page
General citation information is provided here. Be sure to check the formatting, including capitalization, for the method you are using and update your citation, as needed.
MLA Style
Science Buddies Staff. "A Prescription for Success: Drugs & Your Genetics." Science Buddies, 17 Apr. 2023, https://www.sciencebuddies.org/science-fair-projects/project-ideas/BioMed_p005/medical-biotechnology/drug-target-genomics. Accessed 1 June 2023.
APA Style
Science Buddies Staff. (2023, April 17). A Prescription for Success: Drugs & Your Genetics. Retrieved from https://www.sciencebuddies.org/science-fair-projects/project-ideas/BioMed_p005/medical-biotechnology/drug-target-genomics
Last edit date: 2023-04-17
Explore Our Science Videos
Make a Lung Model – STEM activity
Finding Pi Using Everyday Objects